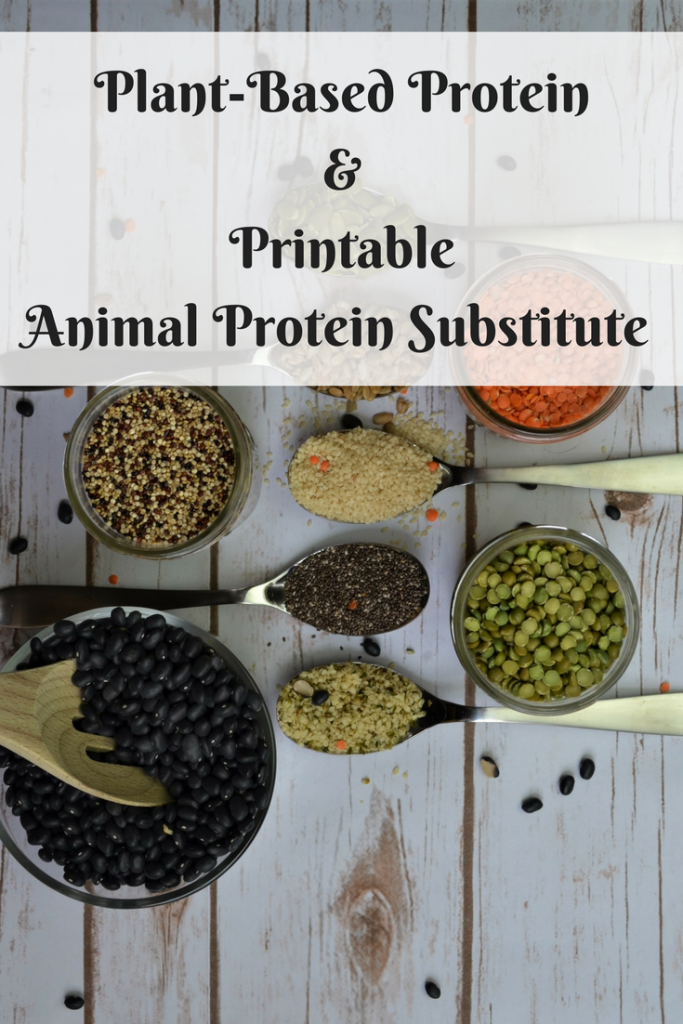 Today's post will help you understand How to Get Adequate Plant-Based Protein.  

Be sure to check the bottom of the post for our

printable Animal Protein Substitutes!
In our last post, we touched on what nutrients to focus on when you switch to a plant-based, dairy free or vegan diet. Be sure to check out the printable in our last post on Dairy Replacements!
How to Get Adequate Plant-Based Protein
Beans
Beans are an excellent plant-based protein and complement to almost any meal. Black beans are a
good source of protein because they provide more than 14 grams of protein a cup, and
high in fiber that promotes a healthy heart and cardiovascular system. They also contain
an array of phytonutrients and important trace minerals to help you heal while you
sleep. Black beans can be prepared whole or mashed to create a variety of protein rich
sides for your meals. Season lightly with salt and pepper, or you could go all out with
sauces like habanero for a spicy treat. Pairing the black beans with some quinoa or wild rice could
make for an excellent dinner. You will also get some iron and various minerals in black
beans.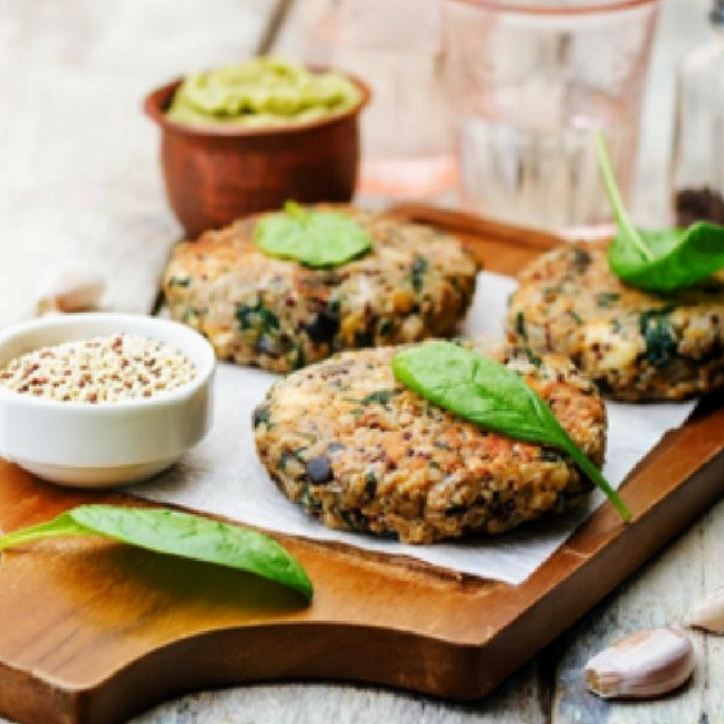 Spinach
Spinach offers around 6 grams of protein per cup, and you can even more access even
more protein by cooking it. This leafy green vegetable boasts a grouping of nutrients like
iron, potassium, copper, vitamin B6, folate, calcium, phosphorus, and manganese. It
can be prepared a variety of ways including salads, and as a side dish. You even try
cooking it into a pasta. Spinach can make a great dip when itís been mixed with
artichoke.
All you have to do is boil the spinach and artichoke together season with cream cheese,
onion, garlic, salt and pepper then bake it at 425 degrees for 15 – 20 minutes.
Afterwards you will have a healthy snack that you can have with chips or on top of toast.
Chia Seeds
Seeds of any kind are almost always a substantial source of plant-based protein. These tiny
Chia Seeds contain a whopping 16 grams per half cup. They also contain lots of
important amino acids, omega 3 fatty acids, fiber and calcium. They are a great source
of carbohydrates and can be cooked into a lot of different meals. One really easy way to
get your dose of chia seeds would be to cook it into your oatmeal with some honey. This
will turn your breakfast into a protein power punch of delicious delight! You can also use
oats and honey canola oil and nutmeg to make a tasty granola that everyone will love.  I have chia seeds in my plant-based protein powder that I use for my breakfast smoothies!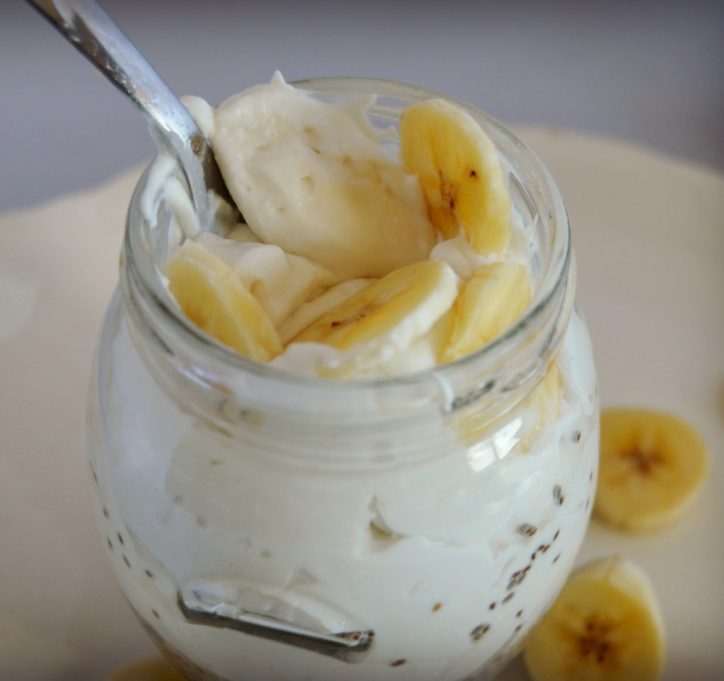 Cashews
Do you need a quick snack for a pick me up? Cashews are a great tasting nut with a wide variety of benefits. They contain 20 grams of protein per cup and are full of vitamins and minerals. Cashews are certainly great on their own, but you can also try enjoying them in a mixture of almonds and dried fruit like cran-raisins. This
will give you a mix of nice flavors that come together to provide you with a fun easy way to eat plant-based proteins. If you want to take it a step further, add some honey and baked oats to the mixture. This will give you a heavier version of granola.
Cashews are a staple in all my baking and cooking!  I use them for the base of sour cream and Alfredo sauces!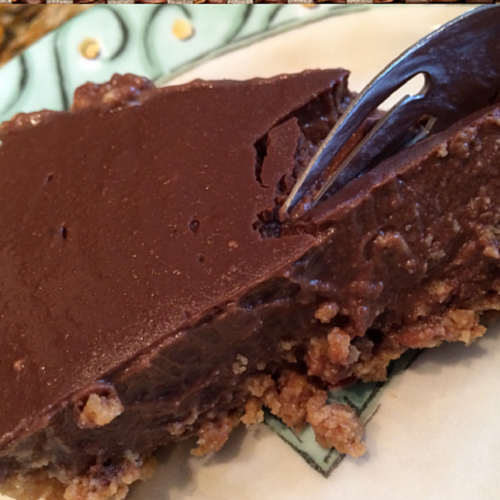 Pumpkin Seeds
Instead of simply throwing away this part of the pumpkin, you can check out this
awesome way to utilize this excellent resource, and get more out of this popular orange
gourd. Like the other seeds on this list, pumpkin seeds are very high in protein along
with other health promoting nutrients like, zinc, magnesium, manganese and copper.
They're also a reliable source of antioxidants that help to protect you
by neutralizing the free radicals that cause cancer.
Pumpkin seeds contain about 20 grams of plant protein per cup. If you put pumpkin
seeds on a cookie sheet and bake them at 300 degrees until they're a golden brown,
add some salt for a delicious snack. You can also glaze them in honey to give them a
sweet flavor.
I am a bit lazier now and just buy my pumpkin seeds and put them in granola and trail mix!
Avocado
If you're looking for a delicious addition to your bean and cheese burritos, or you're
looking for a fast, easy snack you can enjoy, this green fruit could be your top pick!
Avocados contain 4 grams of protein each, and are full of very healthy monosaturated
fats that your body needs for a healthy heart. They contain over 15 great vitamins and
minerals and are very easy to digest.
Looking for an awesome snack?  You can easily mash a few freshly ripened
avocados in a bowl with some salt and pepper. If you want to add a little bit of kick to
the mix, you can chop one jalapeno very small and sprinkle a little bit into the avocado.
This will give it some heat but keep it bearable. What other nutrient does avocado
have? Fiber!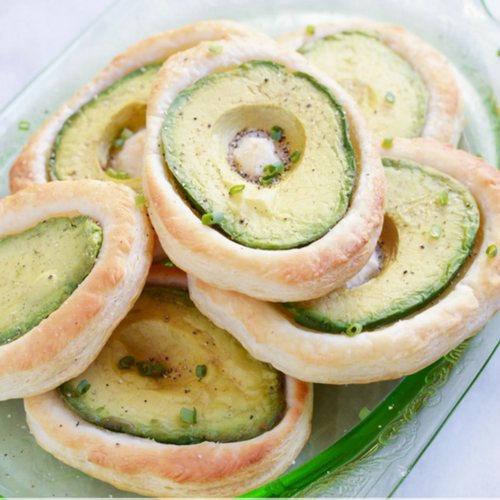 Organic Edamame
Have you ever tried edamame? This fun and slightly sweet snack is the young version
of soybeans, and has become a very popular snack in the last few years. Edamame can
be found on all sorts of menus and in the freezer sections of the big stores, but be sure
that the edamame that you purchase is found in the organic section. A cooked cup of
organic edamame yields an impressive 18 grams of protein. It is considered to be a
great way to get some of the important human building minerals such as phosphorus,
potassium, calcium, iron, sodium, copper, manganese, zinc, and magnesium.
Edamame can be cooked in the microwave, boiled, or steamed.  One of our local restaurants makes them in a spicy sauce, you eat off the husks and pop out the bean and eat it. YUM.
Almonds
Almonds pack a powerful punch of plant-based protein in the amount of 24 grams per cup, and carry
a strong dose of magnesium and vitamin E with them, in addition to calcium, potassium,
and fiber. They are known for helping to soothe muscle spasms, muscle soreness, and
ease the symptoms of PMS. You can try crushing a half cup of almonds and sprinkling
them onto some yogurt for a super charged high protein breakfast. These nuts are also
great for healthy late afternoon or early evening snacks and can be mixed with other
nuts and dried fruit. The magnesium will help you to avoid sugar cravings as well so that
you don't get caught in a painful cycle of sugar crashes that sap you of your energy.
I make my own Almond milk and there is nothing better!  Almond flour is used in may gluten free baked recipes.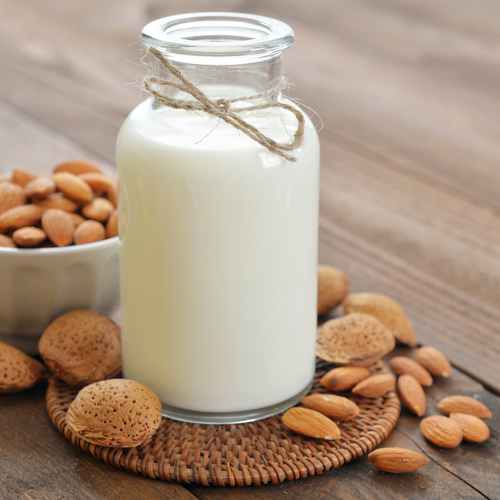 Peanut Butter
If you can remember the first sandwich that you ever learned to make, there's a pretty
good chance that is was a peanut butter sandwich. Peanut butter is a staple of
childhood, so it's a good thing that it provides such a high amount of nutrition. Peanut butter contains an amazing 28 grams of protein per cup.  Peanut butter also makes an excellent support for digestive health, and helps to lower
high blood pressure risks.
Much of these attributes are due to its high potassium and fiber content. It also boasts
high levels of magnesium. You can even eat it on celery, apples, bread, and bananas.
You can mix it into a shake or smoothie for flavor and protein. With these benefits, it's easy to see
why parents have been reaching for these jars of liquid gold for generations.  Make it healthier by getting orgainic!
Organic Tofu
Tofu has generally been the most visible symbol of a meat free diet. Currently, many
restaurants include tofu on their menu as an option to satisfy many of the dietary wishes
of consumers. This vegetarian staple is made from soymilk curds. Organic tofu can
have up to 15 grams of protein per 3 oz. serving, which is about the size of a deck of
cards.
Organic tofu is a great vegetarian source of magnesium, copper, zinc, iron and calcium,
and it can be fried, or just dropped into your favorite meal for a protein punch. Try
adding it to your rice and vegetable meals, or drop it into some vegetable stock for a
nutritious soup that will give you the nutrients that your body craves.
Rice
Rice can be a great ingredient in a ton of amazing meals.  Rice has been used for
thousands of years and is one of the few grains native to the continent of North
America. Wild rice has a heftier amount of plant protein than quinoa at over 6 grams per
cup. It has a heartier weight to it than plain white rice and is super high in fiber. This can
help to keep you regular and avoid any of the complications that come from
constipation. Vitamins and minerals in wild rice include Vitamins A, C, E, phosphorus,
zinc and folate. This nutritious rice goes well with sauces and soups. You can try adding
it to some freshly fried up or seared vegetables, or you can add it to your favorite veggie
soup for a hearty and delicious meal!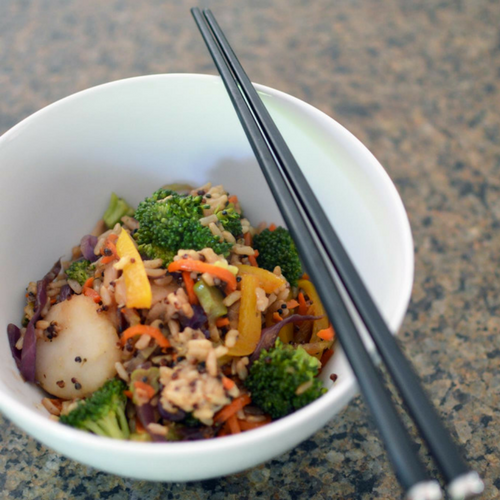 Potatoes
Potatoes are truly one of nature's gifts. These vegetables are some of the most
inexpensive and versatile foods around. They contain about 4 grams of protein per
average sized potato. Potatoes contain no fat, sodium or cholesterol, and are a
substantial source of vitamin B6. It's a little-known fact that potatoes also contain more
potassium than bananas, which can help you to fight the effects of high blood pressure.
With the skin on, potatoes have a very high amount of fiber, making them excellent for
your intestines. Potatoes can be boiled and mashed, they can be fried and salted, and
they can be baked for an easy snack or meal. They've gotten a bad rap due to the high calorie foods we choose to top them with.
Organic Corn
It would be very hard to imagine a world without corn. Corn has been a part of many
diets around the world for hundreds of years after it was first introduced to the
Europeans. Corn is now one of the most celebrated meal sides of all time, and most
likely 2nd only to potatoes.
Corn gives us 5 grams of protein per cup, and like many of the other vegetables here, is
high in fiber and provides generous amounts of vitamin C, Vitamin B5, B1, along with
minerals like phosphorus and manganese. Organic corn is very low in cholesterol and
makes a terrific addition to any meal. It can be baked, roasted, or steamed. When
paired with another one of the vegetables on this list, you can be sure to get a well-
rounded protein filled meal to get your week going.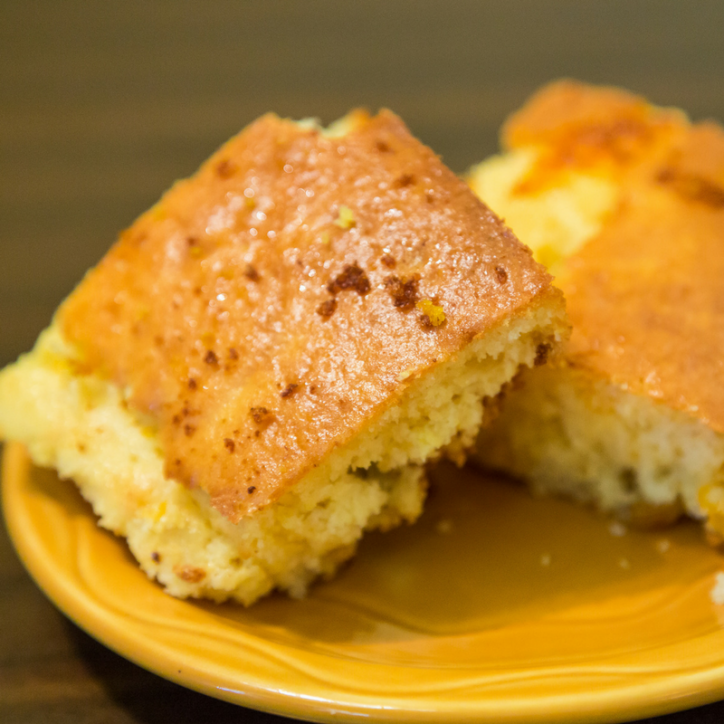 Spirulina
Spirulina is quickly gaining a new status among the popular health foods
today. Science has given us new insight into what the true nutritional content of foods
may be, and modern food transportation has made a multitude of foods in this
prestigious groups available. Spirulina contains an unbelievable 64 grams per cup, and
contains an impressive amount of healing vitamins and minerals like iron, manganese,
chromium, vitamins A, K1, K2, B12 and delivers phytonutrients such as SOD and
phycocyanin.
It is extremely low calorie, and is currently being studied for its possibility of being one of
the healthiest foods on Earth for its nutritional content. Spirulina can be purchased in a
powdered form and I use it in my breakfast smoothies.  You can try blending some
frozen fruit with the Spirulina to get a powerful super smoothie!
Brussels Sprouts
Brussels sprouts are a cruciferous vegetable that resemble tiny cabbages. This is most
likely because they are in the same plant family, only instead of growing directly from
the ground, they come from a fibrous stalk. These tasty doll sized cabbages give you 4
grams of protein per cup, and provide high amounts of potassium and vitamin K and are delicious. They
can help to improve your cardiovascular health by lowering blood pressure and giving
you the trace minerals needed for healthy blood. They are also very high in the
antioxidant vitamin C, folate, and manganese. They can be steamed, fried, or baked. 
Broccoli
Broccoli is a mild flavored vegetable that can be paired with a very wide range of other
foods. Its origins can be traced back to Italy around 2000 years ago. This interesting
green vegetable gives you 4 grams of protein per serving and contains sulforaphane,
which is a compound known to have an arresting effect on cancer. Sulforaphane has
even been found to prevent the spread of cancer.
It is high in omega 3 fatty acids and a host of multiple vitamins and minerals including
calcium, iron, niacin, selenium and magnesium. It is very high in fiber, and can be
prepared in a variety of ways such as boiling, steaming, searing, and frying. You can
enjoy a simple meal of mixed vegetables if you cook it in a frying pan with olive oil or
sesame oil, and add onions, garlic, cabbage, and your favorite peppers.
Printable Animal Protein Substitutions,
Click the image below to download and print!