This recipe for Mexican Chocolate Cookies are sure to be a hit with the whole family.  Gluten and dairy free, and oh so tasty!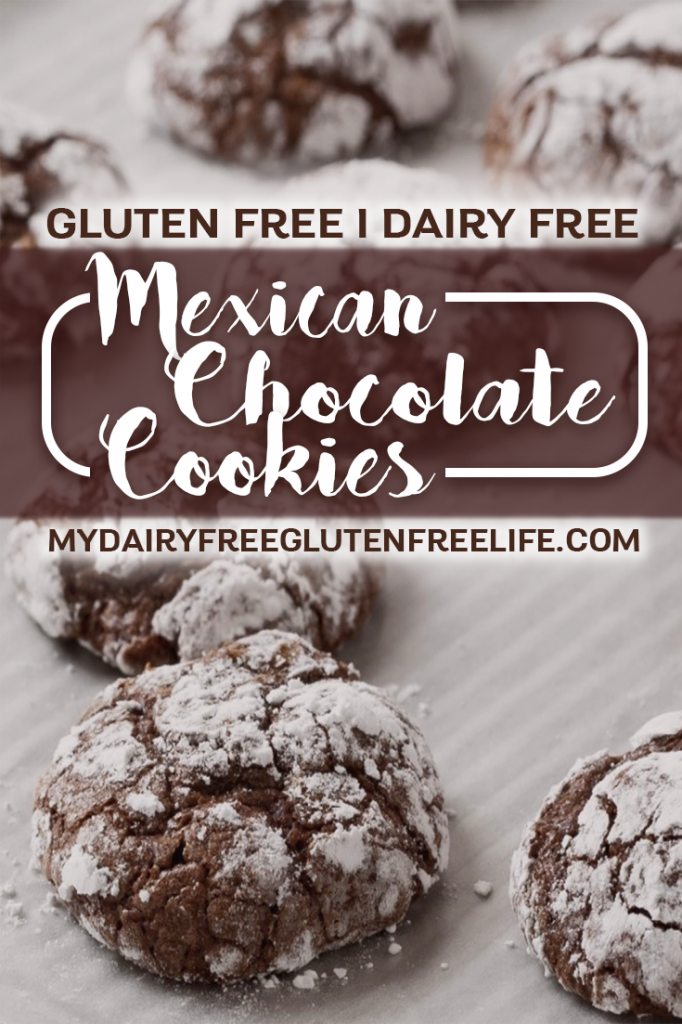 I received The Holiday Kosher Baker, Traditional & Contemporary Holiday Desserts by Paula Shoyer to Review.  You can find my book review by clicking on the photo of the book below.   The author has given me permission to share this yummy Mexican Chocolate Cookie Recipe with you!
This is a very forgiving recipe!  I didn't have powdered sugar to roll the dough in prior to baking so I used organic sugar to roll them in, then refrigerated them overnight as the recipe says.  I have had some low back problems and my back for the next couple days would not allow me to bake the cookies.  So the dough sat in the refrigerator for 2 nights and today I baked them.   The photo above is of them baked in powdered sugar from the cookbook.   Below, is the photo of the cookies I baked yesterday, having rolled them in organic granular sugar.  The recipe made 20 large cookies and they lasted one day!  Very moist and chewy inside with just the right amount of crisp outside.  The chocolate was just right with a hint of cinnamon.
I use AirBake Cookie Sheets but also love to bake on Silpat.

Mexican Chocolate Cookies Recipe
These are soft, chewy chocolate cookies with confectioners' sugar on top.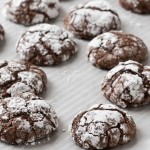 Print Recipe
Mexican Chocolate Cookies Recipe, Gluten-Free & Dairy-Free
This recipe for Mexican Chocolate Cookies are sure to be a hit with the whole family. Gluten and dairy free, and oh so tasty!
Ingredients
1/3

cup

vegetable oil

80ml. I used coconut oil

1

cup

sugar

200g. I used organic

½

cup

unsweetened cocoa

40g

2

large eggs

1

teaspoon

vanilla

1

cup

potato starch, sifted

160g. I used Bob's Red Mill

¼

teaspoon

salt

½

teaspoon

cinnamon

1/3

cup

confectioners' sugar

40g. I didn't have so I used regular organic sugar

NOTE: Passover potato starch often comes clumped up in the package. Use a whisk to break up the clumps or sift the potato starch before measuring.
Instructions
Putting it all Together:

IN A MEDIUM BOWL, mix together the oil, sugar, cocoa, eggs, and vanilla. Add the potato starch, salt, and cinnamon, and mix well.

Cover with plastic wrap and place in the fridge overnight. ( I put in small plastic bowl with cover )

PREHEAT OVEN to 350°F (180°C). Cover two cookie sheets with parchment paper. Put the confectioners' sugar into a shallow bowl. Scoop up a walnut-size piece of dough and roll it into a ball. Roll each ball in the confectioners' sugar and place it on the cookie sheet 1 ½ inches (4cm) apart. IF YOU HAVE ROLLED three dozen or more cookies, bake them for 12 to 14 minutes. If you have rolled two and a half to three dozen cookies, bake them for 14 to 15 minutes. The cookies are done when they are still partially soft. You can check for doneness by pressing down gently on the top of a cookie; if your finger goes down a little into the cookie, it is done and will be chewy. If you can press all the way down to the cookie sheet, the cookies need another two minutes or more to bake. Store in an airtight container at room temperature for up to five days or freeze for up to three months.
Notes
Nutritional values are based on one serving
Nutrition
Calories:
118
kcal
|
Carbohydrates:
19
g
|
Protein:
1
g
|
Fat:
4
g
|
Saturated Fat:
3
g
|
Cholesterol:
16
mg
|
Sodium:
40
mg
|
Potassium:
118
mg
|
Fiber:
1
g
|
Sugar:
12
g
|
Vitamin A:
25
IU
|
Vitamin C:
0.3
mg
|
Calcium:
10
mg
|
Iron:
0.5
mg
Amazon Shopping List
If you are in need of new cookie sheets, here is the Amazon 10 Best Seller list in Baking and Cookie Sheets: