Oats-bury Steaks Recipe
gluten-free, soy-free & vegan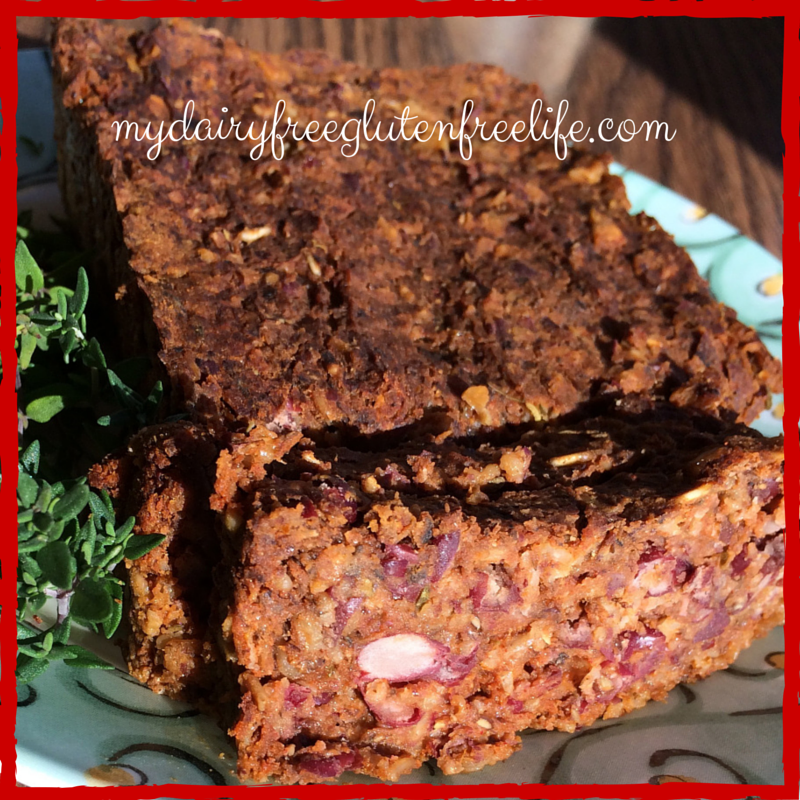 I am always looking for a way to use Oats for vegan and gluten-free loaves. Loaves can be used for dinner or lunch or sliced and used in sandwiches.   The recipe for these OATS-BURY Steaks I turned into a loaf pan to bake and slice for sandwiches.    However, you can easily make oat patties and fry them or bake them for "Steaks".     My hubby and I really liked the flavor of this loaf.   It uses great spices and one I have never used which is smoked paprika which really gives this loaf a earthy flavor!   And of course, the mushrooms give the loaf it's own earthiness.   It was very moist yet well baked through and crisp on top.  Any gravy would be delicious with this or served with catsup as we did.
 This recipe uses such simple items pictured above!   And things I love! Pumpkin, Kidney Beans, Mushrooms and Gluten-Free Rolled Oats.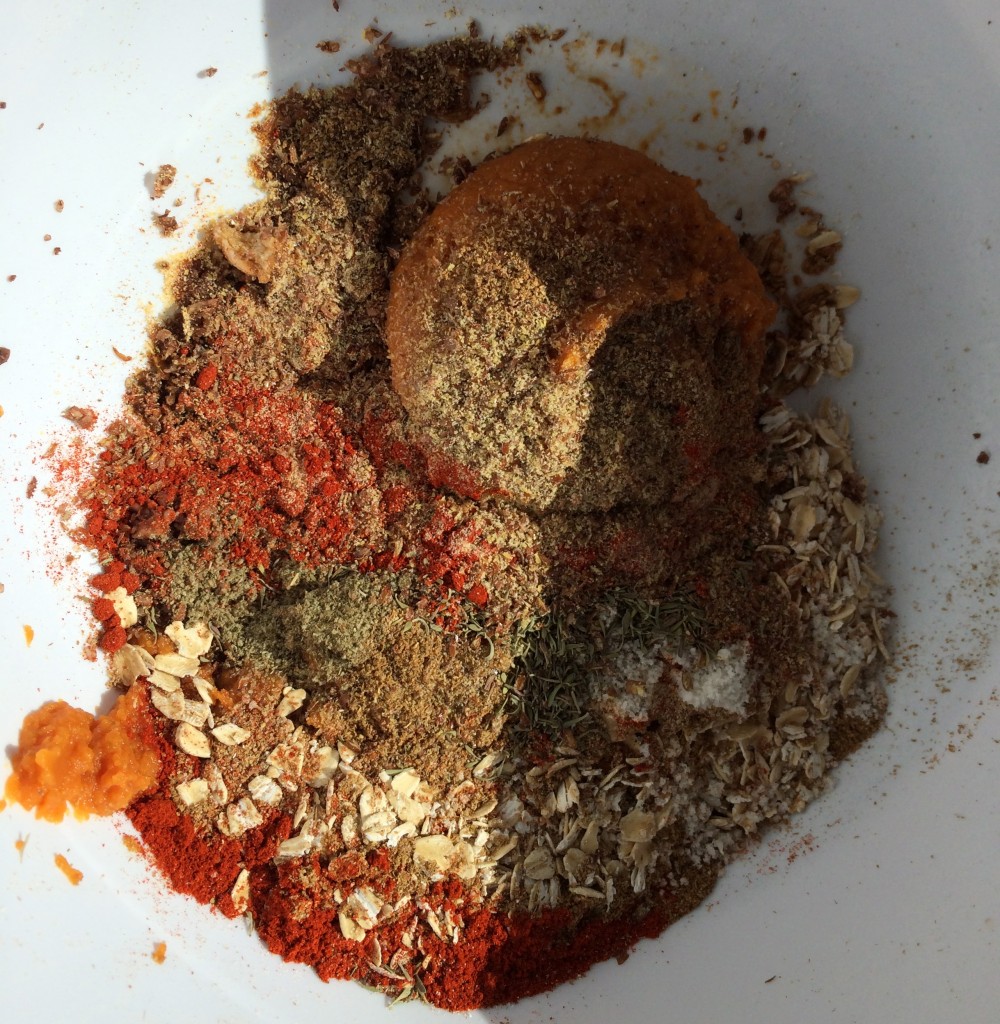 It was very easy to prepare!   I mixed everything in one bowl including the spices.
 Then I mashed the Kidney Beans and added them into the bowl with all the other ingredients.
 I mixed it all with a spoon and then put the mixture into a greased loaf pan.   I covered it with foil and baked it for at 350 degrees for 30 minutes.    I loved it like this, but if I were to make it in loaf form again, I would add a few chopped nuts of choice.   I would probably use cashews, just to give it a little crunch.   The recipe from the book does call for it to be made in "Steaks" though and for that I don't think you would want extra crunch.  The recipe is from the book OATrageous Oatmeals by Kathy Hester.   I think I would fry them so the outside is crispy and yet soft in the middle for "Steaks".  Of course baking them saves a lot of calories.  Click the Book photo below to see my full review of "OATrageous Oatmeals"!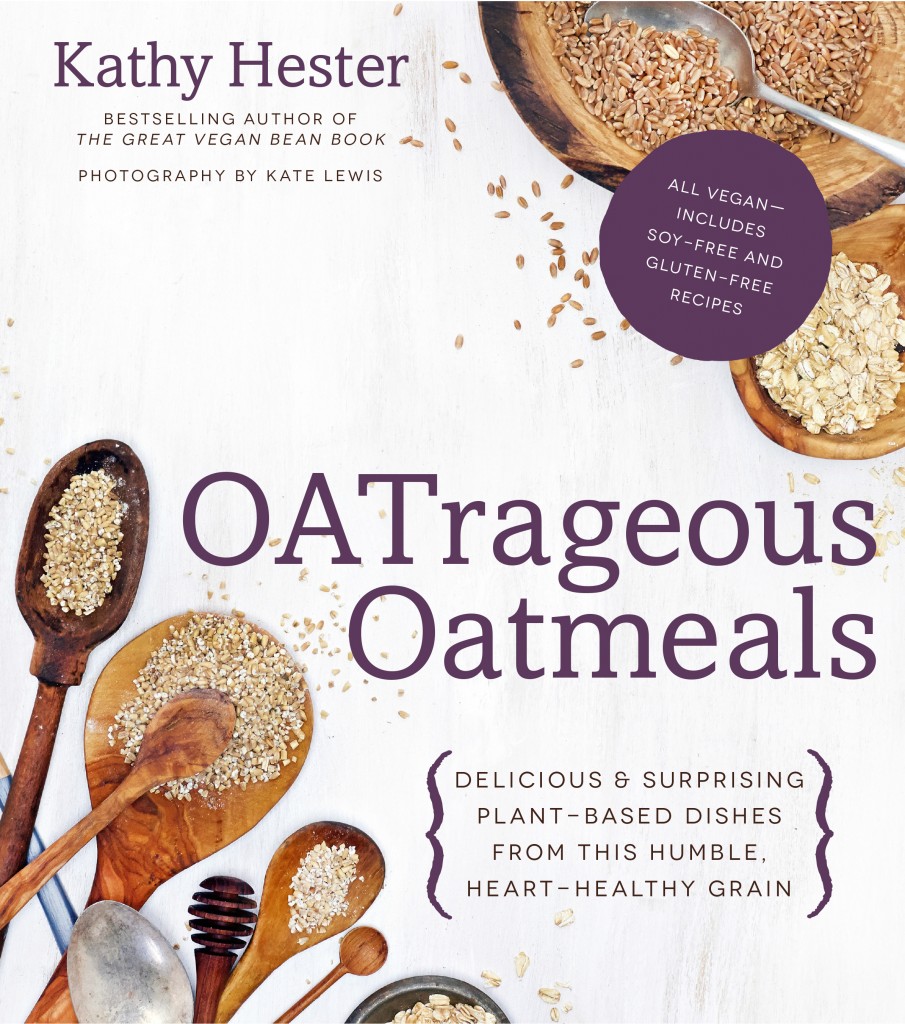 Oats-bury Steaks Recipe:
Ingredients you will need:
(15 oz [425 g]) can kidney beans drained and rinsed
½ cup (35 g) minced mushrooms
½ cup (112 g) sweet potato or pumpkin purée ( I used pumpkin )
¾ cup (69 g) rolled oats
2 tablespoons (14 g) ground flaxseed mixed with 4 tablespoons (59 ml) warm water
2 tablespoons (30 ml) vegan Worcestershire sauce ( I couldn't find vegan Worcestershire sauce so used Gluten-Free Tamari )
2 teaspoons (10 g) ground coriander
2 teaspoons (10 g) smoked paprika
1 teaspoon granulated garlic
1 teaspoon dried thyme
¾ teaspoon salt (or to taste)
½ teaspoon sage
¼ to ½ teaspoon black pepper, to taste
Putting it all Together:
Preheat the oven to 350°F (177°C). Tear a piece of parchment paper to fit a small baking sheet and set both aside. Mash the kidney beans in a medium bowl with a potato masher. There can be some chunks left. Mix in the rest of the ingredients until thoroughly combined. Portion the mix into six oval patties on the baking sheet. The mixture will be very wet so don't try to make the patties in your hands. Instead, make 6 piles of the mixture on the parchment-lined baking sheet, press down with a spatula and then shape the edges with your hands. Bake for 20 to 30 minutes or until the middle is firm. Serve with mashed potatoes, mushroom gravy and roasted green beans for an old-fashioned yet healthy dinner. Per patty: Calories 131.2, protein 5.7 g, total fat 1.7 g, carbohydrates 23.6 g, sodium 449.2 mg, fiber 6.2 g
These patties combine beans, veggies and oats into something worthy of being the star of your dinner plate. The seasoning blend plus the mushrooms give this patty a big burst of flavor. Don't worry; it's much tastier than the Salisbury steaks of your youth! Makes 6 oval patties.