If you've made the decision to cut gluten out of your life, congratulations!  But you might be wondering what is left and what to eat on a weekly basis! This 7 Day Gluten Free Meal Plan is the perfect way to kick it up a notch with your meal planning and healthy eating. This meal plan is absolutely full of great recipes that gluten free and you'd be surprised how easy many of them are!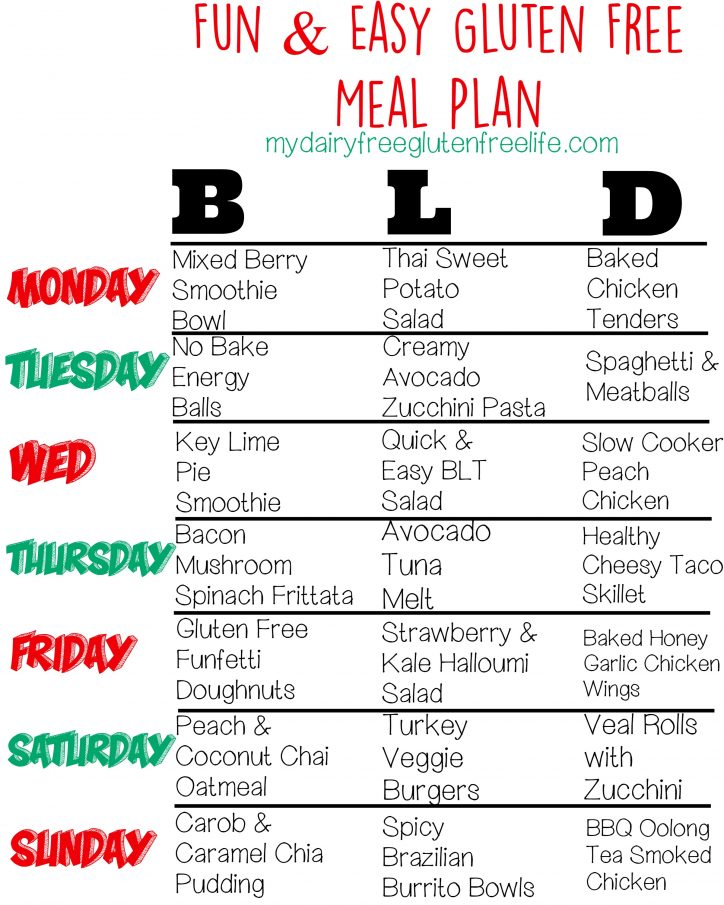 7 Day Gluten Free Meal Plan
Breakfast:
Mixed Berry Smoothie Bowl
No Bake Energy Balls
Key Lime Pie Smoothie
Bacon Mushroom Spinach Frittata
Gluten Free Funfetti Doughnuts
Peach & Coconut Chai Oatmeal
Carob & Caramel Chia Pudding
Lunch:

Thai Sweet Potato Salad
Creamy Avocado Zucchini Pasta
Quick & Easy BLT Salad
Avocado Tuna Melt
Strawberry & Kale Halloumi Salad
Turkey Veggie Burgers
Spicy Brazilian Burrito Bowls
Dinner:

Baked Chicken Tenders
Spaghetti & Meatballs
Slow Cooker Peach Chicken
Healthy Cheesy Taco Skillet
Baked Honey Garlic Chicken Wings
Veal Rolls with Zucchini
BBQ Oolong Tea Smoked Chicken
I hope you find this 7 Day Gluten Free Meal Plan helpful!   The menu suggestions listed above all have recipes listed HERE!   
The content and information about how to begin a gluten free menu plan is listed HERE. Check that out because it lays out the foundation for beginning this lifestyle.