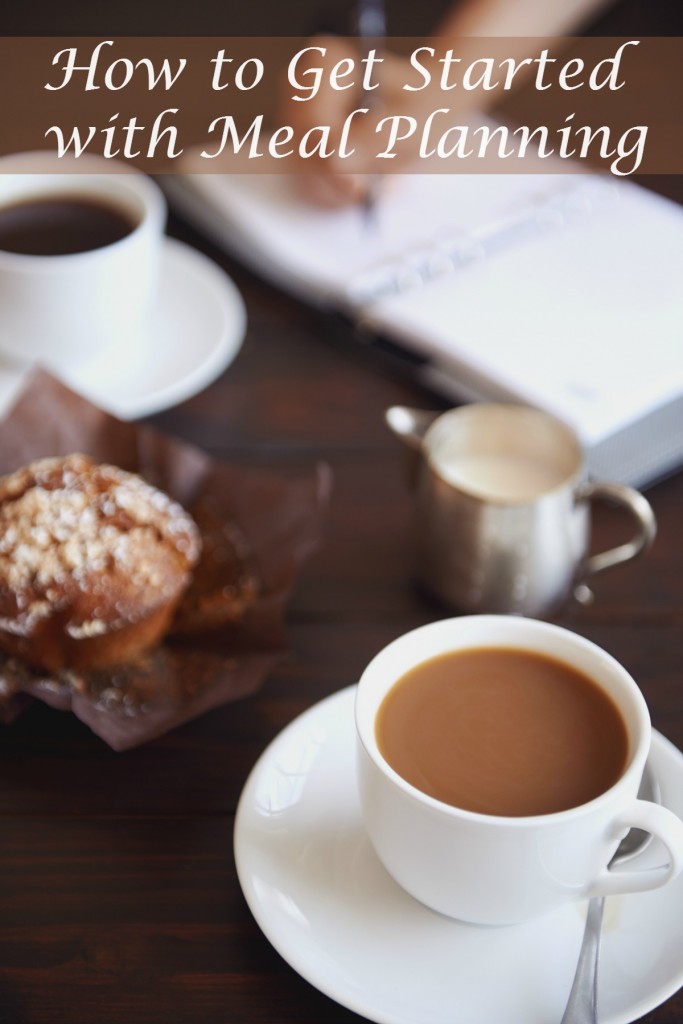 How to Get Started With Meal Planning
All this week are are going to look at meal planning!  Maybe you are a free spirit and just eat what and when you feel like it.  But  meal planning is a great way to save time and money, and be less stressed when it comes time to feed your family. If you can get the kids involved, even better!
I like to leave weekends kind of like a "free for all" – so I just plan five meals. Lunch is usually sandwiches, soups, or leftovers. Breakfast is similar, with just a few foods we like to rotate, so the main meal planning is for dinner meals.
Gather your resources. If you need recipes, there are many sources you can gather them from. I personally enjoy looking through cook books and cooking magazines. Browse your favorite blogs (and Pinterest!) to find new recipes to try. Only try a few new recipes a week, max. Include tried and true recipes in your meal planning so you don't get too overwhelmed.
Save recipes by keeping it simple – have one binder (not several loose papers floating around), and one Pinterest board. These should hold all of your meal planning ideas. I like to do it this way because after a few weeks, I'll circle back around and use the same menu again.
Write it all down. Whether you use a chalkboard in the kitchen, a calendar that you jot all the meal ideas down on, or an online calendar of some sort, it all needs to be in black and white so you aren't wasting time trying to figure out what's for dinner at 5 o'clock!
Inventory what you already have on-hand. Check the freezer and the pantry, and make a note of items that need to be used.
Use local ads to save even more money. See what's on sale, and what you can ad match. Try to include these items in your menu plan for the week. Create your grocery list around the sale ads, and divide by aisle or section to save time while shopping. Stock up on proteins that are super low priced.
In the spirit of saving money, use recipes that overlap ingredients. If you only need 1/2 head of lettuce for one meal, the next night's meal could be a different recipe that utilizes the other half. Or, you could use the other half for lunches.
Pick a theme – like "Taco Tuesdays" or "Meatless Mondays". It's fun, and it makes meal planning that much easier.
If you know you're going to be busy one evening, plan to eat leftovers or perhaps a Crock Pot meal. Keep it simple so you don't go too far off track, even when life gets in the way (as it always tends to do!).
If you eat meat, be sure to pull it out of the freezer the night before so you don't have an "oh no!" moment right before dinner.
Since I know that everyone here doesn't eat all one way, I will be sharing the following free printable 7 day meal plans ( including recipes ):
Gluten Free
Dairy-Free Gluten-Free
Gluten-Free Vegan
Free printable 7 day menu plans (including recipes) along with other info for each type of eating coming.   Keep tuned!