If you've made the decision to cut dairy and gluten out of your life, congratulations!  But you might be wondering what is left and what to eat on a weekly basis! This Dairy Gluten Free Meal Plan is the perfect way to kick it up a notch with your meal planning and healthy eating. This meal plan is absolutely full of great recipes that are dairy and gluten free and you'd be surprised how easy many of them are!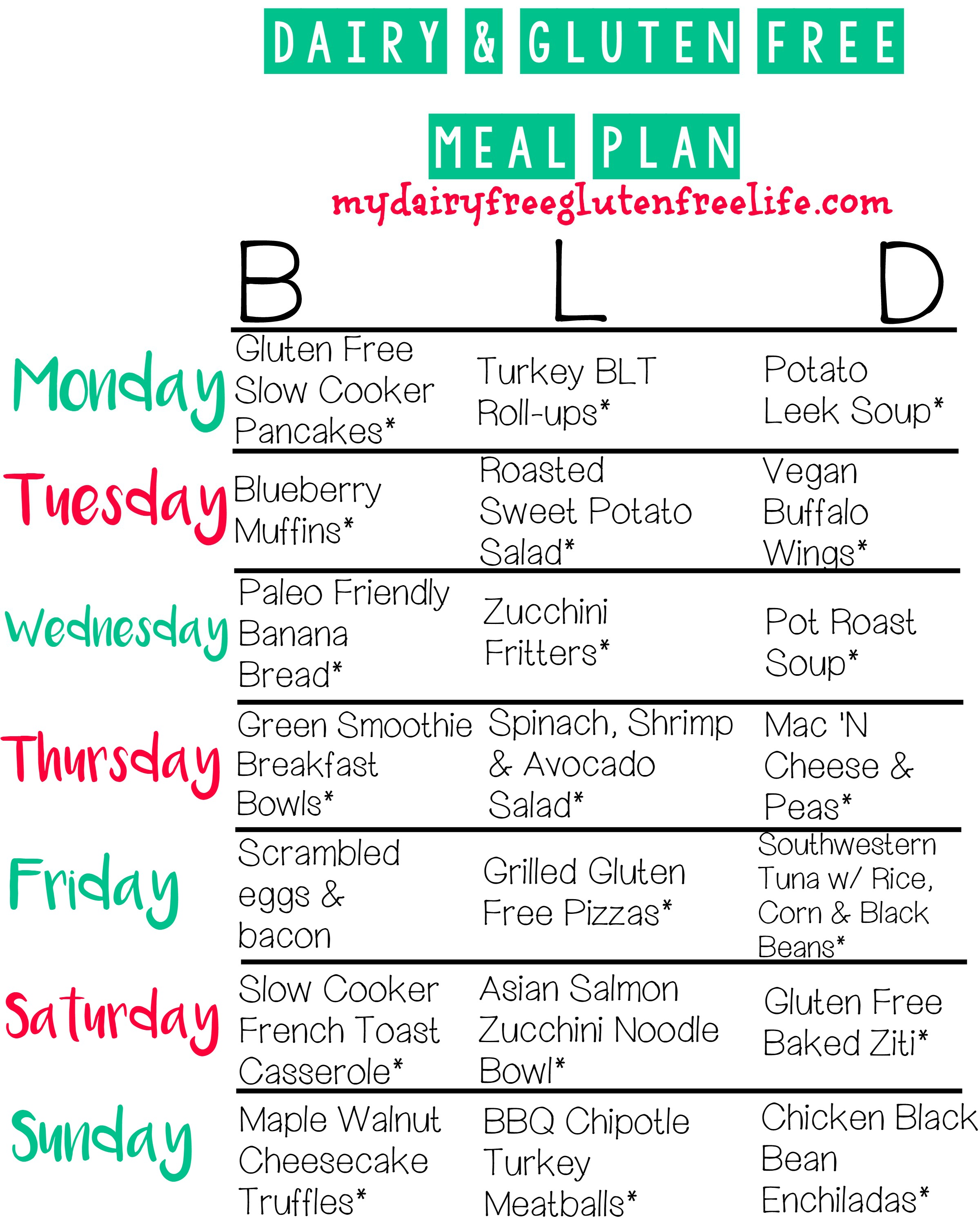 Eating dairy and gluten free is a big decision because it cuts out a lot of convenience foods in your life. Ultimately though, you'll feel a lot better once you fall into a routine, and you'll find a few convenience hacks of your own. There are a lot of great resources out there for both styles of eating, and one of the easiest ways to find them is on Amazon!.
Most of the recipes you see above are marked with an asterisk * and can be found HERE. Now you will be able to conveniently find all the recipes in one place – somewhat convenient after all! Of course, you can double up on any of the recipes or use leftovers as lunch the next day, so feel free to tweak however you need to!
7 Day Dairy Gluten Free Meal Plan
Breakfast:
Gluten Free Slow Cooker Pancakes
Blueberry Muffins
Paleo Friendly Banana Bread
Green Smoothie Breakfast Bowls
Scrambled Eggs & Bacon
Slow Cooker French Toast Casserole
Maple Walnut Cheesecake Truffles
Lunch:

Turkey BLT Roll-ups
Roasted Sweet Potato Salad
Zucchini Fritters
Spinach, Shrimp & Avocado Salad
Grilled Gluten Free Pizzas
Asian Salmon Zucchini Noodle Bowl
BBQ Chipotle Turkey Meatballs
Dinner:

Potato Leek Soup
Vegan Buffalo Wings
Pot Roast Soup
Mac 'N Cheese & Peas
Gluten Free Baked Ziti
Southwestern Tuna w/ Rice, Corn & Black Beans
Chicken Black Bean Enchiladas
Have you tried any of these Dairy Gluten Free Meal Plan meals? Which is your favorite?