Have you been wanting great tasting, easy to make, Dairy-Free Ice Cream?   Well we have a great Dairy-Free Ice Cream CookBook for you!  This book has 75  recipes for all kinds of yummy, did I say yummy?   These recipes are not only for ice cream but for sorbet, sherbet, popsicles, cakes, cookies and toppings and more!
Author, Kelly V. Brozyna has a lively blog with more paleo and chocolate recipes over at The Spunky Coconut!  I received no compensation other than the cookbook to review.  All comments are my own.
A few recipes in the book, you can use a Blendtec,  but the majority of the recipes require an ice cream maker. I went to my foodie friend's home in Fairbanks, AK for a visit and she helped me review this great Dairy-Free Ice Cream Cookbook!  She is also vegan so was very happy to try some recipes. In fact, thank you Bobbi, she bought the ice cream maker to use!   We made 5 of the 75  recipes in the book.   She likes some flavors such as coffee where I love Chocolate and she doesn't.  So we did a fair trial of flavors.   I preferred the soft serve texture and consistency and she preferred freezing it in a container and dipping out ice balls of ice cream. The ice cream maker is so simple to use, just 3 parts!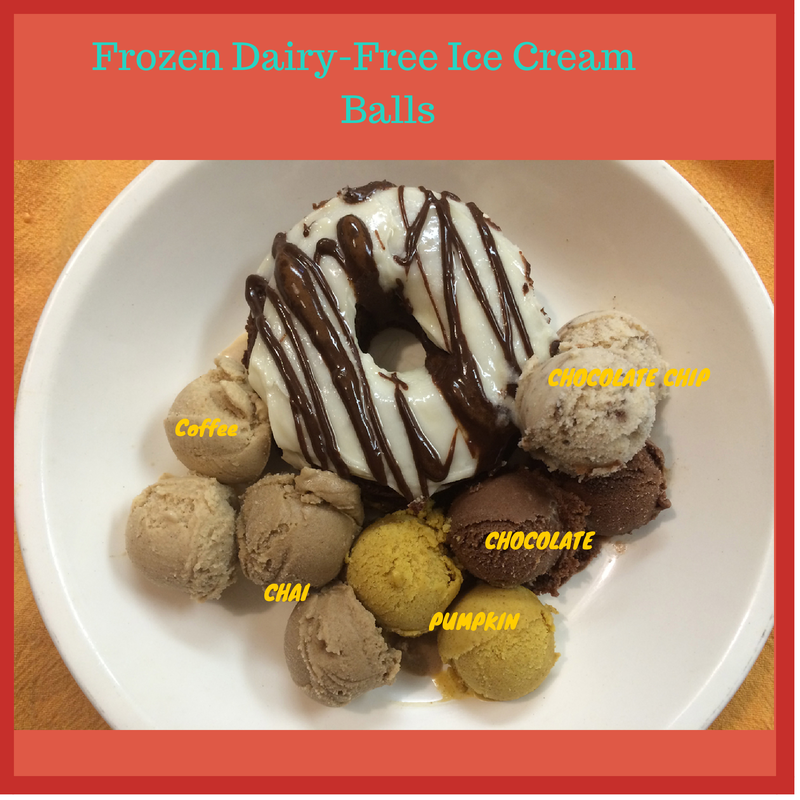 You can see that this photo has the dairy-free ice cream frozen after it was made and then scooped into little balls.   It is showed with a great Gluten-Free donut that I got at a Fairbanks eatery.
The flavors we made as you see above were:
Coffee which Bobbi loved
Chai Tea which we both loved, nicely spicy and refreshing
Chocolate which was to die for but I am the chocolate lover, very rich!
Chocolate Chip which we both loved, I put shaved chocolate in it…yum
Pumpkin which was scrumptious and we both loved it,  just like having pumpkin pie for ice cream.