Disclosure: This post contains affiliate links, which means that if you click on one of the product links, I may receive a small fee to keep this blog running.

BLENDTEC REVIEW!  
Most of you have probably known me as an advocate for VitaMix, so why on earth would I be doing a Blendtec Review now?  Let me share a story with you about how this  Blendtec 

Review

came about.
When I was on vacation in New York City last November 2012, my girlfirend and I were surfing TV channels and happened upon one that was talking about Vitamix and Blendtec.  It explained how Vitamix had copied another company's (Blendtec) mixing jar.   That case was taken to court and the court agreed with Blendtec.  Vitamix lost, and Blendtec from K-Tec, Inc. was awarded a multimillion dollar judgment.    I almost had to pull my jaw up from the floor!  My friend and I looked at each other, and I asked her, "how can I promote a company (Vitamix) that stole another company's design"?   If you want the details, you can read more about this federal court ruling here.
 

You have got to watch this funny video from Blendtec: "Does It Blend?"

 
My Blendtec Review:
I received a Blendtec Designer Series, and it came in one package with the Wildside Jar, Spatula, and 2 Cookbooks.  The Twister Jar came separately.  Both were packaged extremely well and nothing was dented or damaged.
I am comparing the Blendtec Designer 675 with the Vitamix 5000 Total Nutrition Center (TNC).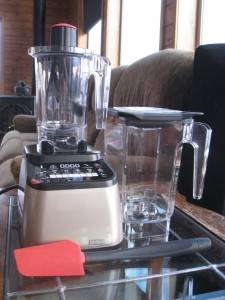 Cookbook: I was really excited about the cookbook that came with the Blendtec.  It is spiral bound and hard sided and someone that is really into eating healthy has put down some fabulous recipes!   The recipes are labeled as to whether they are Gluten-Free, Dairy-Free, Vegan, RAW and low sodium recipes as well as regular recipes that require wheat, meat and dairy.  There are even recipes for exfoliating and skin care, plus recipes for your pet as well!  The recipes also have nutritional and calorie counts.
Making Your own Flour: In addition there are recipes for making your own flour.  You do NOT need a separate container to make flour like you do for the Vitamix.   That is a huge plus in my book.  And there are  recipes for making your own nut milks.  Speaking of nut milks…I decided to see how Blendtec compared with the Vitamix in making Almond Milk since I use alot of home-made almond milk.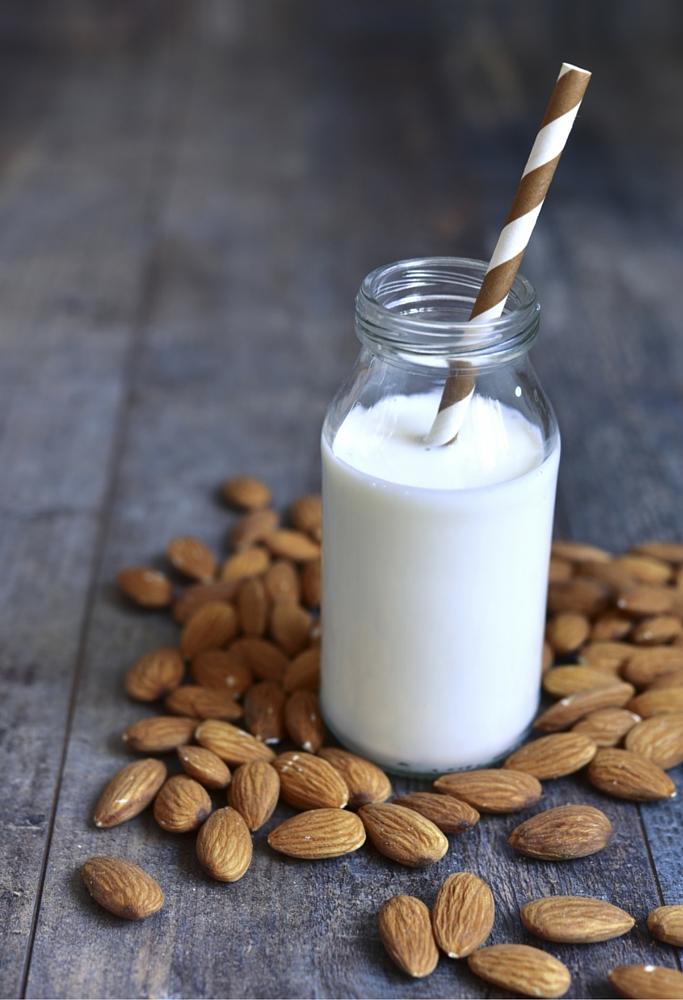 1st Comparison Making Nut Milk: I was thrilled because the lid of the Blendtec is much easier to use than the lid on the VitaMix.  Previously, I had to ask my husband to take the lid off the VitaMix because my arthritic hands could not unlock it.  I was shocked at how powerful the Blendtec machine is in comparison.  See my post on How to Make Almond Milk using a Blendtec!   The Blendtec has pre-programmed cycles, so I pressed the cycle for the milk.  This machine is fast and powerful!    I noticed the feel of the almond pulp was much finer with the Blendtec than with the Vitamix and the milk seemed to have more almond flavor with the Blendtec.
The Blendtec also has a sliding bar ( or a bar with buttons to tap as you go higher in speed ) so you can start very slow and increase just like the Vitamix if you do not want to use the pre-programmed cycles.
2nd Comparison Making Quick Bread:  My next comparison was to blend a quick gluten-free bread.  I couldn't believe how quickly this machine whizzed this mix together.  I pulsed the Blendtec a couple times, scraped down the sides once and hit pulse again and it was done!   The bread turned out fabulously and my husband loved the texture and flavor.   I have to mention, again, how easy the lid is to handle on these Blendtec containers.   I also like the shorter, wider container size that has the same volume as the taller Vitamix container.  The Blendtec WildSide container is easier for me to handle.  The Blendtec also fits on the machine and under my cabinets where the other machine does not.
The Twister container Making Noodles: is used for tackling thicker dough and comes with a small recipe booklet.   There are recipes items that require high speeds or have heavy doughs such as Dairy-Free Ice Creams, pasta dough, pizza dough, nut butters and many other recipes.   To test the Twister Container I made the recipe for Whole Wheat Spinach Pasta but substituted gluten-free flour and I didn't have spinach, so I substituted cilantro.  It was a very thick dough but I used the special spatula, Spectacula, as it is called, which made it very easy to remove the ingredients and very easy to clean the container.   This dough was very easy to make with the Blendtec, and the noodles held up very well despite using gluten-free flour!
My final thoughts on the Blendtec are that the Blendtec is a more powerful machine than the Vitamix, you do not need a plunger to use with the Blendtec.   I like the fact that I do not have to open the top of the lid to push down food when you use a Blendtec.  It is very easy to use and I like the fact that Blendtec provides a separate container, the Twister Jar, to handle thicker projects.  I also love the Blendtec lids.  I can easily use the Blendtec lids, removing them myself without any help.  This fact makes it much easier for me to cook when I am at home alone.   I also love the service that Blendtec has provided me in the short time I have known them.
You will have to make your decision between Blendtec and Vitamix but I am in Love with my Blendtec and advocate for them now!    In fact if you want to purchase one,  please use my link HERE.   It will help me finance giveaways for this blog and won't cost you a penny more.