Disclosure: This post contains affiliate links, which means that if you click on one of the product links, I'll receive a small fee to keep this blog running.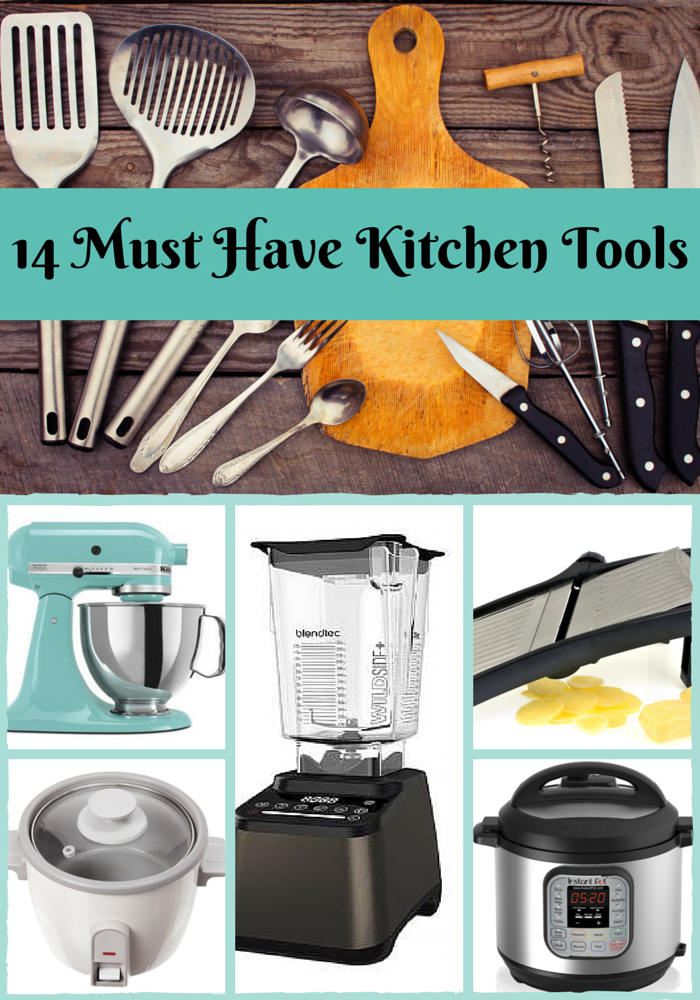 Well you all know that a cook needs good knives of all kinds, a good cutting board and lots of specialty spoons for cooking.   But I am sharing with you my other secrets, my 14 Must Have Kitchen Tools.   Without these 14 tools I would be lost!   Let me know in the comments if you have some other tools that are a must have in your kitchen.  I'd love to know.
I've included where you can purchase each of these 14 items in case you want to start a holiday or birthday wish list!
14 Must Have Kitchen Tools
Blendtec Total Blender   By now you probably know I am in love with the Blendtec Blender.  It has been wonderful for going diary-free!   I am able to make yummy dairy-free cheeses right in the Blendtec.   It has allowed me to do so much with my cooking.  You will have to see my review on the Blendtec to know more about it.  It is the cat's meow when it comes to blenders and prices start at $279.95! Buy it here.
Kitchenaid Mixer  If you've been in the kitchen for any amount of time, you've probably already wished for a Kitchenaid Mixer. Knead, whip, and mix ingredients with ease using this handy countertop appliance.   It has so helped my arthritic hands!  I have one recipe for gluten free bread that I just adore but it called to mix it for 6.5 minutes.  Do you know how long that is having to hold a hand mixer?  Plus how hard it is on the engine?
Usually around the holidays, Kohl's and other stores will have Kitchenaid Mixers on sale for $100 off (or sometimes more!). Can't wait til Christmas? Buy it here.
Rice Cooker  I couldn't live without my rice cooker.  I have grown up with one and I just can't make rice on the stovetop, I have tried.  A rice cooker makes it perfect every time!  So easy you just follow the directions for your rice cooker model, put the rice and water in and click the cook button.  Most machines will ding when done and turn over to a keep warm position!   I love my rice cooker and you can get the one I use here.
Crockpot aka Slow Cooker  Dinner is one thing we don't want to worry about, especially with school here.   I pull out my Crockpots this time of year. I just put the ingredients in and set the timer for slow and when I come home in the evening I will have a mouth watering, tender, flavorful dinner! I like this one and use it all the time.
Electric Pressure Cooker  I am sold on this time saver! Check out my review on it here.  This one has so many safety features that I am not afraid to use it!  You can make such flavorful meals in minutes.  Buy it here.
Spiralizer Whether you're cooking a stir-fry dish, or replacing pasta with veggies, the spiralizer makes life so much easier!   It is used a lot for raw and vegan cooking.  They're super simple to use, and you can spiralize anything from carrots and zucchini to beets and broccoli stalks in just a few minutes. To cook spiralized veggies, you simply heat them up for a few minutes – you don't want them to be mushy, so don't overcook!
Not all spiralizers are created equal, so check them out and See them here.
Immersion Blender From making smoothies and yogurt, to blending up soups, an immersion blender does the job quite nicely. I like that it's heavy duty but not too heavy to hold, and it's easy to clean! Compared to a regular blender, it's fairly quiet – and it's convenient because you can use the blender IN the bowl instead of having to move all ingredients to an actual blender. I like this Cuisinart Immersion Blender.
Mandoline I think my mandoline slicer cuts my prep time literally in half. I use it for zucchini, squash, carrots, peppers, tomatoes, onions… the list goes on and on. If you get one with attachments (like this one), you can even use it for grating.
Silicone Basting Brushes I like to use these for rubbing on BBQ sauce, or slathering in melted butter. You can use them for egg-washing.  My husband and son love them for basting chicken or fish with marinades on the grill. They're dishwasher safe, so that's a plus! Buy here.
Melon Ballers I don't have to tell you much about this one, do I? A melon baller seems like a "silly" purchase to some, but once you get one you'll see how much you put it to work! Anything that saves me time and makes things pretty, I'm sold! It's great for a quick treat like fruit salad, or you could even use it to ball apples, cover them in cinnamon and sugar, and have a portable snack. I like this one.
Cookie Measuring Scoops Nothing drives me crazy more than uneven cookie scoops! Okay, so that might be a bit of an exaggeration, but it's so nice to have perfect scoops every time. This goes for cookies, as well as ice cream! You can actually even use this one as a melon baller, as well. I love when I can get one kitchen tool that has multiple uses.
Handheld Juicer Make a small glass of juice, or use it to make a glaze. This handheld juicer saves you many hand cramps!
Zester aka Microplane No kitchen is complete without a zester! I love using lemon, orange, and even lime zest to top cupcakes and other desserts. It makes them look fancy, without a lot of effort.  I also use a zester for many fish sauce recipes.
Ceramic Scraper This scraper has saved my dishes so many times! When I thought they were unusable, just scraping with one of them lifted off everything!  I got them years ago and they are still perfect!  I love that they have sized edges so they fit into many different pans.  Buy it here.