Well some things in life take a bit of time if you want them to taste really good.  These Raised Glazed Donuts are very light in texture.  Not like a cake donut.  So if you are craving a homemade gluten-free and dairy-free light yeast donut, this is the one you want to make!  I absolutely love Glazed Donuts!  Donuts are one of the pastries I crave since I have gone gluten and dairy free.  But crave no more!!  These yummy soft and light donuts will hit your spot!
These raised donuts are made with almond milk but you could use coconut milk as a substitute.  I prefer the milder flavor of almond milk.   Plus using Almond milk cuts a few calories and lets face it…these donuts are not calorie free!  So being able to limit the calories without affecting the taste is important.  Coconut milk is too strong of a flavor for me in some baked items and this donut is one of them.
I also prefer King Arthur All Purpose Gluten Free flour but Bob's Red Mill 1:1 works well also. I have not tried this recipe without eggs so I cannot say how a egg substitute would work.  Any Instant yeast is ok but I prefer Red Star.
These Glazed Donuts would be perfect to accompany a holiday breakfast!  I love to eat them just right after they are glazed!!  You won't feel deprived anymore!   So check the recipe below the photos, it really isn't that complicated.   The photos below show the process of making these mouth watering donuts!   Enjoy.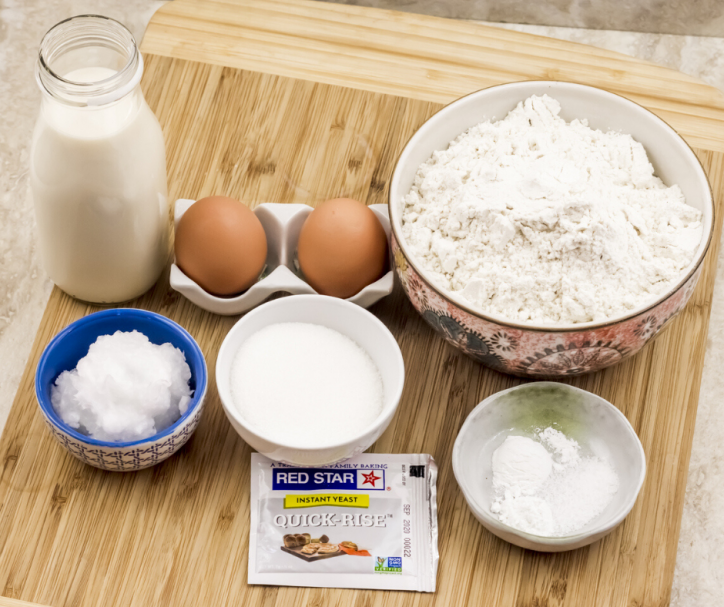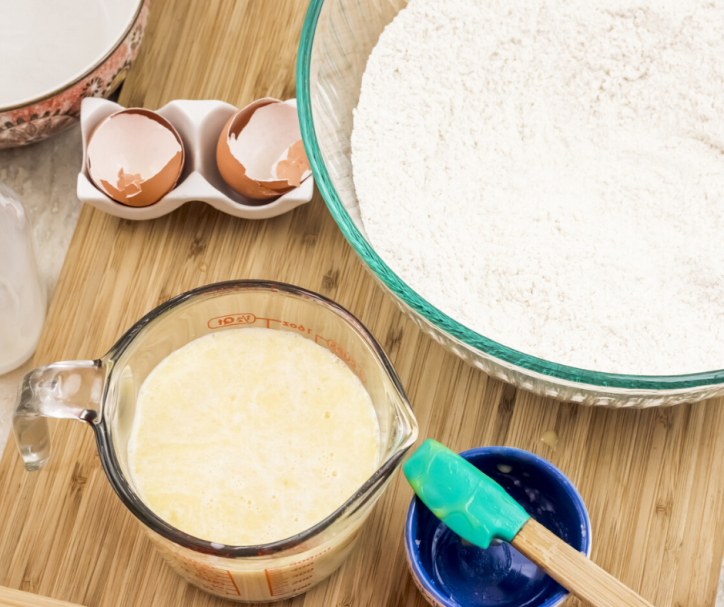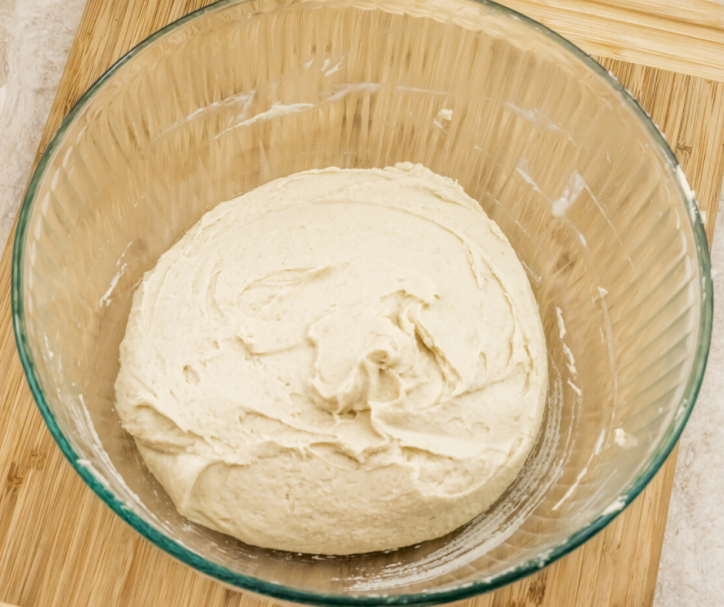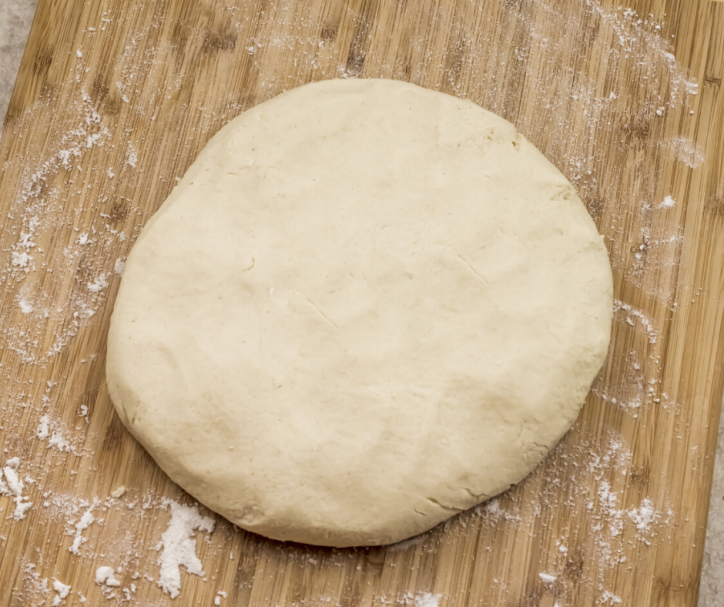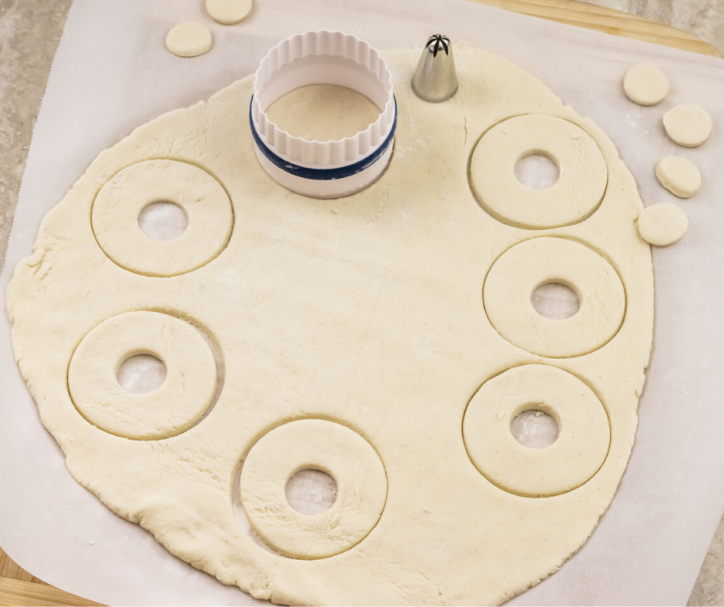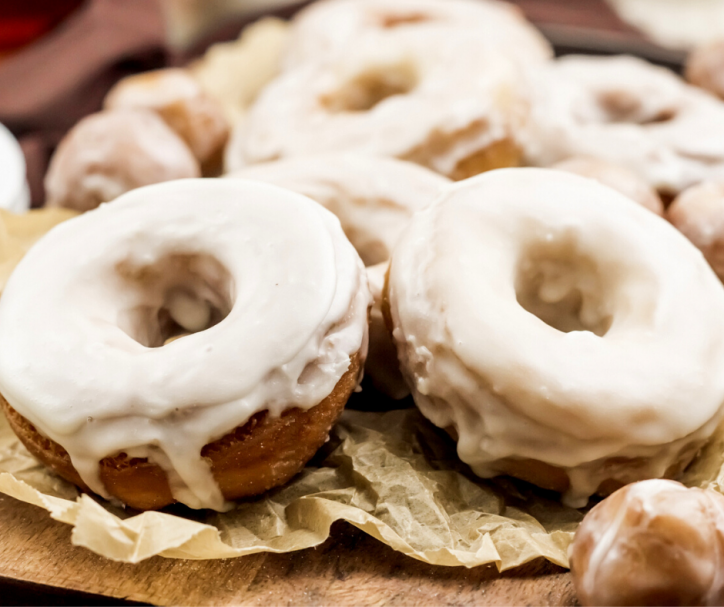 Raised Glazed Donuts:
Print Recipe
Yeast Raised Glazed Donuts Gluten & Dairy Free
Donuts that are yeast raised and light in texture
Ingredients
For the Donuts
3

Cups

Gluten Free All Purpose Flour

King Arthur Flour Measure for Measure or Bob's Red Mill 1:1 Baking Flour

1

pkt

Instant Yeast

Quick Rising Yeast, or Bread-maker Yeast

1/2

tsp

baking powder

1/4

tsp

cream of tartar

1/2

tsp

salt

1/2

cup

sugar

organic

1/4

cup

coconut oil

melted

1

cup

plant milk

Almond or Coconut Milk

2

eggs

organic

large

2

Cups

avocado oil

for frying
For the Glaze
1 1/2

cup

Powdered Sugar

Confectioners Sugar

1

tsp

vanilla extract

Pure

1

Tbsp

plant milk

Almond or Coconut
Instructions
In a large bowl combine your GF flour, instant yeast, baking powder, cream of tartar, salt, and sugar.

In another bowl or measuring cup, combine melted coconut oil, beaten eggs and almond or coconut milk. Whisk until well mixed.

Add the egg mixture into the dry flour mix. Mix with a wooden spoon or a silicone spatula till the flour is well combined and there is no dry spot. Then using clean and well-floured hands, bring everything together into a sticky dough.

Cover and keep the dough in a warm, dry spot for two hours. I like keeping mine inside my oven.

After two hours, the dough will be double in size. Transfer it into the fridge to chill for at least 4 hours to overnight. The chilling make the dough firmer and easier to handle. Do not skip this step.

Once the dough is chilled, roll it out between 2 parchment papers, into a ½ inch disk.

Use a cookie cutter to cut out donuts shapes. Gather the scrapes and re-roll the dough and cut more donut shapes.

Arrange the donuts and the donut holes in a parchment lined baking sheet. Cover and let it rise for another hour. This will ensure light and airy donuts.

While the donuts are getting their final proofing, make the glaze - Combine confectioners' sugar, vanilla and milk in a bowl. Whisk it well into a smooth glaze. 

Add a teaspoon of milk, if the glaze is too thick or add a tablespoon of powdered sugar, if the glaze is too thin.

In a large sauce pan, heat 2 cups of oil. Insert a candy thermometer and let the oil come up to 375 F.

Gently slide a couple of the donuts into the hot oil. Leave it undisturbed for a minute or so. 

When it rises to the top, flip it and let the other side fry for another minute, till it is rich golden brown in color.

Remove from the oil and let it rest on a paper towel lined baking sheet.

Dip the warm donut in the glaze and let it cool on a wire rack. 

Repeat with the remaining donuts and the donut holes.

Notes

Store the leftover in the fridge, an airtight container. 





Nutrition
Calories:
601
kcal
|
Carbohydrates:
42
g
|
Protein:
8
g
|
Fat:
46
g
|
Saturated Fat:
9
g
|
Cholesterol:
151
mg
|
Sodium:
184
mg
|
Potassium:
87
mg
|
Fiber:
3
g
|
Sugar:
21
g
|
Vitamin A:
219
IU
|
Calcium:
78
mg
|
Iron:
2
mg