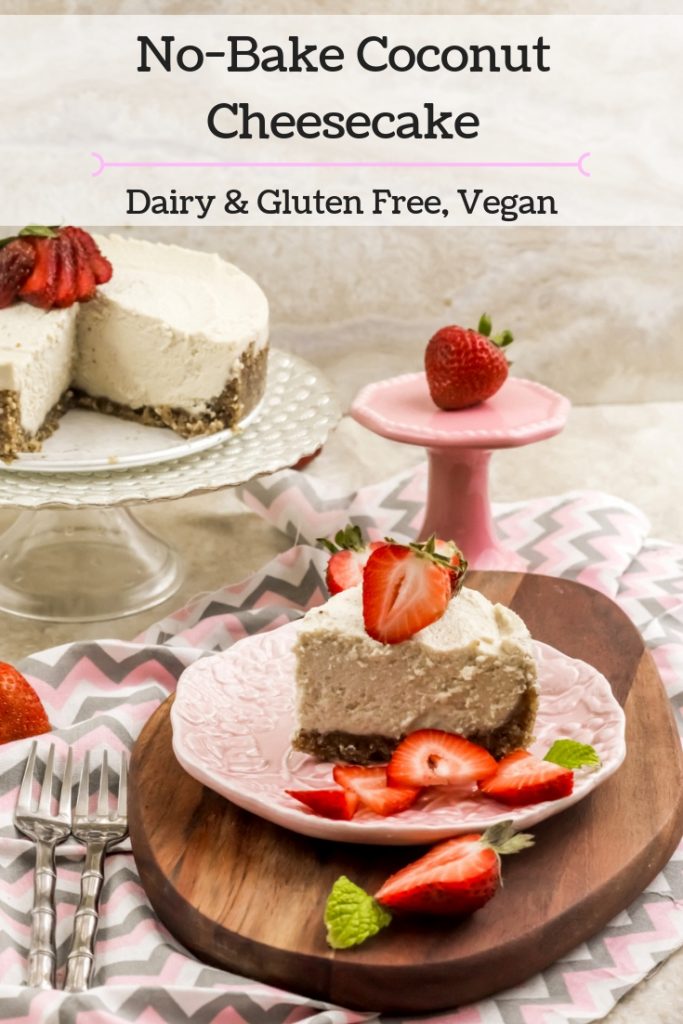 Eating an allergy free diet doesn't have to be tasteless!  Check out this recipe for No-Bake Coconut Cheesecake!  It has the creamy feel and tartness of regular cheesecake.   This recipe is dairy free, gluten free and vegan!  Yes plant based eating can be delicious.
This recipe really is easy…You whiz up the ingredients for the crust and put it in a 6 inch pie dish and refrigerate the crust.   Then after having soaked the cashews either overnight or in hot boiled water for 2 hours…you mix coconut non-dairy yogurt, fresh lemon juice and zest of a lemon along with other flavorings in a blender until very smooth and then put that topping in the crust you make.   Freeze for 4 hours or overnight.   Slice and top with fresh fruit of your choice.  We used strawberries.  But blueberries, raspberries or another berry you like would taste just as great.   Then enjoy the decadence of a plant based cheesecake!
This recipe uses nuts in both the crust and filling.  Did you know that Walnuts in the crust are great for brain function? A study in college students from Andrews University in the US found that eating walnuts increased a measure of cognition called inferential reasoning, suggesting that walnuts may have beneficial effects on the brain. They're also really great for your heart health, including helping to lower blood pressure and improve the blood flow through the circulatory system, per a study from Yale University School of Medicine.
Cashews in the filling give it that creamy buttery texture. Cashews also lower blood pressure. A study from South African University revealed that inclusion of walnuts and cashews in a diet resulted in an increased antioxidant capacity. So you can get more cancer-fighting benefits.   And did you know that high levels of fatty acids and protein combined in walnuts and cashews can help the nervous system combat depression?  Nuts are a great protein source also, so eat those nuts and Enjoy!
The photos below show how putting this recipe for No-Bake Coconut Cheesecake was put together.  After the photos you will find the recipe!  Enjoy.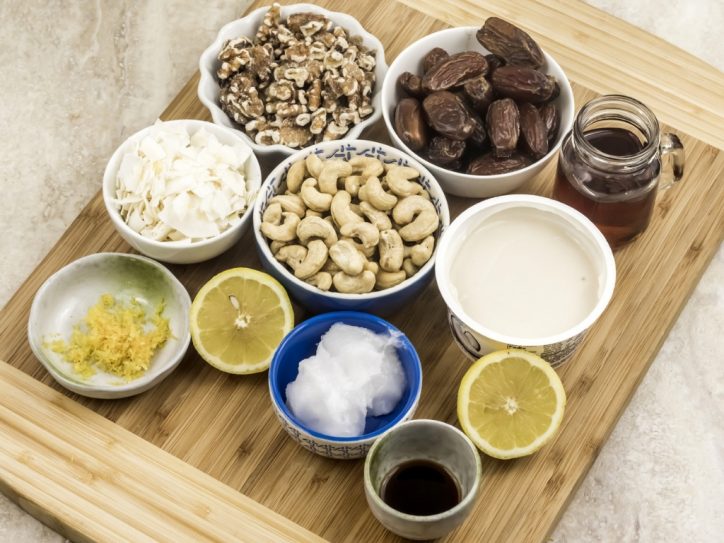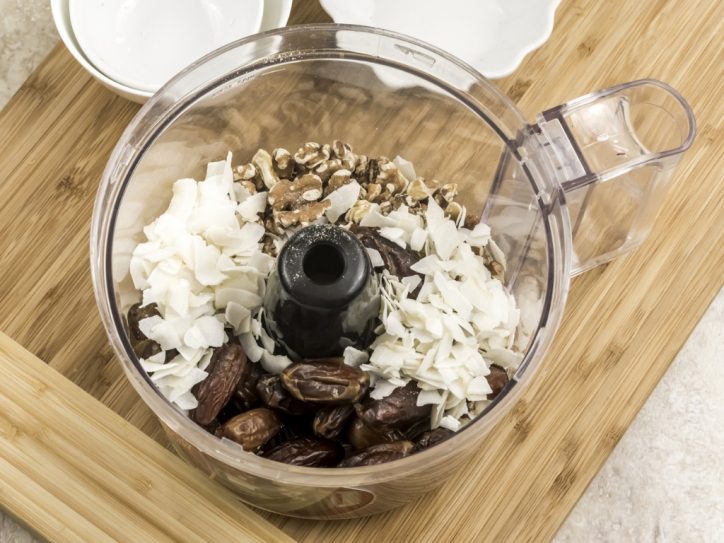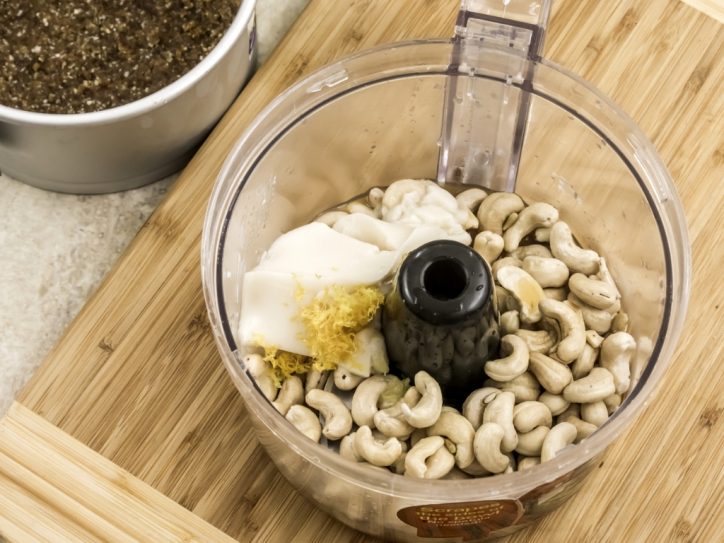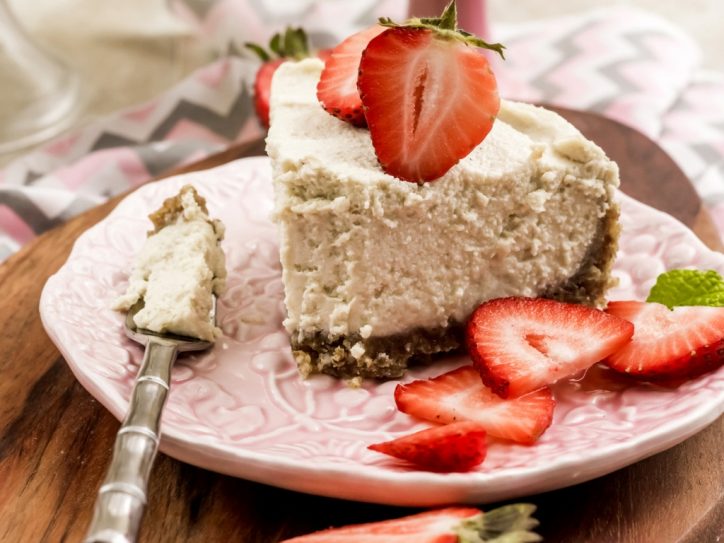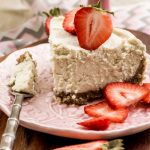 Print Recipe
No-Bake Coconut Cheesecake - Dairy & Gluten Free, Vegan
Ingredients
For the Crust:
1

cup

walnuts

1

cup

Medjool Dates

pitted

1/2

cup

Coconut Flakes

unsweetened - shredded coconuts works too

pinch

salt
For the Filling
1.5

cups

Cashews

raw

1

cup

Yogurt

Coconut Milk

1/2

cup

Maple Syrup

1

tsp

Vanilla

Extract

2

tbsp

Coconut Oil

Melted

3

tbsp

Lemon juice

Freshly squeezed

1

lemon

zest of 1 lemon

pinch

salt

strawberries

for garnish
Instructions
Soak the raw cashews in water

overnight.

Or soak it in boiling hot water for 2 hours.




In a food processor, combine the walnuts, dates, a pinch of salt and the coconut flakes.

Process it till it resembles a coarse sand.

Grease a 6-inch spring form pan with coconut oil.

Dump the crust mix into the greased spring form pan and press with fingers to distribute and pack it down. Allow a bit of the crust to come up the sides. Let it chill in the freezer for half an hour to set.

Drain the cashews and place it in the bowl of the food processor.

Add the coconut milk yogurt, maple syrup a pinch of salt, zest and juice of 1 lemon, melted coconut oil, and vanilla extract.

Process it till smooth and creamy. You might need to stop and scrape down the sides.

Pour over the chilled crust. Tap to release any air bubble.

Cover and let it freeze for at least 4 hours to overnight.

Let it sit on the counter for 15 to 20 minutes before slicing and serving.
Nutrition
Calories:
3394
kcal
|
Carbohydrates:
328
g
|
Protein:
68
g
|
Fat:
224
g
|
Saturated Fat:
75
g
|
Cholesterol:
31
mg
|
Sodium:
172
mg
|
Potassium:
3984
mg
|
Fiber:
34
g
|
Sugar:
227
g
|
Vitamin A:
460
IU
|
Vitamin C:
78.4
mg
|
Calcium:
792
mg
|
Iron:
19.7
mg