Switching to a plant based diet, people worry they are not getting enough meatless protein.  There are millions of people who don't eat meat but are still able to get the protein that their body needs through other sources of meatless protein food options.  If you are looking for protein alternatives to meat, here are just a few suggestions to help get you started. Be sure to check out our Animal Protein Substitution Printable.    Then check below for our Weekly Meal Planner Printable!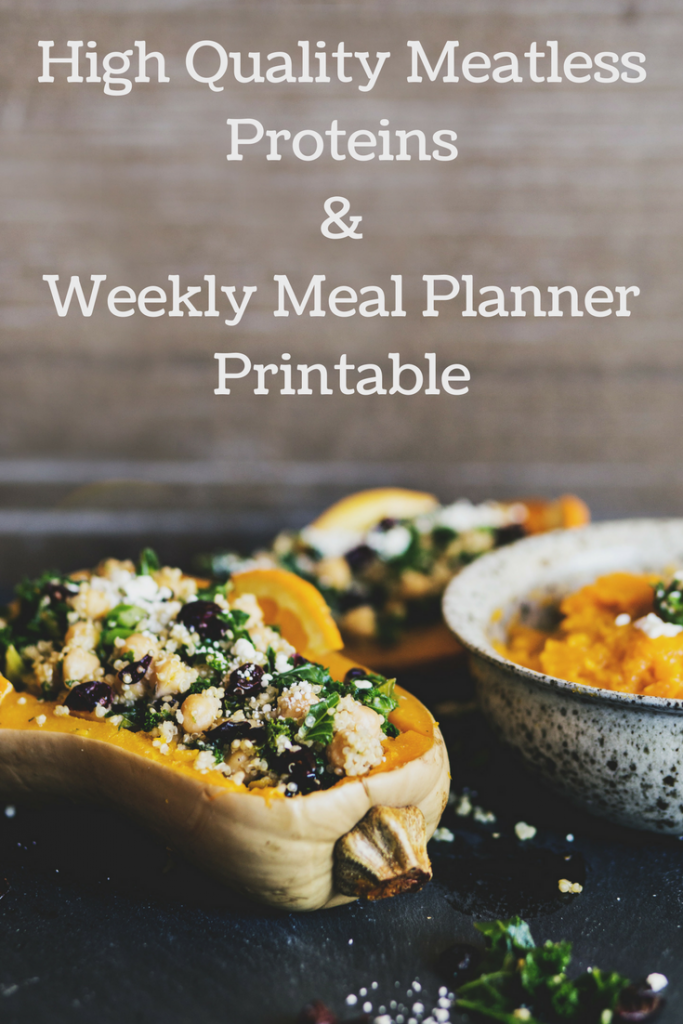 1. Lentils.  Not only are they protein-rich, they are also a super source of fiber as well.  They seem to be a pretty versatile food to eat, so options of how to eat them could be adding them to a soup base of your choice, or simply eating them on their own.  However you choice to eat them, these are a great alternative for that much-needed protein boost!
2. Black Beans.  No surprise here.  These are the beans that are known for their power of protein addition.  They are another great food that is super simple to incorporate easily into your meal planning.  Adding them to a salad, soup, or a simple vegetarian taco are great ways to make certain that you are getting your servings in for the day. 
3. Peanut butter.  Think back to your days as a child when you loved all things peanut butter.  Who knew you were eating such a high in protein and healthy snack?  As long as you stick to the all-natural, no sugar added type of peanut butter, you're on the right track!  Need a quick pick me up for energy?  Try a scoop of peanut butter!  It's an excellent way to get that boost quickly.
4. Cashews.  Don't forget this nut that has some great protein power!  Plus, cashews also can help your body stay healthy during the winter by providing nutrients to help boost your immune system.
5. Tofu.  Don't knock it till you've tried it!  Tofu is a versatile food that you can add to almost any dish.  It's great in soups or stir-fried up with veggies as well.  It packs a nice little punch of protein to any dish it's added to.
6.  Almonds.  Have you noticed a trend with nuts having protein power?  Why not combine a fun little snack of cashews and almonds for an afternoon treat full of meatless protein and other great health benefits?  Your body will thank you.
Finding ways to get protein into your diet that aren't meat-based doesn't have to be difficult.  There are a lot of great and healthy food substitutes for meatless protein out there that are great for snacking or adding to your weekly meal plan.  Do your research and find out what foods interest you, and then incorporate those into your daily diet!  Keep your energy level and protein intake high with some of the suggested foods above.
Click on the printable Weekly Meal Planner below to download and print.