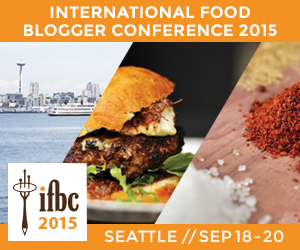 I recently returned home to Alaska after spending a wonderful weekend in Seattle at the International Food Blogger Conference ( IFBC ) September 18-20, 2015!  I was overwhelmed with all the opportunities for learning this conference had to offer! I couldn't take part in all the classes because we had to choose between 3 classes offered at the same time, but the ones I did attend I learned so much from.  The classes were only 1 hour long however, and I could have used a longer class for many of the topics.
The one thing I learned from this conference was to be myself!   Blogging about food is such a personal experience and being myself will shine through in my posts.   I am hoping to be more personal and share more of myself with you!   But that means you have to share back with me in comments!    I want to hear what you have to say too.  Now on to more about what happened at the IFBC!
Friday, to begin the IFBC, there were choices for going on an excursion.  Just look at the list of possible excursions for Friday afternoon, unfortunately all were presented at the same time from 1-4 pm so you could only choose one and I chose the KitchenAid and Sur La Table excursion.    I have written about the KitchenAid and Sur La Table Excursion in Seattle with IFBC and you can check it out.   The excursions were a small fee extra and there were so many to choose from:
Discover the World of Tea with Teavana
Miele Presents: International Food Flair
Chef'n Presents: An Exclusive Look at Chef'n
Sansaire Presents : Sansaire Sous Vide Adventure
KitchenAid® and Sur La Table: Enhancing Recipe Preparation
After the optional Excursions, the Taste of Seattle Grand Opening Reception & Gift Suite began on Friday evening. Saturday and Sunday were filled with wonderful classes, but there were 3 classes offered for each time slot. You could only choose one class. We had a few breakout sessions that everyone could attend and learn from which were:
Saturday 9AM – Anolon presents Kim Severson, Keynote speaker
Saturday 2PM – Writing, Food Photography and Prop Styling
For the time frames where we had a choice of 3 classes, I chose to attend the following classes:
Saturday 10 AM Class choices:
How to Create Standout Holiday Content by Anolon,  Krusteaz Hands-on Cookie Swap or Teavana.  I chose Teavana
Teavana's Session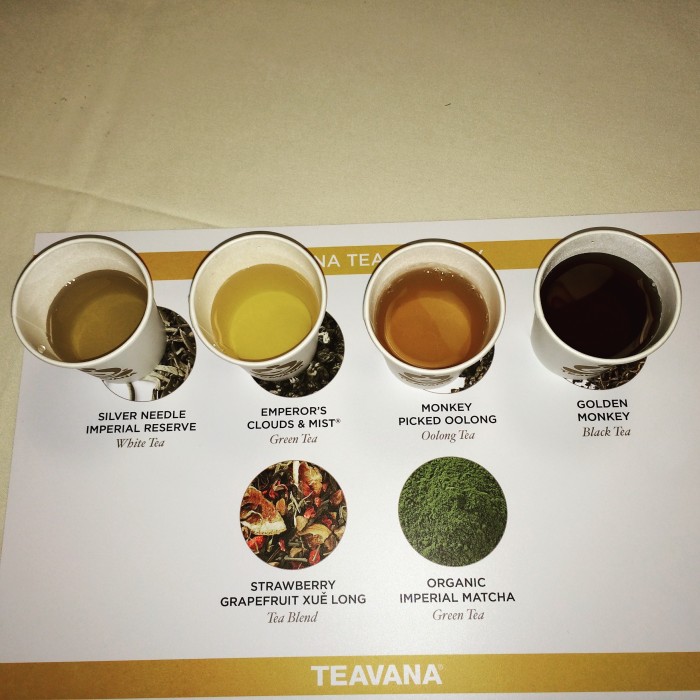 I am a tea lover!   I just loved the class Teavana provided.  We were treated to touching, smelling, tasting the wonderful world of loose leaf teas!   My favorite hot tea was the Monkey Picked Oolong.   But I am a real Oolong tea lover!   The Strawberry Grapefruit Xue Long was brewed hot then poured over ice and served cold.  OH man was that good!  I will be having a giveaway soon for some really cool tea accessories!
Saturday 11:30 AM Class choices:
What Do You Do After You Hit Publish?, Honing the Craft and Stop Motion Food Photography which I chose.
Stop Motion Food Photography
Since I know nothing about photography this class was chock full of so much info that I had a hard time taking it all in.  I did learn some great tricks to taking still photos.  I wonder if Todd Coleman will offer beginners photo classes for future conferences.
Saturday 3:30 PM Class choices:
Bubbles and Bites by Franciacorta,  Curriculamb 101:  From Pasture to Plate or Wine education by Colcannon Vineyard & Winery.   I chose Bubbles and Bites by Franciacorta.
Bubbles and Bites: Why Sparkling Wine is the Best Food Wine by Franciacorta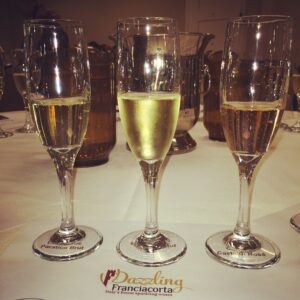 Franciacorta convinced me that sparkling wines go with anything!   We had 6 varieties of sparkling wine to sample and with each sample they paired it with food.  Let's just say, I hope they come back next year!    The StoneBurner Restaurant prepared the foods paired for the wine which were wonderful!   However I have to say NO to Oysters just couldn't do it.  But from the reaction of those in the room it was very good.  I loved the Chanterelles and Gnocchi!  Everyone had the choice if wanted to try one of these exquisite pairings with their sparkling wine.   I couldn't eat all the pairings but what a treat for those who could.  And I surprised myself and my whole family by actually having the Spearfish crudo below!  I'm not one for sushi but this pairing was fantastic!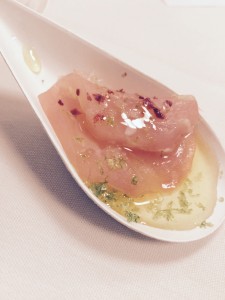 Taylor Shigoku Oysters with fresh wasabi and olive oil
Spearfish ( Hebi ) crudo, finger limes and alleppo pepper
Dungeness crab, shredded granny smith apple and pistachio
Chanterelles and cauliflower pasada on piadine
Air-cured country ham on homemade biscuit
Perigord truffle butter gnocchi
Sunday 9 AM class choices:
Essential Ingredients of a Word Press Site, The Plan and The Pitch and Food Trends, How to Identify and Use Them To Your Blog's Advantage.   I chose WordPress.
Essential Ingredients of a WordPress Site by WordPress
Having never had any formal lessons on a computer, I learned so much from the WordPress guru's.   So much was covered in only an hour!   I took notes as fast as I could.  I think I want to take some formal classes now that they inspired me so much.  I love being able to do some of the internal stuff myself.
The following classes I wasn't able to attend because I had to get a flight back home.   The classes that were offered for choice were:
Sunday 10 AM Class choices:  Cooking with Cannabis OR Hungry for Words:  Journalism 101 for Food Bloggers
Sunday 11:30 AM Class:  Food Photography with Christopher Testani
Now for My Thoughts on the International Food Blogger Conference:   I should have planned to allow the full day Sunday for classes!   I would LOVE to attend the International Food Blogger Conference 2016 but mid summer isn't a good time for us Alaskans.   We have such a short summer and growing season that I would never be able to leave for the time I would want to put into the next conference I attend.  I am looking forward to 2017!   I have experienced so many new things and met so many great bloggers,  I just loved this conference.  I will plan on attending in the future, I just hope it won't be scheduled for mid-summer next time.