Being vegan and gluten free can be tough but once you know the ins and outs of this type of lifestyle, it's a piece of cake!   The Gluten Free Vegan Meal Plan below can help you manage your time better and help you find new recipes to please the palate. There are so many different recipes included in this vegan and gluten free meal plan. Try them all, or just try a days worth of them.
Gluten Free Vegan Meal Plan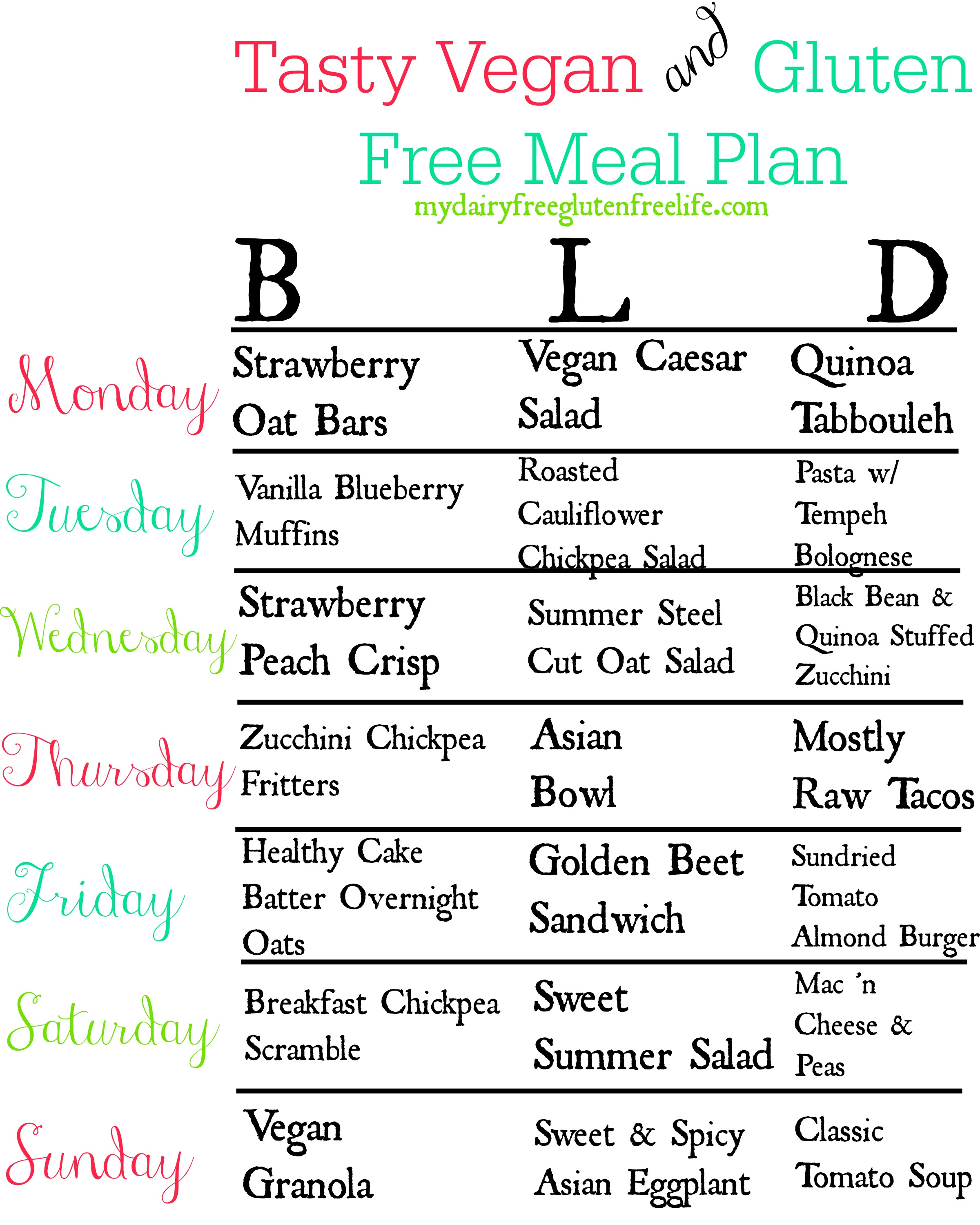 I have put together a plan that includes breakfast, lunch and dinner for one entire week.   The RECIPES for this menu can be found HERE!
Breakfast:
Strawberry Oat Bars
Vanilla Blueberry Muffins
Strawberry Peach Crisp
Zucchini Chickpea Fritters
Breakfast Chickpea Scramble
Healthy Cake Batter Overnight Oats
Vegan Granola
Lunch:
Vegan Caesar Salad
Roasted Cauliflower Chickpea Salad
Summer Steel Cut Oat Salad
Asian Bowl
Sweet Summer Salad
Golden Beet Sandwich
Sweet & Spicy Asian Eggplant
Dinner:
Quinoa Tabbouleh
Pasta with Tempeh Bolognese
Black Bean & Quinoa Stuffed Zucchini
Mostly Raw Tacos
Sundried Tomato Almond Burger
Mac 'n Cheese & Peas
Classic Tomato Soup
Additional Vegan & Gluten Free Information
If you're just making the transition to vegan and gluten free living, there is a ton of information to soak up. Information about how to begin a vegan & gluten free lifestyle can be found here by clicking here.
Which meal did you like the best? Do meal plans help you save time and money?