Rash! Are rashes a problem for you when you shave? This DIY Shaver Rash Spray Recipe is a healing spray using Helichrysum Essential Oil. As a result, it's going to make you feel so good!
Can you believe that Helichrysum was used by the ancient Greeks?  How cool is that!  The Greeks called Helichrysum the Immortal Flower and doTERRA Essential Oils has it!
As a result, Helichrysum oil is good not only for a rash but also for hives and breakouts too. Other healing properties are, for instance:
-Possessing natural skin supportive properties that help reduce blemishes, scarring, and skin aging.
-It is a detoxifying agent, helping to strengthen liver function.  This affects everything from skin health to brain health.
– Helichrysum also enhances blood flow and is especially supportive of circulation.
Helichrysum Oil is known as one of the best essential oils for your skin. A HUGE benefit of Helichrysum oil is that it provides a natural way to improve your skin. Many commercial cleansers and moisturizers contain harmful toxins, whereas using a pure essential oil, like Helichrysum, allows you to keep your skin clean and protected.
In conclusion, A dōTERRA user shared  his experience with this DIY Shaver Rash Relief Spray. He wanted to test the claims of how well Helichrysum works.  He uses it after he shaves and is very pleasantly surprised with how it calms his skin from breakouts.  His current aftershave didn't work as well!  His daughter also uses it on her legs after shaving and she said it made them "oh, so smooth."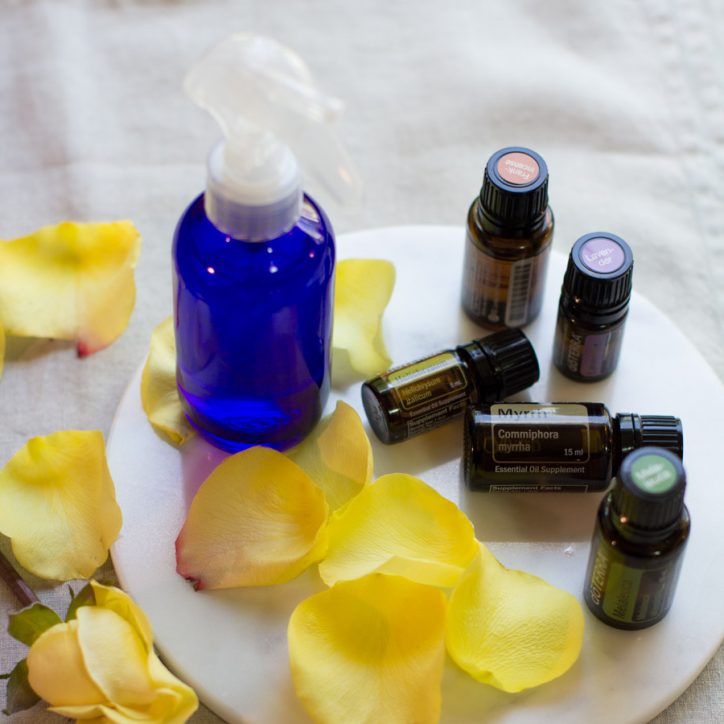 DIY Shaver Rash Relief Spray Recipe:
Ingredients:
1/2 cup Fractionated Coconut Oil
1/4 cup rosewater (can be purchased at health food stores)
Frankincense essential oil, 5 drops
Lavender essential oil, 5 drops
Melaleuca essential oil, 5 drops
Helichrysum essential oil, 5 drops
Myrrh essential oil, 5 drops
Directions:
Place Fractionated Coconut Oil and rosewater in glass spray or pump bottle.
Add essential oils and shake.
To use, spray directly on skin or place 2-3 pumps in palms and rub on affected skin.
Helichrysum has strong detoxifying properties. Its natural ability to support the skin from hives and relieve tension, make it one powerful agent to have on hand in any number of scenarios.
Buy all these doTERRA essential oils and more at my online store Life Essentially!