DIY Essential Oil Herbal Hair Spray
So did you know that Essential Oils are awesome for hair care?  I'm sharing a great recipe for Essential Oil Hair Spray below!
A dōTERRA user has this to say about hair products:
I'm not one to wear perfumes. I have been pleasantly surprised with how wonderful doTerra hair products smell. My favorite three recipes using doTERRA essential oils are Dry Shampoo, Beach Wave Salt Spray and Spray for Razer Rash.  Thankfully, these recipes are great smelling and take little time.  They work just as well as the store brands and smell a whole lot better! The Beach Wave Salt Spray give my hair more body and makes me feel like I just came from the beach.  I highly suggest you give these recipes a try if you haven't already!
Check the bottom of the post to a link for 10 DIY recipes for hair care! Here is the recipe for Herbal Hair Spray: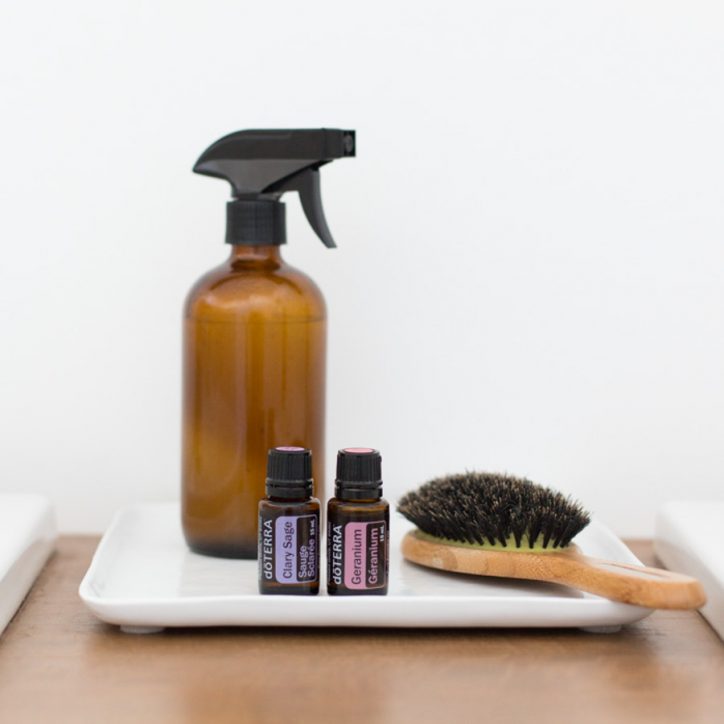 DIY Essential Oil Hairspray recipe:
Making your own hairspray is easy with essential oils and only takes a few simple ingredients.  I'm sure you already have these at home. The recipe can easily be customizable to your favorite essential oils and to your preferred hold.
Ingredients:
8-ounce glass fine mist spray bottle
1 cup water
4 teaspoons sugar
Tip: Use more or less sugar depending on how strong you want the hold to be.
Geranium essential oil, 2 drops
Lavender essential oil, 2 drops
Peppermint essential oil, 2 drops
Rosemary essential oil, 2 drops
Clary Sage essential oil, 2 drops
Note: Feel free to customize the essential oils to your preference. You can use one or all of the essential oils listed above. However, be careful using citrus oils as they can lighten your hair if exposed to UV light.
Directions:
In saucepan, combine sugar and water. Bring heat to boil and stir until sugar dissolves. Remove from heat and cool.
Pour essential oil into glass spray bottle and add cooled sugar water.
Use as you would any other hairspray.
dōTERRA has created ten different recipes to help your hair and scalp be a little more toxin-free. Which recipe do you think you will use? They are all listed here:  https://doterra.com/US/en/blog/diy-roundup-essential-oils-for-hair
Buy all these doTERRA essential oils and more at my online store Life Essentially!