African Peanut Soup
Thanks again goes out to Becky, my daughter in law!  She is a great cook and shares with me many of her recipes because she wants you all to enjoy them too.  This recipe for African Peanut Soup is Dairy & Gluten Free!
This soup is also called groundnut soup or maafe sauce d'arachide (French). Therefore,  It is a soup made from peanuts with various other ingredients.  However, It is a staple African STEW as opposed to soup. It is also eaten in East Asia, Taiwan, the United States and other areas around the world.
In Ghana, African Peanut Soup is often eaten with fufu, aka flatbread.  In addition, It is made with equal portions of cassava and green plantain flour mixed thoroughly with water.
Here are the health benefits of ground nut oil which I call peanut butter!
-Vitamin E: 45% of daily requirement
-B3: 67% of daily requirement
– Daily requirement of B6: 27%
-Magnesium: 39% of daily requirement
-Copper: 24% of daily requirement
-Manganese: 73% of daily requirement
And a small amount of B5 vitamin, iron, potassium, zinc, and selenium.
We also use Fresh Ginger in this soup . Ginger is a flowering plant whose rhizome is widely used as a folk medicine. It is a herbaceous perennial which grows annual pseudo-stems.  Therefore, these pseudo-stems are about 39 1/2 inches tall bearing narrow leaf blades. WebMD says:  ginger is used for treatment of upset stomach and nausea. There's evidence that it helps. Ginger seems to aid digestion and saliva flow. Studies found that taking ginger could reduce nausea and vomiting in some pregnant women.  In addition, Ginger seems to help with nausea caused by vertigo as well.
So, know you are having a healthy meal when eating this African Peanut Soup!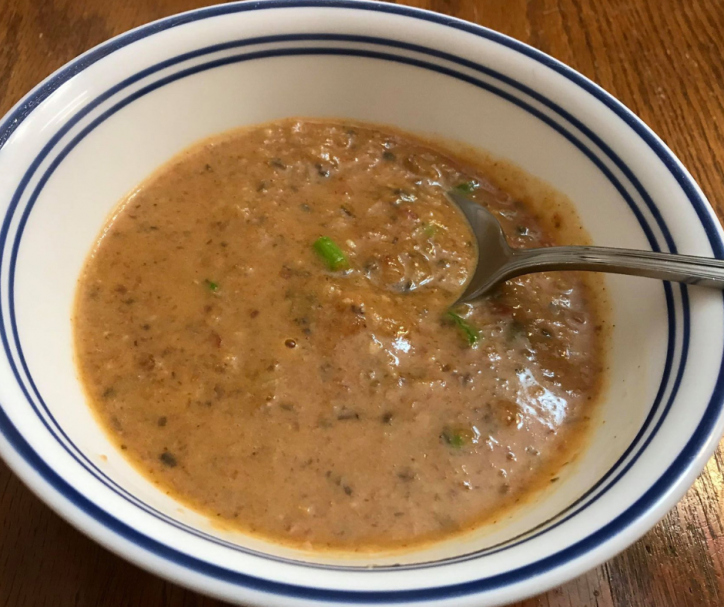 I hope you enjoy this recipe!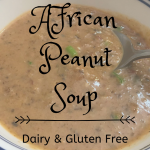 Print Recipe
African Peanut Soup - Dairy & Gluten Free
Delicious Lunch or light Dinner
Ingredients
2

tsp

peanut oil

2

cloves

garlic

crushed

1

cup

onions

chopped

1/2

cup

mushrooms

chopped

1/4

tsp

red pepper

flakes

1/2

tsp

paprika

1/4

tsp

ginger

or 1/2 tsp FRESH grated ginger

2

cups

broth

vegetable

14

ounces

tomatoes

crushed

1/2

cup

pumpkin

cooked or mashed

1/4

cup

peanut butter

1

med

scallion

sliced
Instructions
In a medium sauce pan, heat the peanut oil over medium-low heat. Add onion, garlic, and mushrooms and sauté slowly until vegetables are soft and golden colored. Add red pepper flakes, paprika and ginger and sauté for another minute. Add broth and tomatoes. Simmer for 15 minutes. Remove from heat and allow to cool.

Puree vegetables and broth in a blender. Add pumpkin and peanut butter and blend until the consistency is to your liking. Reheat carefully over low heat, adding more broth or water as needed. Garnish each serving with sliced scallions.
Nutrition
Calories:
165
kcal
|
Carbohydrates:
15
g
|
Protein:
6
g
|
Fat:
11
g
|
Saturated Fat:
2
g
|
Sodium:
552
mg
|
Potassium:
496
mg
|
Fiber:
3
g
|
Sugar:
8
g
|
Vitamin A:
2490
IU
|
Vitamin C:
20
mg
|
Calcium:
35
mg
|
Iron:
1
mg