This review & giveaway is done by Colleen at My Dairy-Free Gluten-Free Life

This post may contain affiliate links or be sponsored.  Please see our Disclosure Policy.
When I was diagnosed with gluten intolerance I didn't think I'd ever find good baked gluten-free foods.   I have tried many brands and tried some flour combinations on my own but they just haven't been like cooking with regular flour.   My niece emailed me saying she had been to a potluck and they had a cake there that was fabulous and that I should try it…it was from The Pure Pantry.
I have not been able to find this product for sale here in Alaska so I contacted the company and asked if they would be willing to send me a couple samples to review for my blog.  I heard back from the owner who was so generous!  She sent me her cookbook to review along with some samples to try.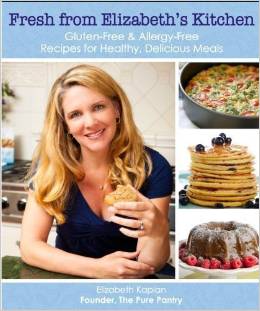 This is a little bit about the owner,  CEO and founder of The Pure Pantry:
In 2002, Elizabeth Kaplan was diagnosed with celiac disease, a condition caused by an autoimmune reaction to gluten – a protein found in wheat, rye, barley, and oats. She later learned her two children also had severe gluten sensitivity as well as allergies to several other foods.  As a trained chef, she struggled to find gluten-free substitutes that didn't sacrifice great taste and nutrition. Most products she found were made with preservatives and refined white rice and other flours void of any nutritional value. She learned one of the best sources of information on living with celiac disease is hearing from others who have the disease. What she did not learn is where to find great tasting organic, gluten free products – simply because they did not exist.
She took matters into her own hands and after several years of experimenting in the kitchen and getting stellar reviews from family and friends, she developed a delicious new line of baking mixes from organic, nutritious, whole grain flours high in fiber and omega 3s together with unique recipes that provide limitless possibilities for creating pancakes, waffles, cookies, crepes, muffins, breads, scones, cakes and more.
My Book Review:
I love her cookbook!  It is hardback and there are lots of wonderful, color, full page pictures which really help me figure out what things should look like!  It also makes me  start drooling and increase my desire to make the recipes.  As I started through the cookbook I was happy to see a sizable  section on stocking a Gluten Free pantry including her flour blend recipe for  making your own 4 and 8 cup mixes.    She does have recipes for meat, fish and chicken as well as some for goat cheese and other cheeses.    I'd say that being vegan should not keep anyone from getting this cookbook though.  The author lists Gluten Free, Dairy Free and Vegetarian Options with each recipe and even suggests what to use as a replacement.     I have so many pages dog eared that it is going to take me quite awhile to try the recipes I want and I will have lots of fun cooking!
I'd be writing way too many recipes if I listed all the ones I want to try…but here are just a few that sound really good to me:  Quinoa with Roasted Eggplant Caponata,  Sweet Potato Gratin with Pecan-Cinnamon Topping, Pumpkin Streusel Bread, Apricot Amaranth Muffins and Coconut Lemon Curd Squares.
My Product Review:
You really had to twist my arm loving chocolate the way I do, the first thing I made was the Dark Chocolate Cake Mix I received.   I used the recipe on the mix along with organic eggs (I could have easily used an equivalent egg replacer) , soy milk and coconut oil.     I also used a different pan than was suggested, a 10×10 square ceramic baking dish.   I baked it 5 minutes longer than stated on the package.   I absolutely loved this cake!   It tasted like an old fashioned devils food cake, very rich, moist and has a great mouth feel.  I really know that sounds weird but if you've eaten gluten free before…you should understand.   My husband stated that no one would have a clue this was a gluten free recipe!   My son also tried the cake and said it tasted like a normal chocolate cake and he had seconds!   I'm in love with this company just from this cake mix!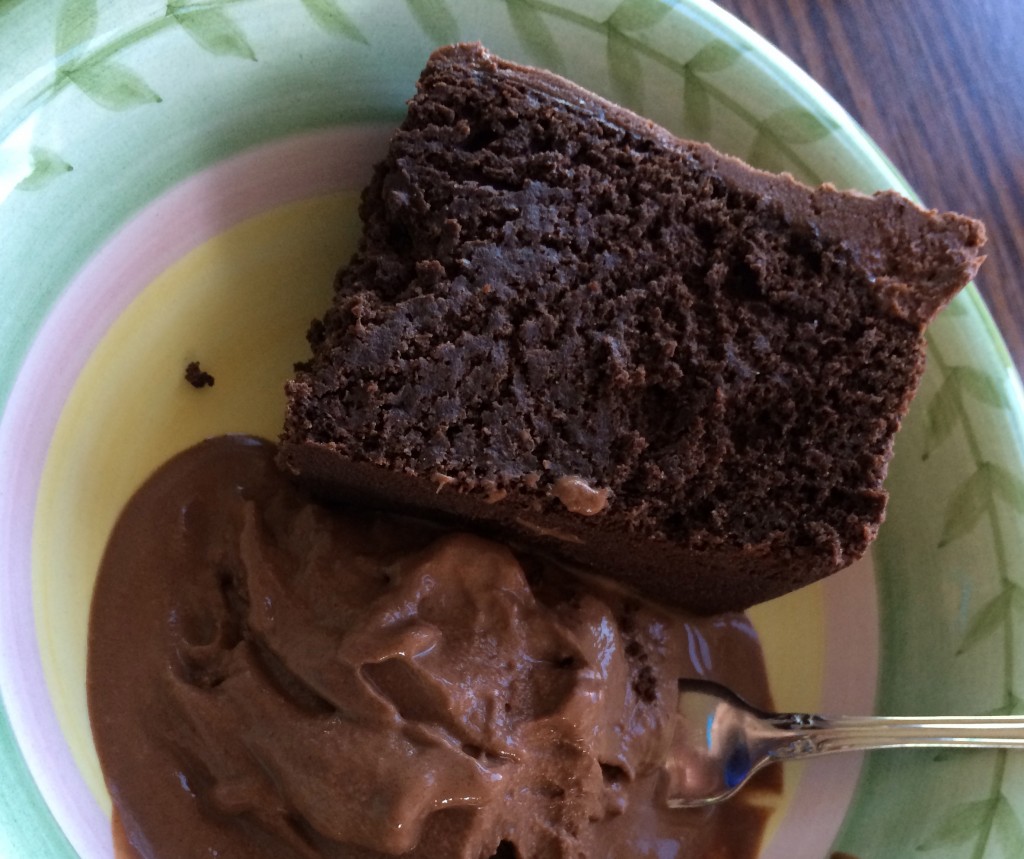 I am so excited to start baking with a product that has good mouth feel, is yummy & gluten-free!   I will be making Almond Crescents with the sugar cookie mix and I made the Pumpkin Streusel Bread which was wonderful!  I added chocolate chips you can find the recipe is here.  I've already made yummy pancakes with the Buckwheat Flax Pancake and Baking Mix.   I can hardly wait to order a bunch of her products.  I see she even has an oatmeal spice cookie mix.