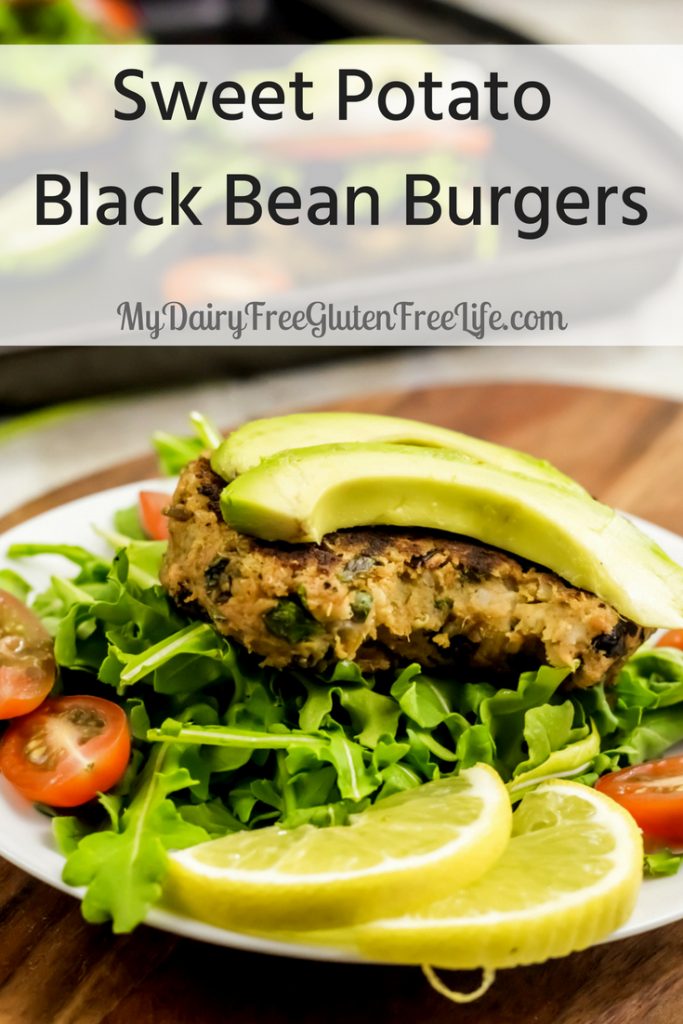 I love veggie burgers and these Sweet Potato Black Bean Burgers are served up here over a salad.  You could put it with buns, but I love them this way.  Black Beans are healthy and using sweet potatoes in burgers are a great way to get their health benefits listed below.  I know I can use all the healthy fiber I can eat.
Sweet potatoes may help maintain a healthy blood pressure and protect against cancer.
The high fiber content of sweet potatoes helps prevent constipation.
One medium, baked sweet potato with skin contains just 103 calories.
The fastest way to prepare a sweet potato is in the microwave.
Although there is much confusion, sweet potatoes are not related to yams.
Below is what you will need to make these scrumptious Sweet Potato Black Bean Burgers!   Mix up the ingredients in the first bowl and add to the 2nd bowl and mix, then form patties and fry them up.   Recipe follows.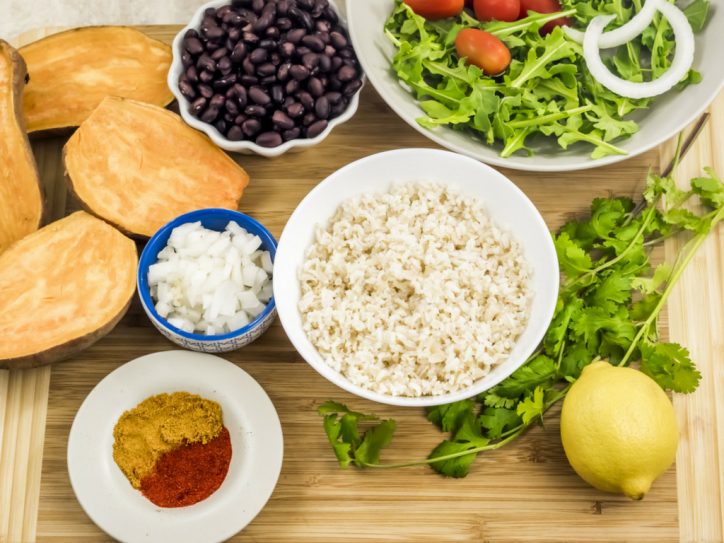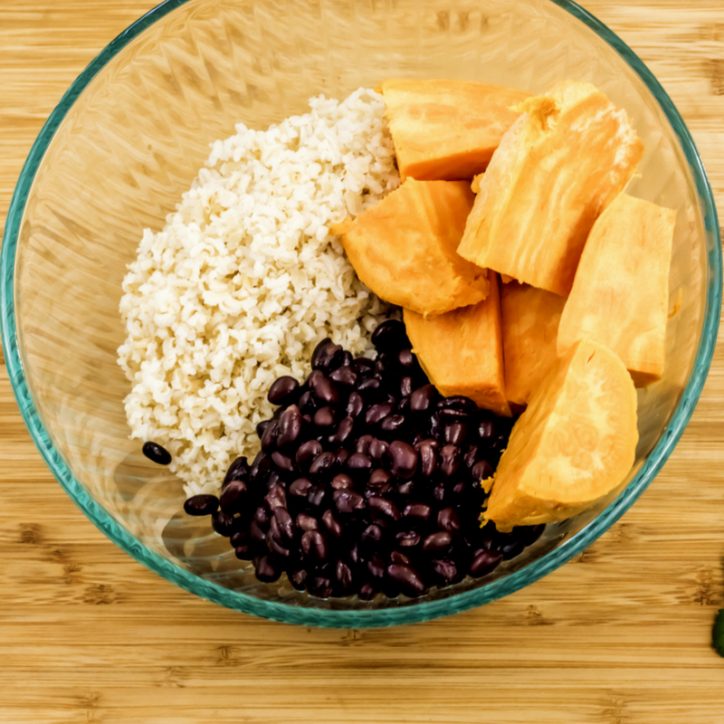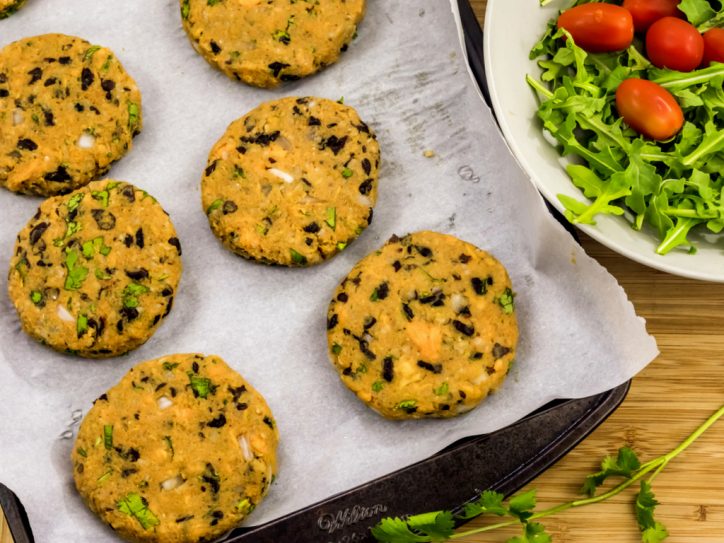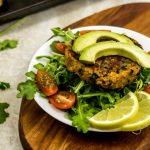 Print Recipe
Sweet Potato Black Bean Burgers
Ingredients
Ingredients
For the Burger Patties

2

largish Sweet Potatoes

cooked, peeled and chopped in big chunks

1

15 oz. can of Black Beans, drained

1

cup

of cooked Brown Rice

1

teaspoon

of Curry Powder

1

teaspoon

of Paprika

¼

cup

of finely chopped Onions

½

cup

of chopped Cilantro

¼

cup

of light Olive Oil

for frying

Salt and pepper to taste

For the Salad

1

6 oz. box of baby Arugula

½

of an 8oz. box of Grape Tomatoes

halved

Juice of half a Lemon

2

tablespoon

of Olive Oil

Salt and pepper to taste

Garnish

Avocado slices

Cilantro
Instructions
Instructions
For the Burger Patties

In a large bowl, combine the cooked sweet potatoes, cooked rice and the drained black beans. Using a fork or a potato masher, mash everything into a coarse paste.

Add the finely chopped onion and cilantro, curry powder and paprika, salt and pepper. Mix everything well. Taste and adjust the seasoning accordingly.

Form into 8 equal patties. If the patties keep breaking, add ½ cup of cooked rice. Mash it well and try forming the patties again.

Chill in the fridge for 30 minutes.

Heat the oil in a non-stick or a cast iron pan over medium high heat.

Add 2 or 3 patties in the hot oil and pan sear the patties for about 3 to 5 minutes each side, over medium heat. Keep the fried patties on a kitchen towel lined plate to absorb excess oil.

For the Salad

In a large bowl combine, the baby arugula and the halved cherry tomatoes.

In a small bowl add the olive oil, lemon juice, salt and pepper. Whisk it well.

Pour the dressing over the arugula and tomatoes salad. Toss it well.

To Serve

Divide the arugula salad among the serving plates.

Arrange the sweet potato- black bean burger patty on top.

Add avocado slices on top the patty and garnish with cilantro. You may drizzle some of the dressing on top of the avocado slices.

For a bun-less burger style presentation, in a large serving platter, arrange the sweet potato- black bean burger patties.

Top with a handful of arugula salad. Layer a thick tomato slices and an onion slice on top of the salad.

Arrange the avocado slices on top of the onion slice and garnish with cilantro.

Notes

To cook the sweet potatoes, either wrap each sweet potato in plastic wrap and microwave on high for 5 minutes. Or wrap them in tin foil and bake in a 400 F oven for 45 minutes. Whichever way you cook, let it cool for 15 minutes before handling. Peel the skin and chop in big chunks.

To cook the brown rice, combine 2 cups of water and 1 cup of washed and rinsed dry brown rice. Bring it to a boil over medium high heat. Once it boils, reduce the heat to low. Cover and let it cook for 20 minutes. Switch off the heat and keep covered for another 15 minute. Remove the cover and fluff with a fork. This makes more than 1 cup. Refrigerate the leftover, or use in some other recipe.
Nutrition
Calories:
149
kcal
|
Carbohydrates:
13
g
|
Protein:
1
g
|
Fat:
10
g
|
Saturated Fat:
1
g
|
Sodium:
20
mg
|
Potassium:
145
mg
|
Fiber:
1
g
|
Sugar:
1
g
|
Vitamin A:
4810
IU
|
Vitamin C:
1.4
mg
|
Calcium:
12
mg
|
Iron:
0.5
mg