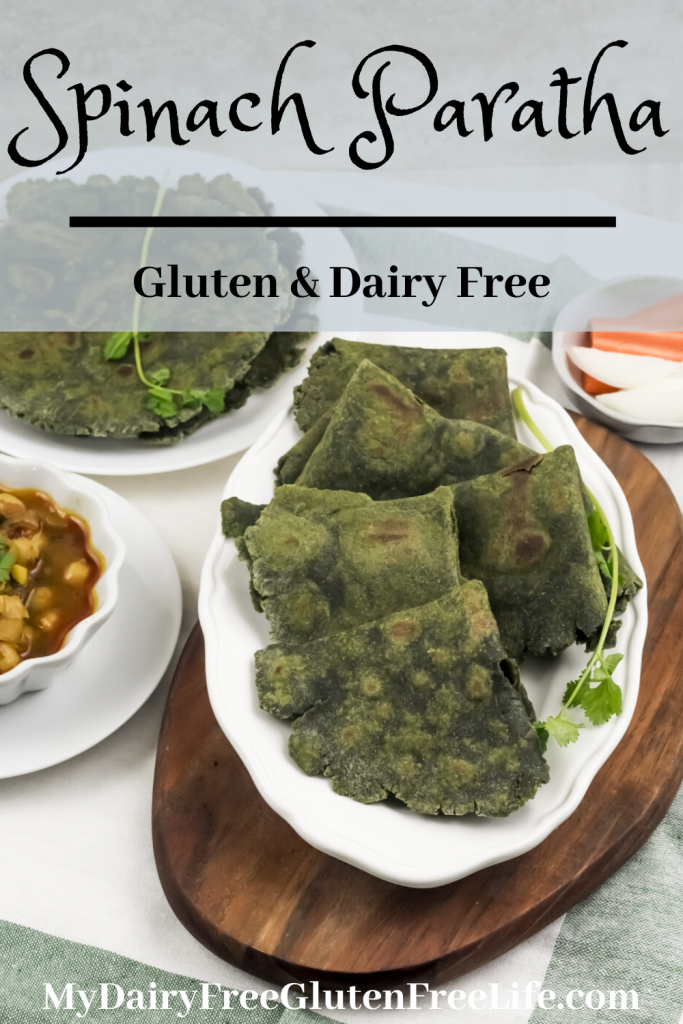 Spinach Paratha Gluten & Dairy Free
Did you know that Spinach Paratha is also a fancy name for the most favorite type of unleavened Indian Bread?  Paratha, also known as Roti, is usually made from whole wheat flour but this recipe is made with Gluten Free flour!  You can also substitute besan or chickpea flour in making this recipe.
So what is the difference between Naan and Paratha? Yogurt is added to naan to give it more volume and thickness. Paratha, on the other hand, is soft and flaky.   The softness of Parantha depends on the Softness of the dough. Adding some salt to flour while kneading it will help while also adding a little water at a time.
Putting Paratha on a well heated tava or pan, will help it keep soft and flaky. Wikipedia says: that a tava, tawa, tapa or saj is a large flat, concave or convex disc-shaped frying pan made from metal.  This pan is usually sheet iron, cast iron, sheet steel or aluminium originating from the Indian subcontinent.  If you put parantha on cool tava or pan, waiting for the pan to heat up, it will turn hard.
We use spinach in the dough of this recipe for Spinach Paratha!  You could use onions or potatoes instead if you wanted.  I love the green color for serving with special meals or holidays like St. Patrick's Day or Christmas! Plus this recipe is Gluten Free, Dairy Free and Vegan!
So you say, What do I do with Parathas?  Oh my!  I love them.  Anything you would use bread for you can use Paratha for! I like them especially with veggies in sauce, daal and curries.
The Spinach Parathas taste best when served hot. Store the leftovers in an airtight container. To reheat, place the spinach paratha in a plate. Cover with a damp paper towel and microwave for 15 to 20 seconds. Serve immediately.  This recipe makes 10 – 6 inch flatbreads.
You will find pictures below of how these flat breads are put together and the recipe follows the photos.  Enjoy!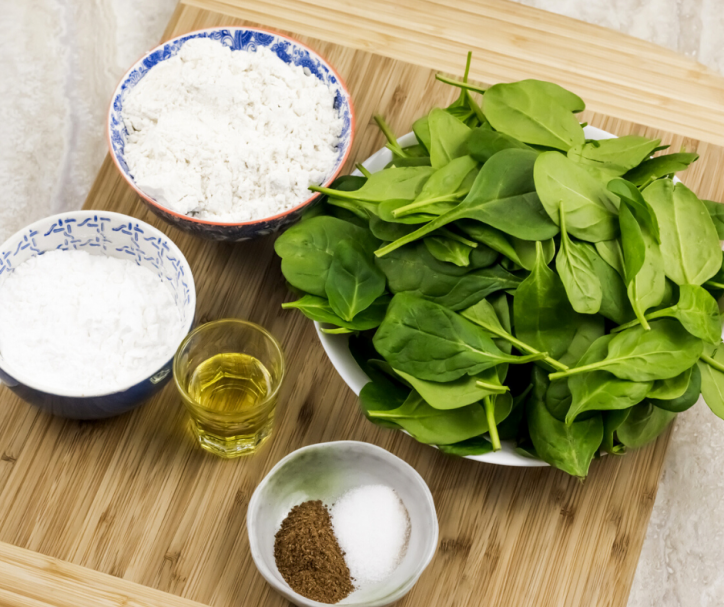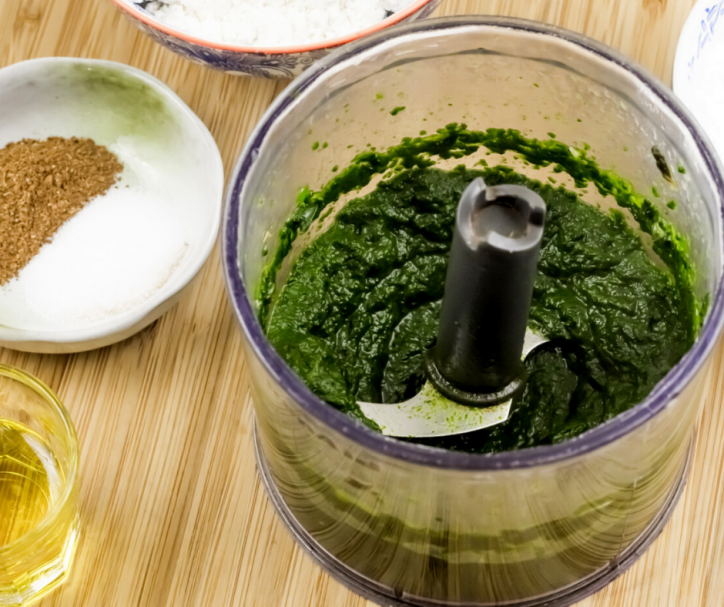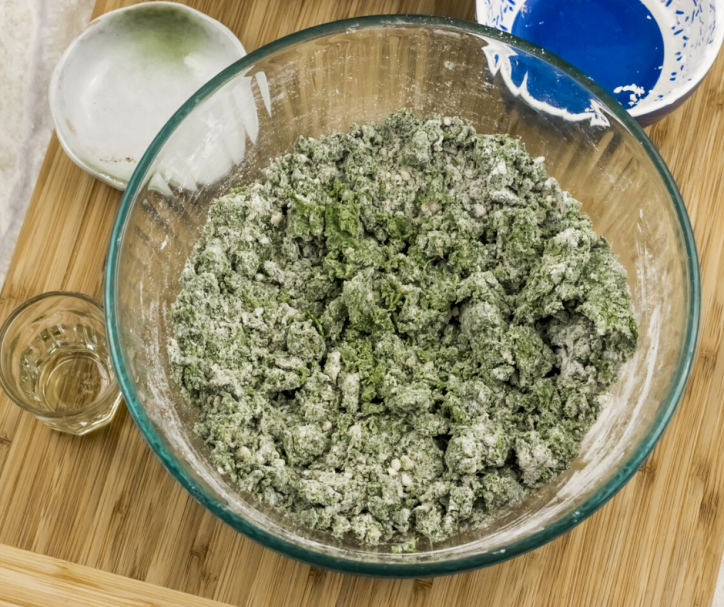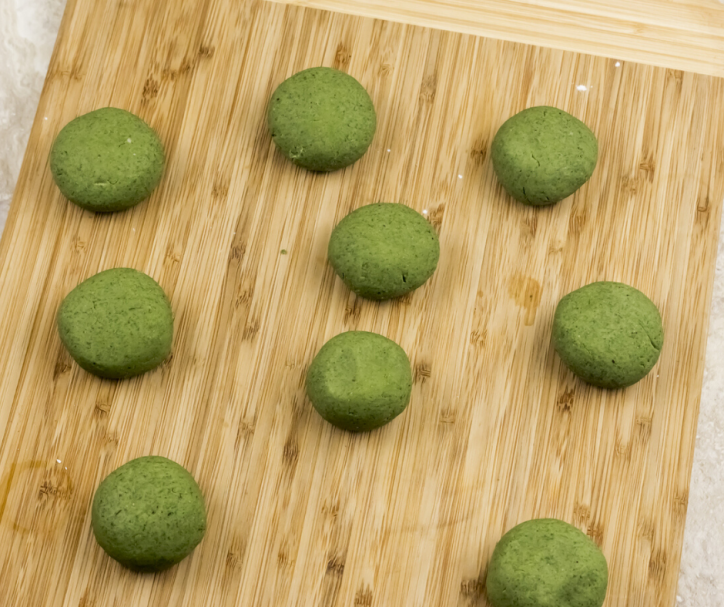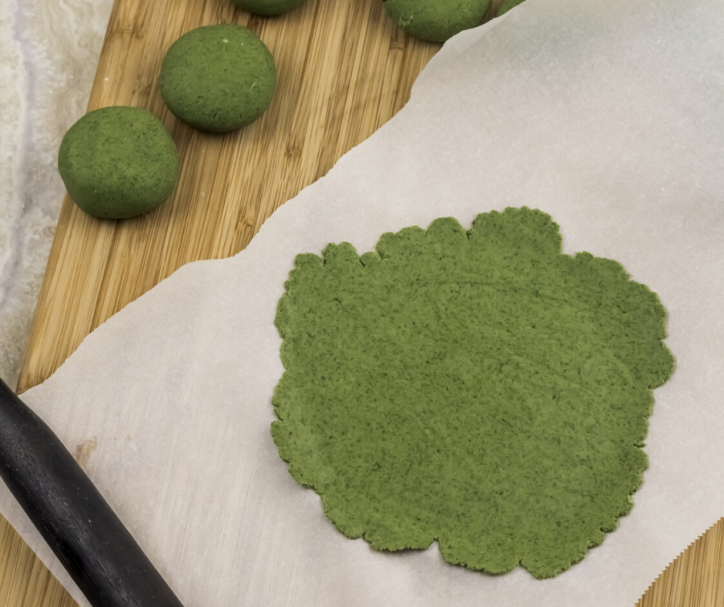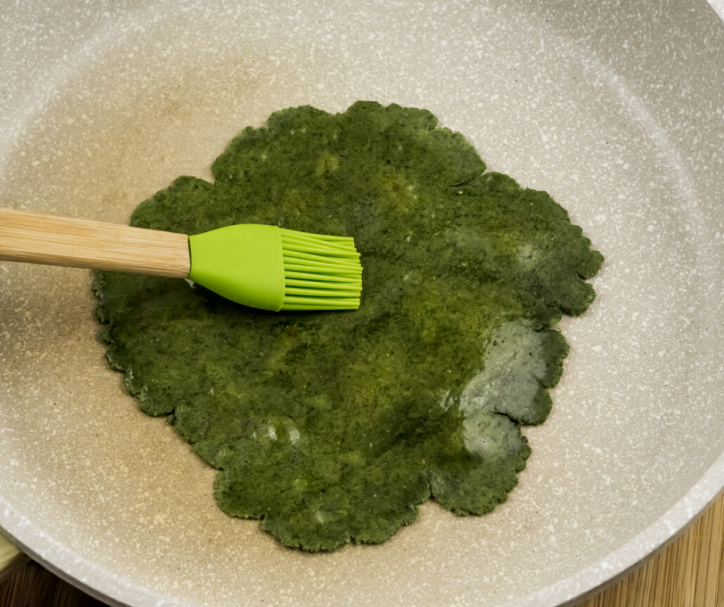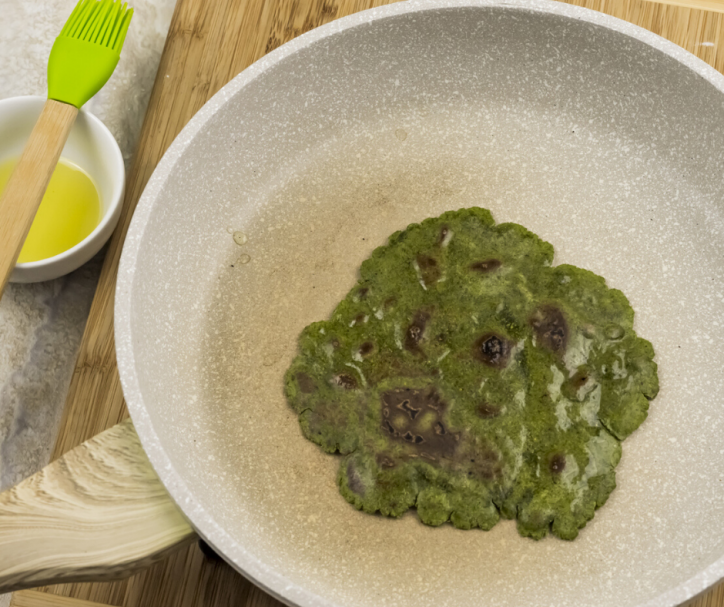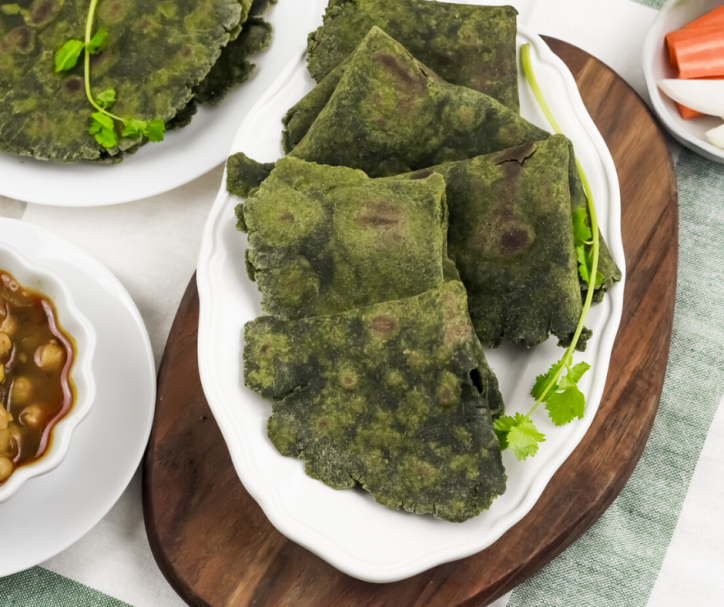 Recipe for Spinach Paratha:
Print Recipe
Spinach Paratha
Delicious easy recipe for unleavened Indian Flat Bread. Gluten & Dairy Free, Vegan
Ingredients
1

Cup

Gluten Free Flour

King Arthur Flour Measure for Measure GlutenFree Flour OR Bob Red Mill's 1:1 GF Baking Flour + more for rolling out

1/2

Cup

Tapioca Starch

1

5 onz

Spinach

Fresh Baby Spinach

1

tsp

Garam Masala

1

tsp

salt

2

Tbsp

Olive Oil

and more for brushing on the parathas

1/4

cup

water

and more as needed for kneading
Instructions
In a large sauté pan, combine ¼ cup of water and 5 oz. of baby spinach. Cook over medium heat until the spinach is wilted.

Dump the wilted spinach, along with the water it released into a mini food processor and blend it into smooth puree.

In a large bowl combine the gluten free all-purpose flour, tapioca starch, salt, garam masala and olive oil. Give it a good mix

Add the spinach puree and mix with a wooden spoon or a silicone spatula till the flour is well combined and there is no dry spot. Then using clean and well-floured hands, bring everything together into a smooth dough. You might need to add a tablespoon or two of water to bring everything together.

Cover and let the rough rest for 20 minutes.

Divide the dough into 10 equal parts and shape each part into a smooth round ball.

Place one ball in between two pieces of parchment and roll out into ¼ inch thick disk, which is roughly 6 inch in diameter. Repeat with the remaining balls. 

Keep the rolled disk stacked on top of another, separated with parchment paper and covered with a damp kitchen towel.

Heat an 8 inch skillet over medium high heat. Place the spinach paratha on a hot skillet

Once you see some bubbles on the paratha (in about 1 minute or so), flip it.

Brush a little oil on the now top side. Flip it again and brush the second side with some oil. Flip it again, so that both the sides are roasted. Place it a serving plate.

Repeat with the remaining rolled disks. Serve hot.
Nutrition
Calories:
86
kcal
|
Carbohydrates:
14
g
|
Protein:
1
g
|
Fat:
3
g
|
Saturated Fat:
1
g
|
Sodium:
233
mg
|
Fiber:
1
g
|
Sugar:
1
g
|
Vitamin A:
9
IU
|
Calcium:
8
mg
|
Iron:
1
mg