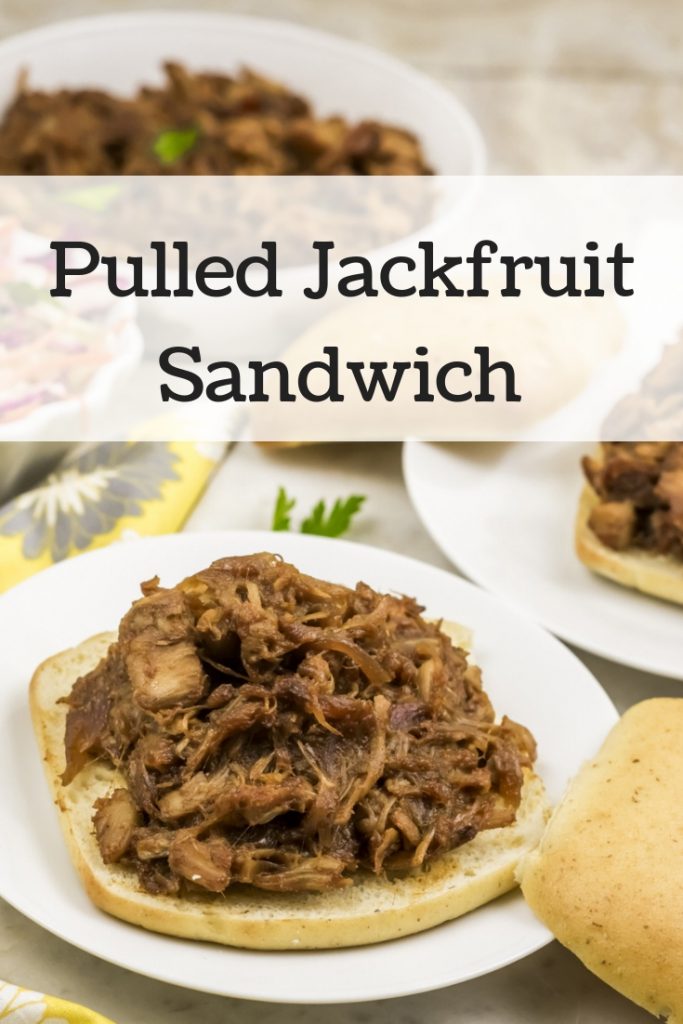 Have you tried the newest fruit protein, Jackfruit?  I have a really yummy recipe for a Pulled Jackfruit Sandwich that is BBQ flavored and resembles pulled pork or chicken but its Jackfruit – Vegan and Dairy Free!   Please note in the photos below how after jackfruit is cooked it can pull apart with a fork just like you pull apart cooked chicken or roast.  Jackfruit is very yummy made this way and pulled for sandwiches!
If you aren't familiar with Jackfruit or have tried the older varieties that weren't as tasty, if you make sure to buy Green Jackfruit that are packed in water only, you will have a much better experience with the flavor!!  Avoid jackfruit that is packed in brine or syrup. They are totally different and will ruin this recipe or other recipes you may want to make.
Here's the skinny on Jackfruit:
Jackfruit is becoming a superfood because of its nutritional bonanza. It is rich in vitamins, minerals and dietary fiber, which makes it a good natural laxative. It can help improve digestion, as adequate fiber can be an effective natural remedy to prevent constipation, and it can also benefit those who want to lose or maintain their weight by giving a feeling of fullness.
Jackfruit is rich in B-complex vitamins, containing niacin, pyridoxine, riboflavin and folic acid. It is a viable source of minerals, such as iron, magnesium, potassium and manganese as well. Jackfruit is high in vitamin C  which is a powerful antioxidant.
Jackfruit contains lignans and saponins, which are beneficial phytonutrients that have been shown to offer anti-cancer properties. Lignans have been found to help block the effects of the hormone estrogen, which may decrease risk of hormone-associated cancers (uterine, ovarian, breast and prostate). Saponins, on the other hand, are known to optimize immune function and reduce risk of heart disease.2
Below you will find photos of the ingredients and steps used to make this Pulled Jackfruit Sandwich!  Following the photos you will find the recipe for Pulled Jackfruit Sandwich.  The recipe is Dairy Free, Gluten Free and Vegan!  Enjoy.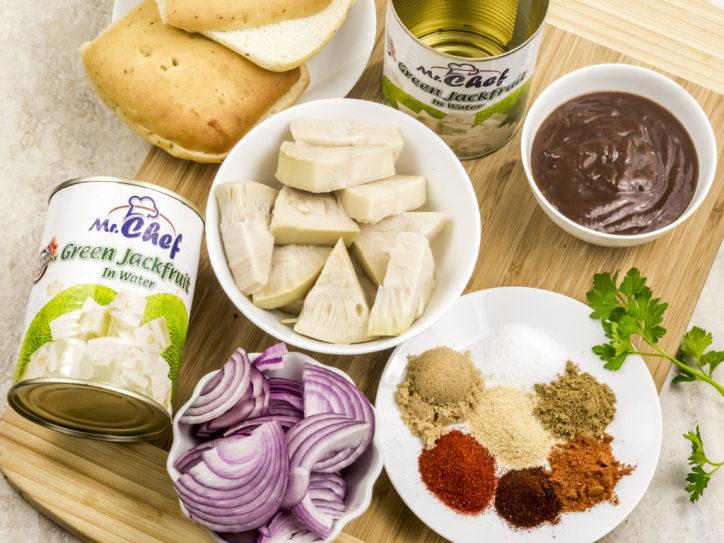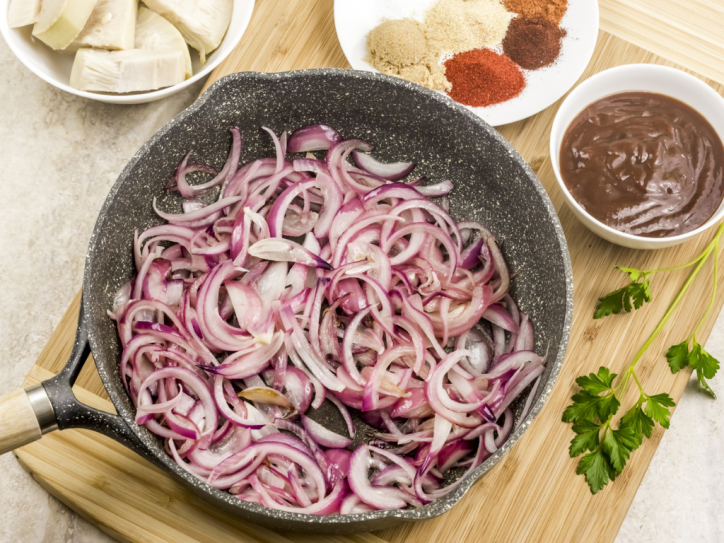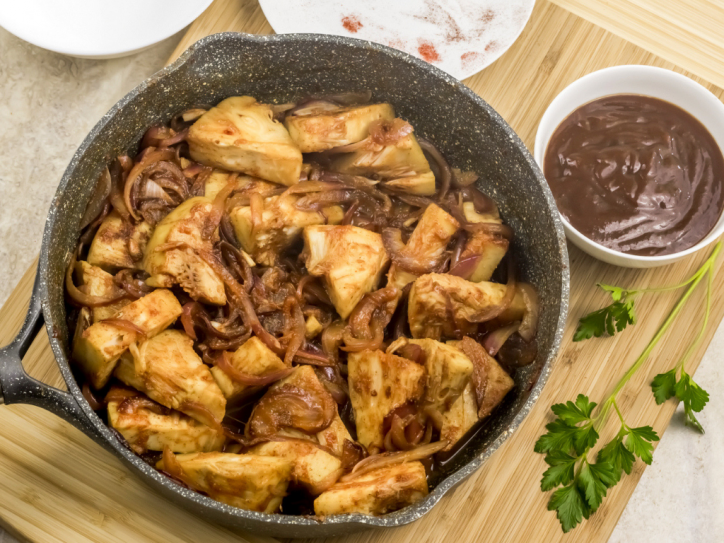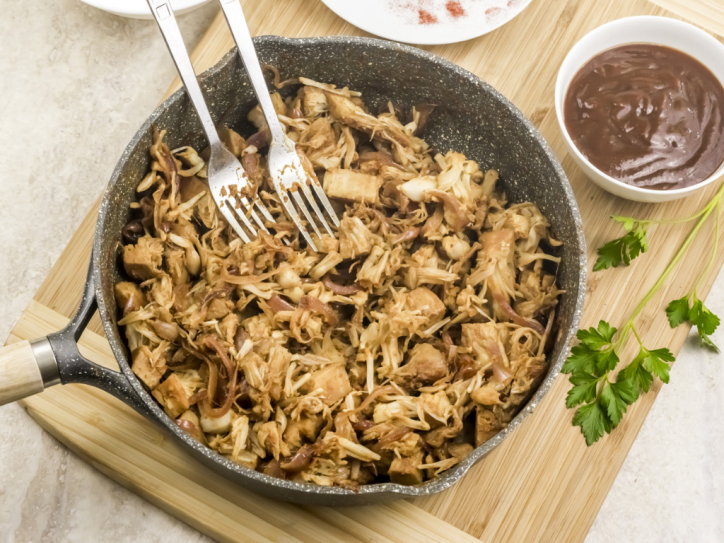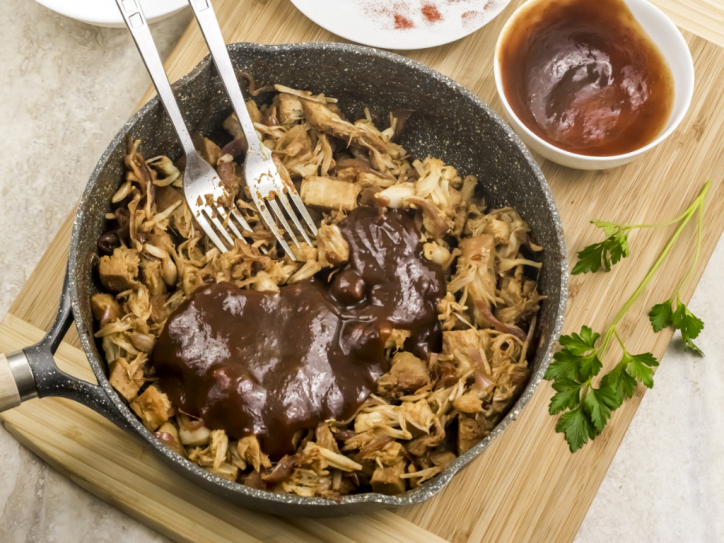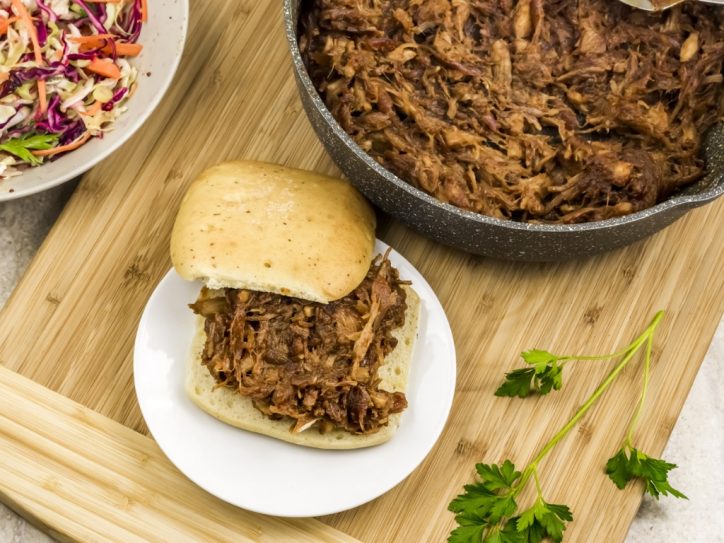 Print Recipe
Vegan Pulled Jackfruit Sandwich
Ingredients
Ingredients
2

20 oz. cans of tender Green Jackfruit, in water, drained and rinsed

1

large Onion

thinly sliced

3

tablespoon

of Olive Oil

1

teaspoon

of Smoked Paprika

½

teaspoon

of ground Chipotle Chili Pepper

optional

1

teaspoon

of Chili Powder

1

teaspoon

of ground Cumin

1

teaspoon

of Garlic Powder

1

teaspoon

of Salt

2

tablespoon

of Brown Sugar

2

cups

of BBQ Sauce

½

cup

of Water

6

Gluten Free Buns
Instructions
Instructions
Heat a large pan over medium high heat. Add the oil.

Add the sliced onion and sauté till translucent and browning slightly on the sides. About 3 to 4 minutes.

Add the drained jackfruits.

Add the smoked paprika, ground chipotle chili peppers, chili powder, cumin, garlic powder, salt and the brown sugar. Give everything a god mix.

Add the water and let it come to a boil. Cover and let it simmer on low heat for 10 to 12 minutes or until the jackfruit is very tender and breaks when poked with the spatula.

Shred the jackfruit with two forks.

Add the BBQ sauce and let it again simmer for another 10 to 15 minutes over low heat.

Increase the heat to high and stir continuously for 3 to 4 minutes. The high heat will let the BBQ sauce caramelize and give a delicious smoky sweet flavor to the jackfruit.

Remove it from heat and let it cool for 5 minutes.

Pile the BBQ jackfruit on gluten free buns. Top with vegan coleslaw and serve immediately.

Notes

Make sure to buy Green jackfruit that are packed in water only. Avoid the ones packed in brine or syrup. They are totally different stuff and will ruin this recipe.

Ground chipotle chili pepper is optional, but it bring a smoky heat that balance the sweetness of the brown sugar and the BBQ sauce.
Notes
Vegan Pulled Jackfruit Sandwich
Nutrition
Sodium:
1759
mg
|
Calcium:
59
mg
|
Vitamin C:
1.9
mg
|
Vitamin A:
475
IU
|
Sugar:
39
g
|
Fiber:
3
g
|
Potassium:
273
mg
|
Calories:
428
kcal
|
Saturated Fat:
2
g
|
Fat:
11
g
|
Protein:
3
g
|
Carbohydrates:
80
g
|
Iron:
1.4
mg