I love salads, this Chicken with Quinoa Salad hits the spot in the summer.  It's a nice light dinner and you don't have to use an oven.
I get organic chicken whenever possible for all my cooking.  For those who want a bit of dairy, I offer the Parmesan on the side. There are many vegan dairy free options to use.  I like Violife Brand the best and Diaya products next.  But there may be others you like.  Please let me know in the comments other dairy free cheeses that mix well in salads.  This is a yummy easy dinner!
It is very easy to make this quinoa with chicken salad into a vegan dish.  Instead of using Chicken…use Butler's Soy Curls.  I absolutely love them.  I will have to make a post showing how to rehydrate them and season them for using in place of chicken stir fry. It's so easy. They are my favorite!!
Simply soak Soy Curls for 10 minutes in warm water. Drain.  They are made of whole soybeans and take on any flavor you add to them.  I fry them on a stove top pan with a bit of olive oil.  Season them with 1/4 cup honey, 2 Tablespoons ChickNish seasoning and 1 Tablespoon Soy Sauce and 1 teaspoon basil.  Saute til they are browned.  They are delicious.
One serving of Butler Soy Curls provides 10 grams of all-natural soy protein! they are very versatile and can be incorporated into all kinds of recipes to add natural protein and fiber. They have no preservatives or additives, and no chemicals used in processing. Soy Curls make a great addition to soups, casseroles, potatoes, rice, stir-fry, noodles, spaghetti sauce, chili, pizza topping, salads, curries, enchiladas, and much more!   My favorite is in curries, stir fry and chili.
The photo's below take you through making the salad starting with the ingredients used.  The recipe follows after the photo's.   Enjoy!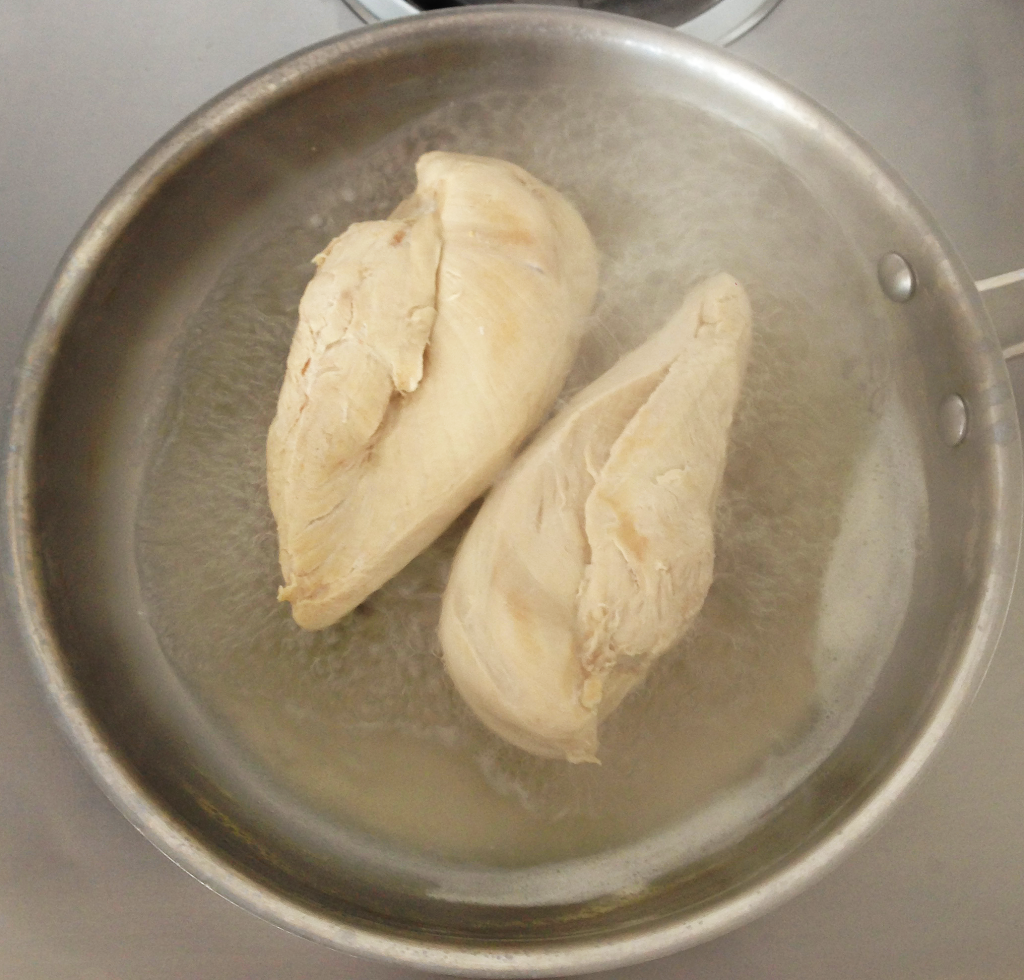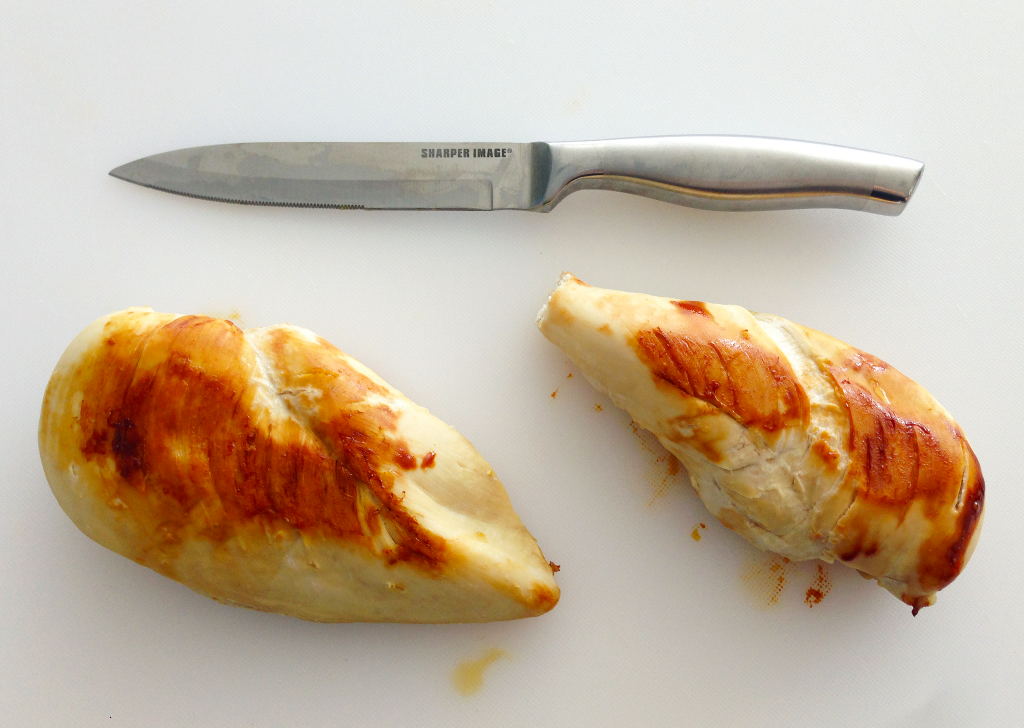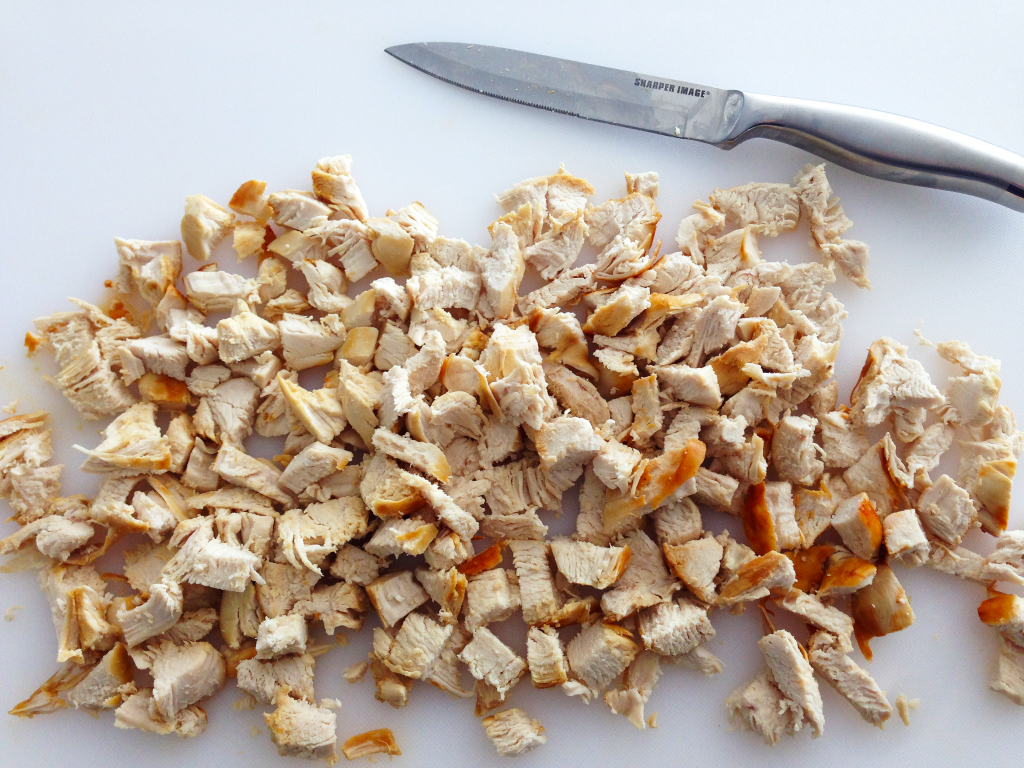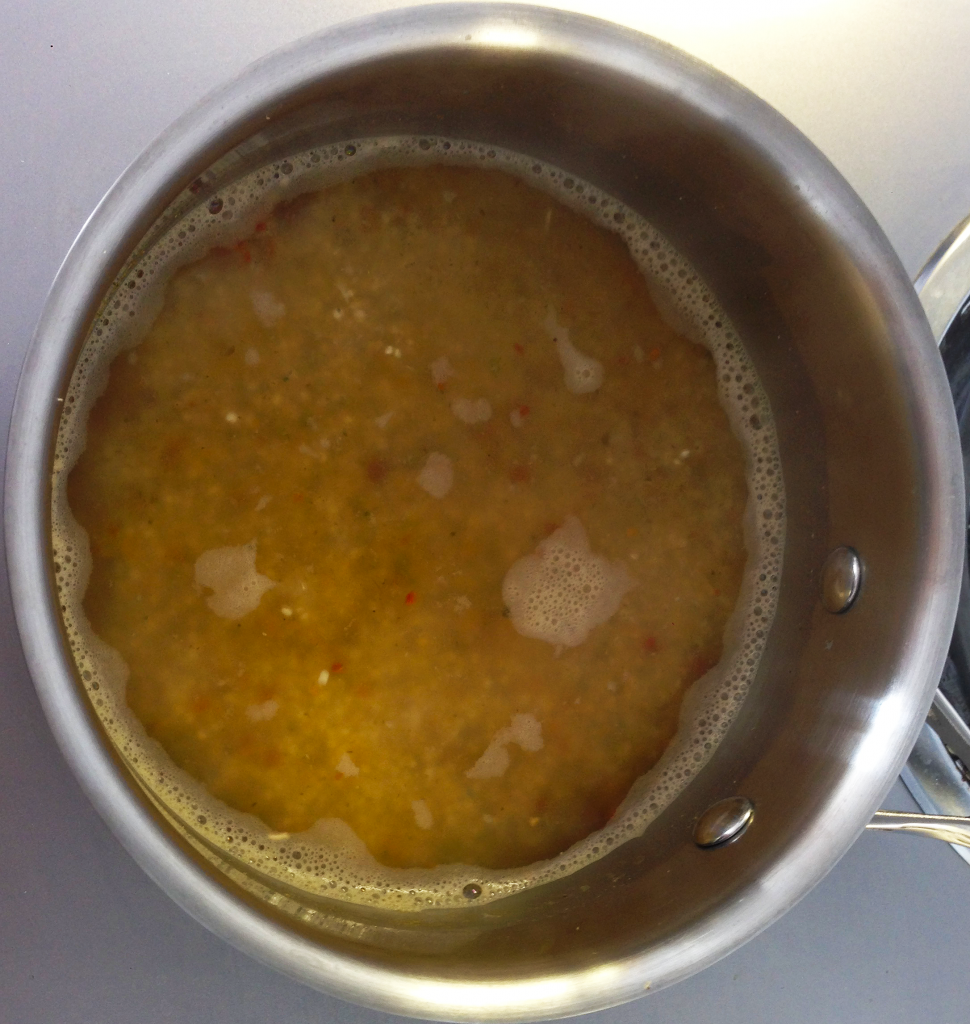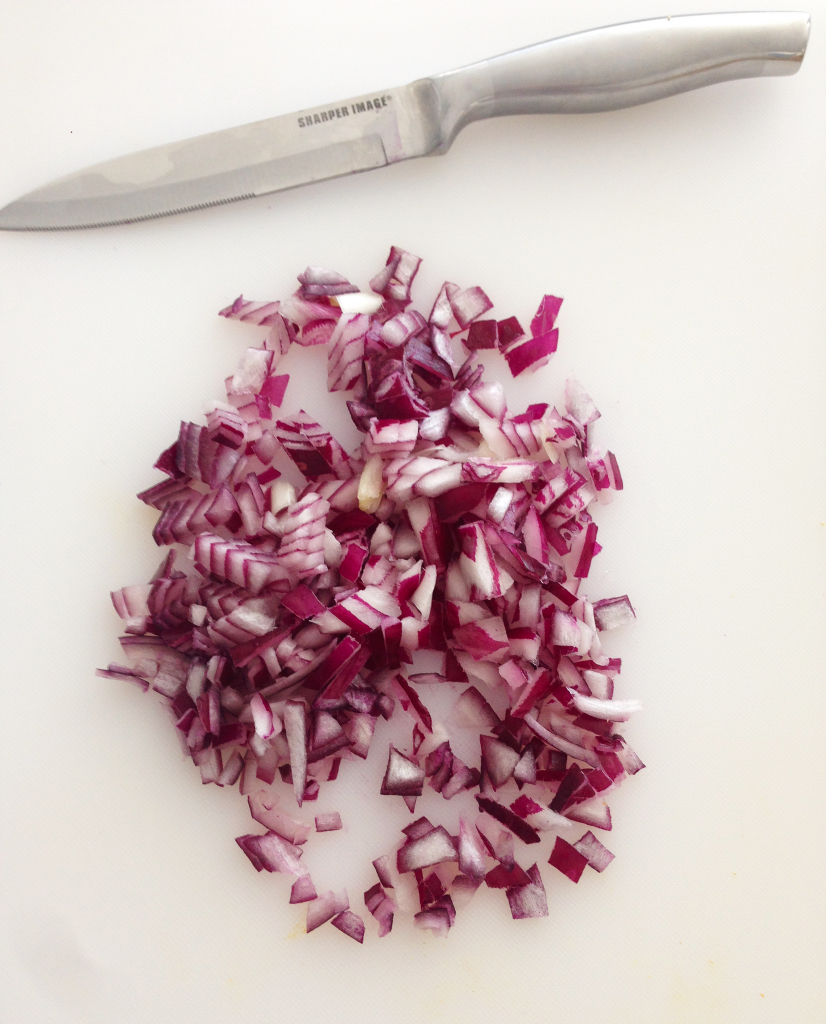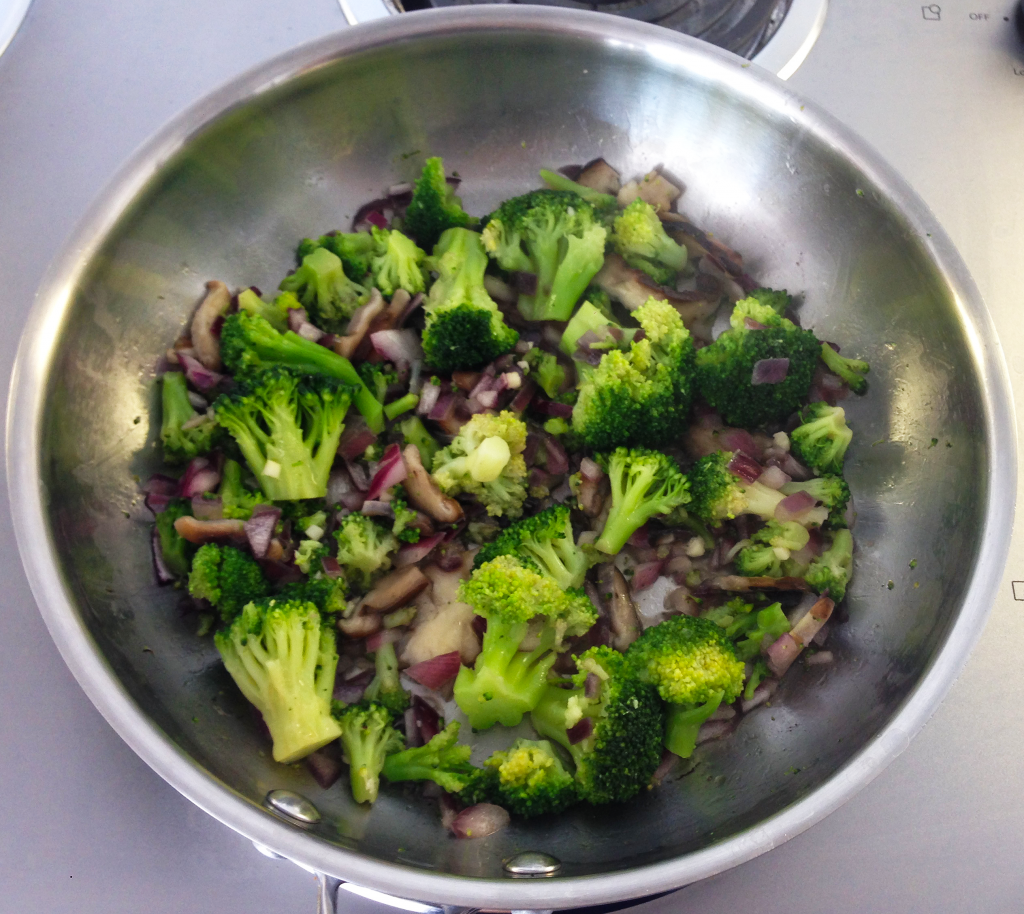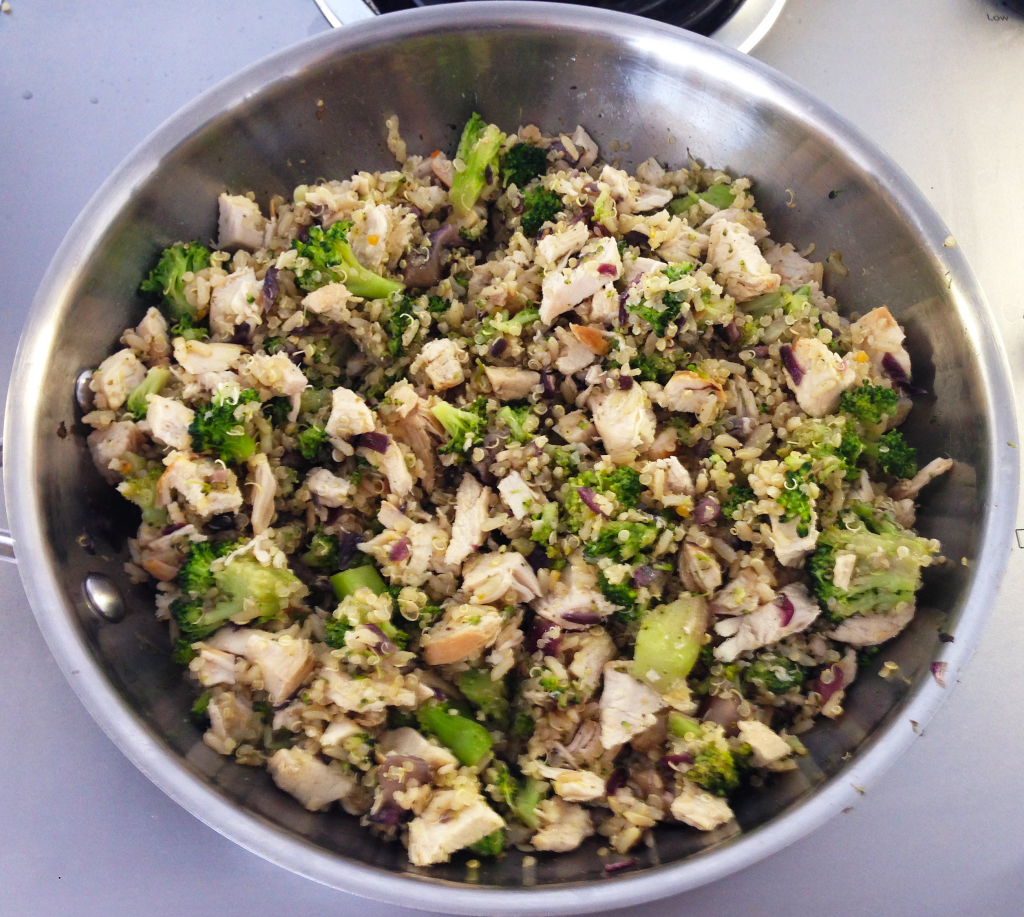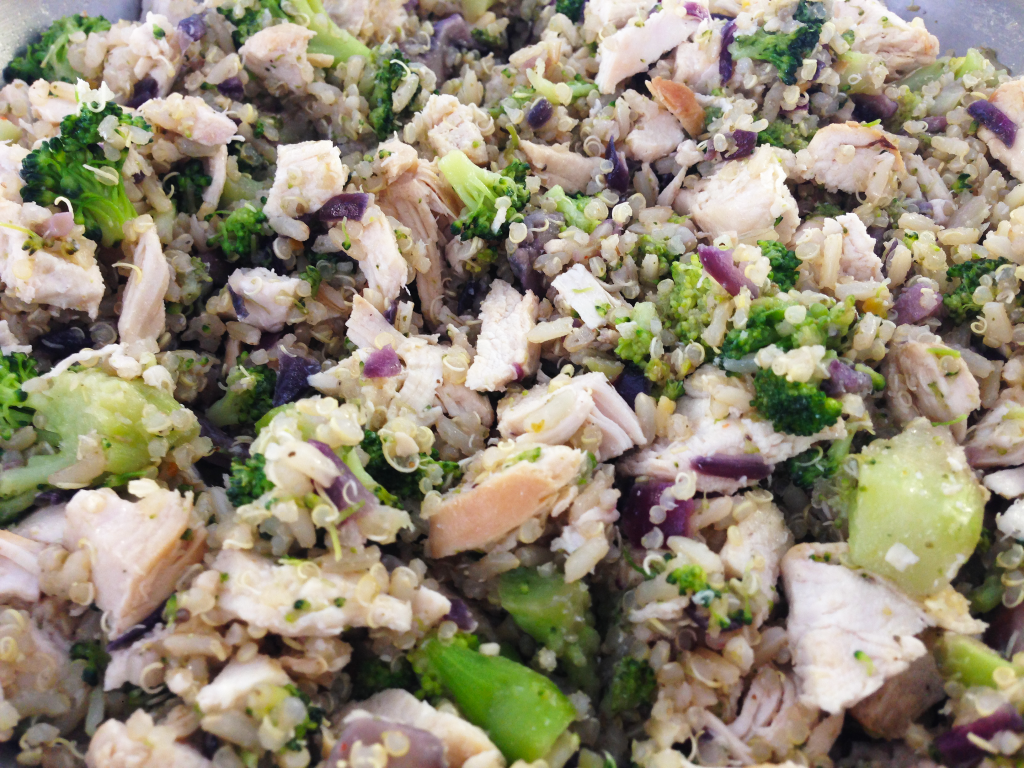 Print Recipe
Organic Chicken & Quinoa Salad Recipe
Organic Chicken & Quinoa Salad with Mushrooms & Broccoli
Ingredients
2

Large Organic Chicken Breasts

5

oz.

Pkg. Gluten-Free Hodgson Mill Quinoa & Brown Rice

Garlic & Herb

½

Cup

Shredded dairy free cheese alternative such as Daiya or Shredded Parmesan Cheese

½

Bag of Organic Woodstock Shitake Mushrooms

½

Bag of Organic Cascadian Farm Broccoli Florets

1/3

Organic Chopped Red Onion

1

tbsp.

Organic Lime

1

Organic Chopped Garlic Clove

optional

1

tsp.

Simply Organic Garlic Powder

1

tsp.

Simply Organic Onion Powder

¼

cup

Coconut Oil

Earth Balance Vegan Margarine or Organic Unsalted Butter
Instructions
Boil 2 inches water in large pan. Add 2 large organic chicken breasts. Cook on high until water is halfway evaporated. Turn heat on medium to low. Brown and remove. Let cool. (Please note: poaching 2 large breasts of chicken will take approximately 20 minutes.)

Boil 1 ¾ cups water. Add contents of quinoa & brown rice packet. Stir well. Turn heat to low and cover. Simmer 14-15 minutes. Make sure liquid is absorbed, but do not overcook. Remove from heat, stir and let stand.

Cut chicken into small pieces. Chop onion and garlic clove.

In same large pan chicken was cooked in,

sauté

frozen shitake mushrooms and frozen broccoli florets in butter or dairy free margarine, oil or coconut oil. Cook on medium heat for 5 minutes. Add onion and garlic. Continue to cook on medium heat for 10 minutes or until onions are translucent and mushrooms are half their original size.

Add chicken, quinoa, and shredded Parmesan cheese or dairy free alternative to pan. Stir. Add onion powder, garlic powder, lime and salt and pepper to taste. Stir again. Cook on low heat for 5 minutes. Remove from heat.
Notes
Nutritional values are based on one serving
Nutrition
Calories:
140
kcal
|
Carbohydrates:
7
g
|
Protein:
6
g
|
Fat:
9
g
|
Saturated Fat:
6
g
|
Cholesterol:
18
mg
|
Sodium:
104
mg
|
Potassium:
138
mg
|
Vitamin A:
10
IU
|
Vitamin C:
2.1
mg
|
Calcium:
11
mg
|
Iron:
0.3
mg