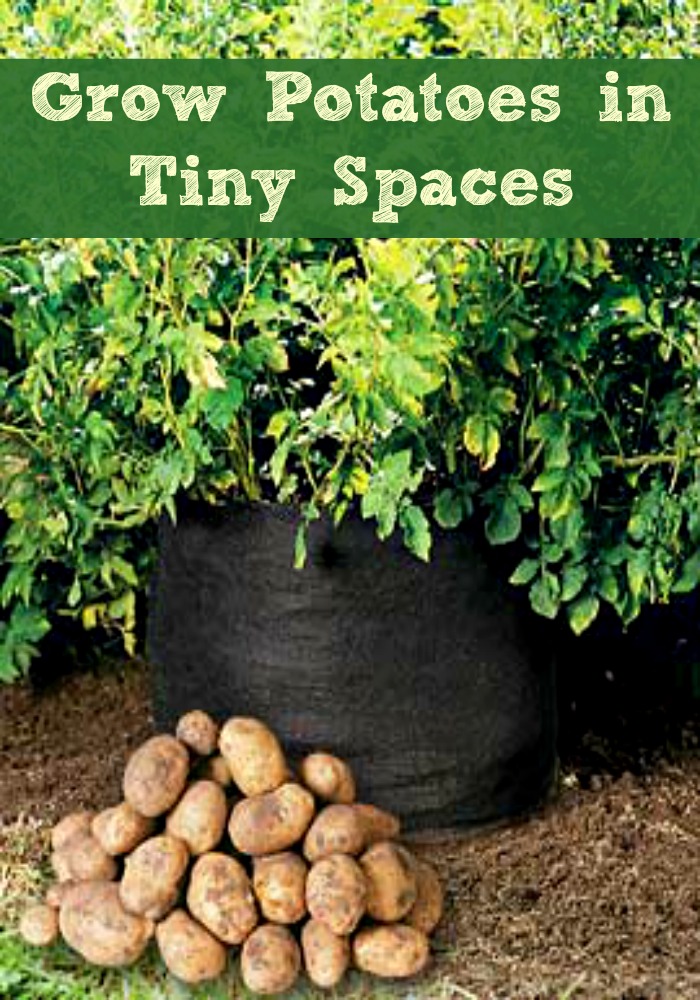 Potatoes used to be a crop that you needed a lot of rows and a lot of space to grow a large harvest. But did you know you can grow over 100 pounds of potatoes in just four square feet of awesome gardening space? The secret is instead of growing out in rows is to grow vertically up in mounds. Here is how to grow potatoes in tiny spaces.   I am using these black potato grow bags on my deck this year.
Mound It Up
Start with a base layer of top-quality potting soil. Source good seed potatoes and either plant the whole thing or cut the potato eyes out in 1-2 inch pieces. On this base layer of soil, place 2-3 seed eye pieces with the potato eye facing up. Place four inches of potting soil on top of the seed potatoes.

Certified Organic: Red Pontiac Seed Potatoes
Now, you can do this mound without any sort of container, but it is easier if you use one. You can use a potato bag, a Lutovsky box, or even used pallets.
As the potatoes send roots down and stems and leaves up, it is time to add the next layer. Once the stems are 12 inches tall, add three more seed potato pieces and repeat the process over again. You can grow vertically 5-6 times by continually mounding on more potting soil.

Gardeners Grow Bags – Potato Planter
Tips and Tricks
Growing potatoes vertically takes a lot of water. Make sure that the soil never dries out or you will have rotten potatoes in your pile. Once you have grown or mounded up at least four times, you can start to harvest the potatoes on the bottom. Remove the bottom board in your pallet or Lutovsky box and harvest the potatoes that are the oldest in the pile. After you have harvested the ripe potatoes, replace the soil and board. In 10-14 days, you can harvest the next row. What's awesome about planting potatoes this way is that you have created a succession garden, giving you homegrown potatoes each week.
You can overwinter these potatoes by storing them in straw in a cool dark place.
I'd love to hear from those of you who have done this and your experiences with the grow bags or boxes in the comments below!