Breast Cancer Screening:
Mammogram, Thermography or Ultrasound
My Breast Cancer Story
This has been a hard couple months for me.    I just got home last Monday from the hospital having had a partial mastectomy for Lobular Breast Cancer. My surgery was suppose to be only a lumpectomy but they could not get clean margins without taking more tissue.   But lets back up:
MAMMOGRAMS: There is so much controversy over breast cancer screening – should I have a mammogram or not?   My sister refuses to get one because she believes if you squish your girls, and there is a tumor,  it will pop the tumor spreading the cancer in the breast.   So how do people who feel this way get checked to make sure they don't have a cancerous breast lump? After all, you want to catch it early so that your chances of survival are good.
THERMOGRAPHY: I have heard others, including members in my family, say that thermography is all you need because it will show any inflammation that is going on in your body.   The thought is that inflammation will occur in your breast prior to having a tumor form or while it is forming and you can catch it early.   My sister really wanted me to have thermography on my breasts, so I had a head to toe thermography done in Portland, Oregon in late April, 1017, that's only 2 months ago!! Thermography is indeed easy.  They just take photos of your body using a special camera that senses heat.  It shows up in colors with yellow and orange showing inflammation where as greens and blues show cool and no inflammation.   The idea is if your photos show lots of yellow and oranges you have inflammation in the areas it shows and may have health problems in those areas.   My photos showed nothing on my breasts…in fact it was cold – a deep blue/green.  No yellow or orange color showing any type of inflammation.   (But I had a breast cancer at that time and didn't know it.)  If I had relied only upon this test I would be in much deeper trouble than I am now.   A family member also was relying on her negative thermography photos.
When I returned home from Oregon in May, I went ahead and saw my MD because I was due for my yearly mammogram and I had noticed a small dimple in the skin of my breast.    I just wanted to make sure there was no cancer.   After having had the thermogram I really wasn't expecting to find anything since my breasts were "cold".   My doctor did a manual breast exam but wasn't sure if she felt a lump or not where the dimpling was.  She thought she felt something but just wasn't sure, so to be safe she said she would order a diagnostic mammogram.  I didn't know what a diagnostic mammogram included since I've usually always just had extra films done after a regular mammogram if there were questions and then was given the OK.  Nothing was wrong.
ULTRASOUND:  My mammogram was finished and then they said they would do an ultrasound of my breast in the area of the dimpling.  That was the "extra" testing to qualify for a diagnostic mammogram test.   An Ultrasound is so easy, they just put some gel on your body and move a wand over it to take photos inside.  The radiologist came in and told me my mammogram was negative and showed nothing, but the ultrasound showed what he felt could very likely be cancer.  He said I should have a biopsy!  I had the biopsy done the next day.   And to my utter amazement, it was positive for breast cancer!
I was NOT expecting to hear a diagnosis of breast cancer.  I'd had yearly mammograms with no problems.   I was feeling the best I have felt in years!!  I was hiking more, had more energy and drive.  How could this be?  But it was.
I just want to say – please do not rely upon thermography for a clear bill of health.  After all this other testing, we spoke to the gal who did our families thermography and she said only 17% of breast cancers are picked up on thermography!! Why weren't we told that before?    Another close family member was relying on her thermography being negative and when she found out that despite my negative thermography I had breast cancer…she did a self exam and found a lump.   She also had further testing with ultrasound on her breast which showed her tumor may also be cancer and was told she needed a biopsy as well.  She just got her biopsy information back when I was in the hospital last week for my surgery –  her results are positive for breast cancer also, despite having a negative thermography test.  (Her breast cancer is a different type than mine).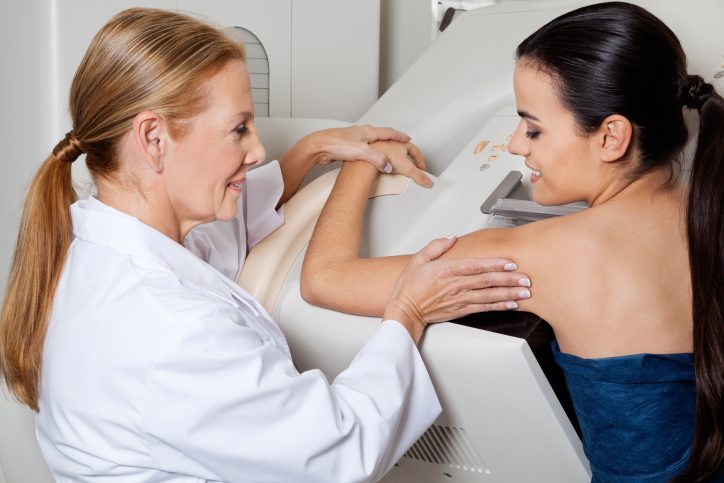 The goal of breast mammography is to catch breast tumors while they are still small so that they can be removed early and achieve a complete cure.  Treatment for breast cancer has grown leaps and bounds over what was available even 10 years ago.   We are hopeful that we got our cancers early.   But if we had simply relied upon Thermography, we would still not be aware that we both have breast cancer, and by the time we did become aware of our cancer, it may have been too late for a cure.
It is true that mammography may not pick up all tumors and if you do not want to have your girls squished…everyone should be screened somehow.  Please ask for an ultrasound of your breasts!   Ultrasounds found what other diagnostic tests could not find for us.
I also had abdominal surgery for a GIST tumor removal at the same time I had my breast tumor removal.   We are hopeful the GIST tumor has not turned to cancer yet.  I will see my oncologist ( cancer doctor ) tomorrow to see if I will require chemotherapy since my breast cancer has NOT spread to my lymph nodes and to see what my GIST tumor will require.
I will be sharing more in posts later about breast cancer, the role of diet with breast cancer and breast cancer recovery. I will still be posting my normal DF & GF recipes so you will want to stay tuned for all the yummy recipes coming up for this summer!  It is interesting to note that I have been dairy free and gluten free for many years, and the other family member has been vegan for a very long time!   And nonetheless we both developed breast cancer.   Diet is not the end all…but I truly believe eating DF & GF has allowed me to heal quicker from surgery and maybe it allowed us both to find our tumors early by not having aggressive tumor activity from the beginning.