How to Use Essential Oils in Your Washing Machine
Have you ever thought to use

Essential oils

in your washing machine? Essential oils are known for their therapeutic properties, which are believed to provide many health benefits. It's the main reason why aromatherapy is so popular. However, aromatherapy is certainly not the only way to use these oils. In fact, essential oils have become a staple in many households because they have so many different uses.
For example, you can make your own beauty products using essential oils. You can use them to create a warm and inviting environment where you can relax at home. I use them to clean and disinfect countertops of my kitchen. You can use essential oils in your washing machine when you do the laundry.   It sanitizes your laundry while giving it a great fresh smell of your choosing! Here's how:
Clean and Freshen Your Clothes with Homemade Laundry Detergent
Most manufacturers use chemicals to create the artificial scents and cleaning agents in laundry detergent. Some of these chemicals are proven to be toxic, posing a health risk to your family. To avoid this problem and reduce your risk of being exposed to harmful chemicals, make your own laundry detergent using essential oils. 
The main ingredients to make laundry detergent are castile soap, borax, Sal Suds, washing soda, white vinegar and baking soda. Mix and match these ingredients together until you find a combination that works best for you. For example, a popular but simple homemade laundry detergent combines water, Sal Suds and baking soda.
Once you've chosen your ingredients mix them together in a large bowl or container.  Add a few drops of your favorite essential oil. Pour the mixture into an airtight container until you're ready to do the laundry and you're done. Then add about two tablespoons of your homemade detergent to the washing machine when you do a load of clothes.
Make Your Laundry Smell the Way You Want It To
If making your own laundry detergent is not for you, there is a way to choose your own fragrances while still avoiding having a product that could cause health problems. Search for an unscented laundry detergent that uses green ingredients, then add your oil fragrance.
Your clothes will come out of the wash smelling fresh and clean. And you won't expose your family to harsh chemicals.
Clean and Disinfect Your Washer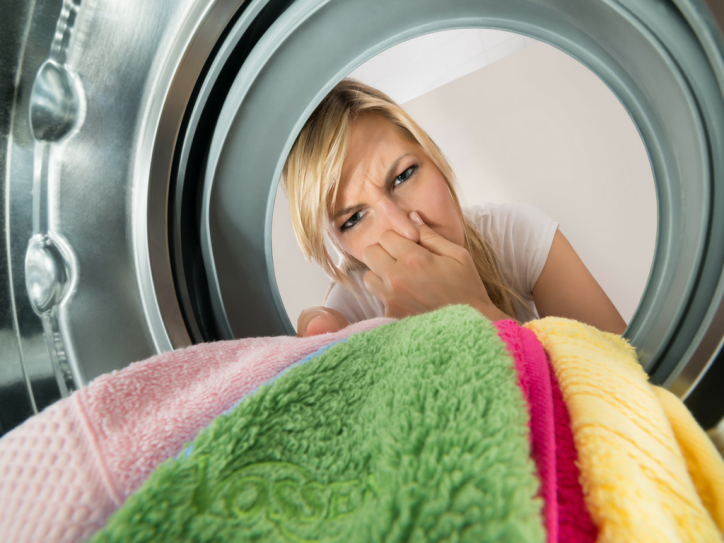 Does your washer have a bad or sour smell that takes your breath away each time you open the lid? You're not alone. This is a common problem many homeowners face and this awful smell can transfer onto your clothes, towels and bedding leaving them smelling not so fresh.
To solve this problem, add a few drops of lemon oil to the washer and run it through a wash or rinse cycle (without adding any laundry) to clean, disinfect and eliminate that awful smell. The next time you wash clothes the odor will be gone, and your laundry will come out smelling clean and fresh again.
Some of the most popular oils used in the washing machine include lemon, rosemary, lavender, eucalyptus, orange, sage, cedarwood and lemongrass but you can add any fragrance you enjoy. However, be aware that citrus oils are best used when washing whites only because they could streak or leave spots on colored items. 
You can get all these essential oils from me

 here!