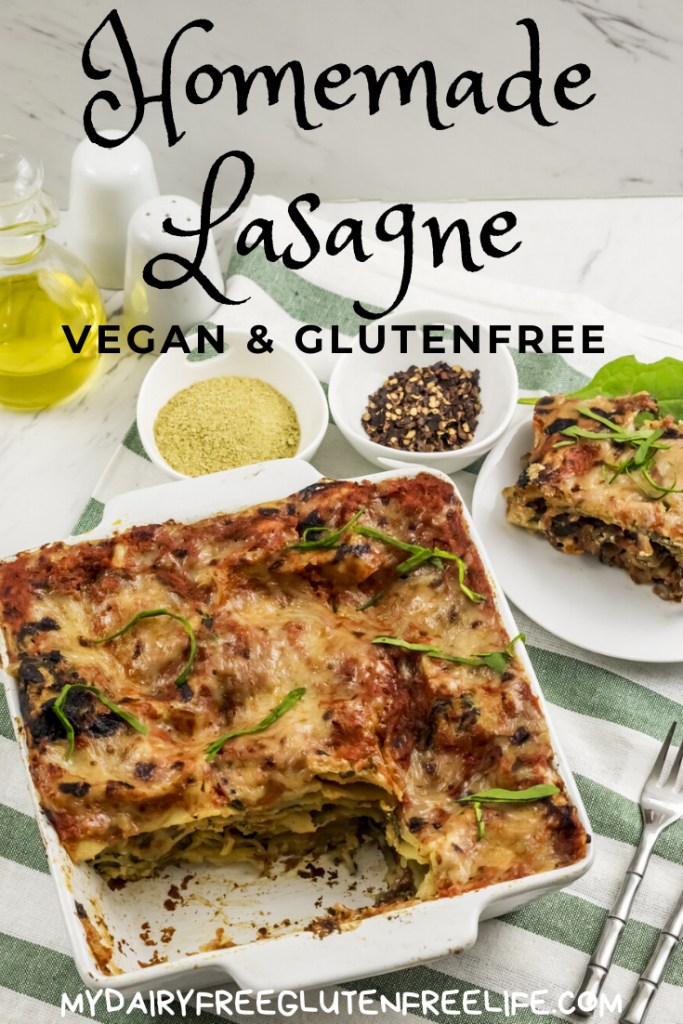 Homemade Lasagne
Vegan & Gluten-Free
I absolutely love Homemade Lasagne how about you? We can be vegan and gluten free and make a delicious lasagna casserole!!  This recipe is so good using a homemade sauce like the one used for this recipe or being more carefree and just buying a vegan marinara sauce.
I like to buy Le Veneziane oven ready gluten free lasagna sheets. They are found at the link I provided.  But Barilla also has a very decent oven ready gluten free lasagna noodle! Using oven ready pasta makes it so easy to assemble and cook this fabulous tasting lasagna casserole.
I have also become very fond of using VioLife Vegan Cheeses.  VioLife has quite an assortment and they are so good!  I am using VioLife Vegan Mozzarella Shreds in this recipe.  We are also making our own vegan ricotta cheese in this recipe!
The nutritional values for this recipe are made using a traditional vegan store brand marinara sauce.  The sauce that is used for making this Homemade Lasagna you will find here.  It is similar but uses onions, mushrooms and red lentils in the sauce.  So you may want to check that recipe for a way to get more plant protein with red lentils into a spaghetti sauce.
Here are photos of what we used to make this recipe.   Following the photos is the recipe for Homemade Lasagna Vegan & Gluten-Free.  Enjoy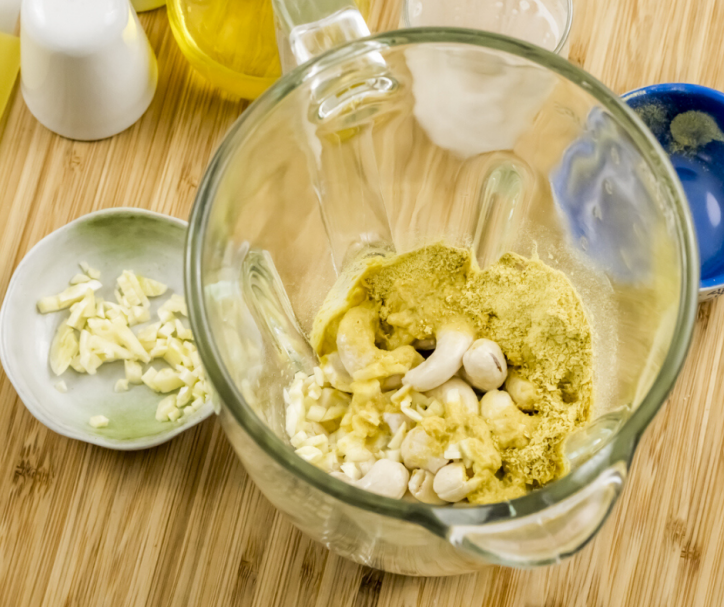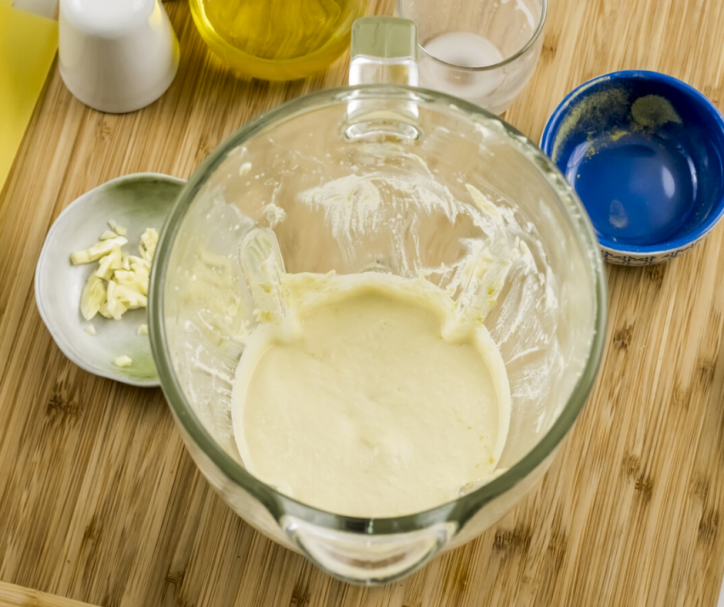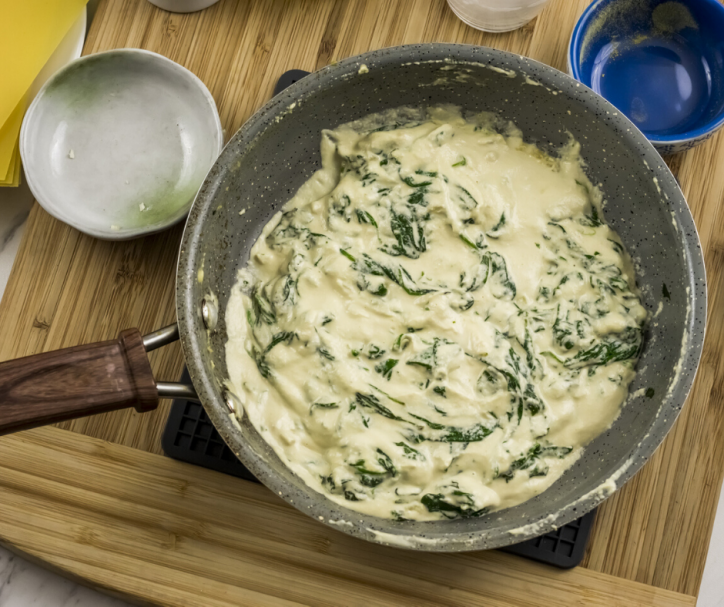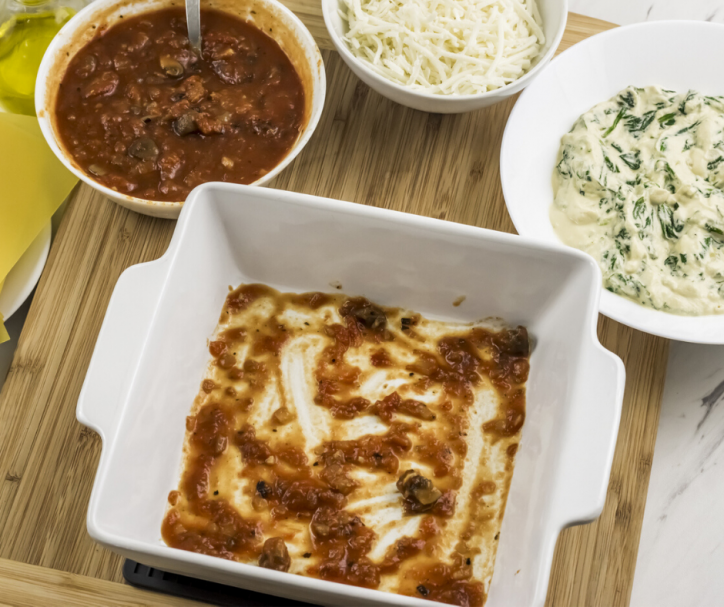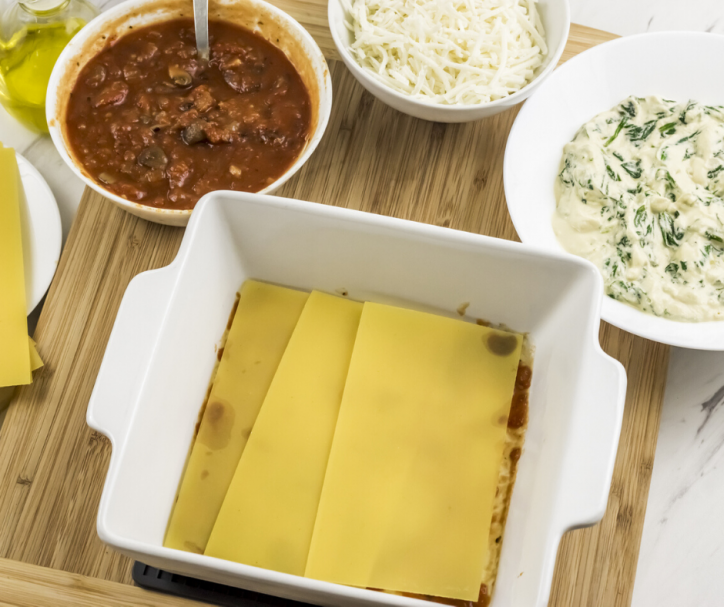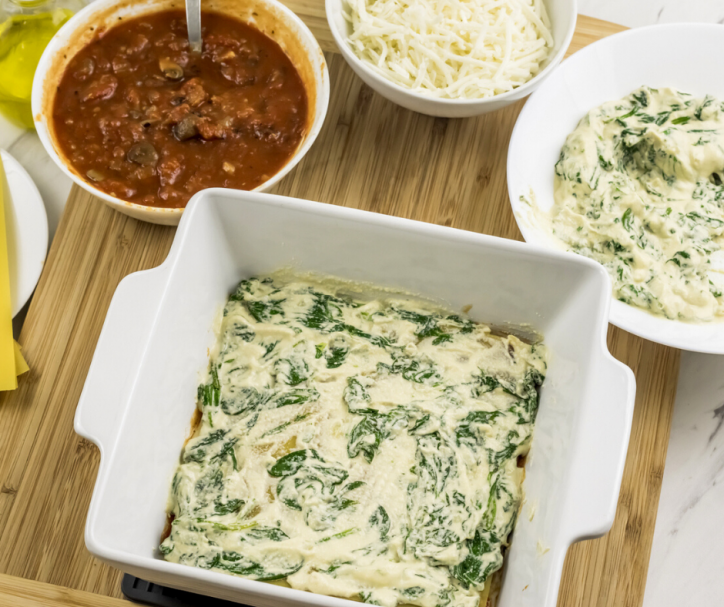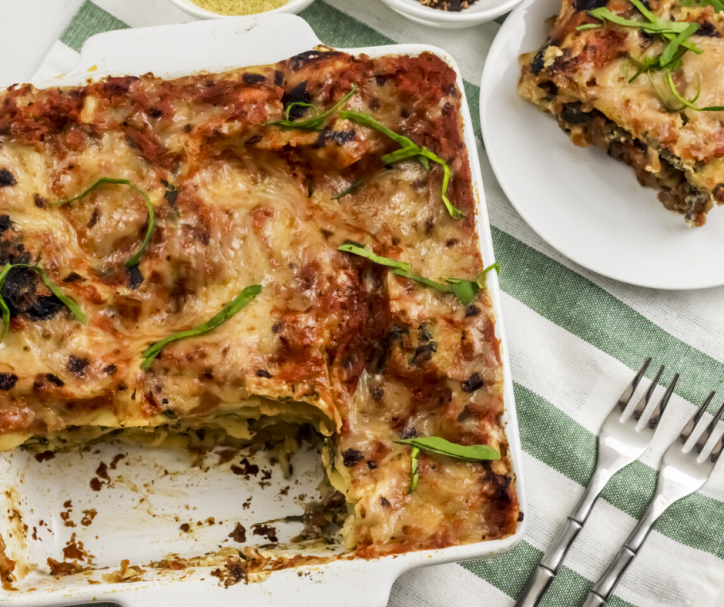 I hope you enjoyed seeing how a homemade lasagna vegan & gluten-free is done!  It's so yummy.  Give it a try for a special Valentines dinner!   Enjoy.
Recipe for Homemade Lasagna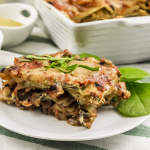 Print Recipe
Homemade Lasagna Vegan & Gluten-Free
Delicious Dinner or for a special occasion or holiday
Ingredients
1

10 oz

Box Gluten Free Oven-Ready Lasagna Sheets

I prefer LeVeneziane brand

3

cups

3 cups of Homemade Spaghetti Sauce or store brand vegan Marinara Sauce

1

5 oz

bag or box of baby Spinach

1/2

cup

Raw Cashews

soaked overnight

2

Tbsp

Nutritional Yeast

2

tsp

Minced Garlic 

1/2

cup

Unsweetened Almond Milk

1

7.1 oz

bag of Vegan Mozzarella style Shreds

I prefer VioLife

1

Tbsp

Lemon Juice

Fresh

1

Tbsp

Olive Oil

extra virgin

Salt and Pepper

to taste
Instructions
In a blender combine soaked cashew, 1 teaspoon of minced garlic, nutritional yeast and almond milk.

Blend it into a smooth thick paste. This is our vegan ricotta cheese.

In a sauté pan heat a tablespoon of olive oil over medium high heat. Add the garlic and let it sizzle for 30 seconds. Add the baby spinach and sauté it for 2 to 3 minutes or until it is wilted and most of the moisture from the spinach has evaporated.

Add the prepared vegan ricotta to the wilted spinach and mix well.

Preheat the oven to 350 F.

In an 8x8 glass baking dish, add 2 tablespoon of spaghetti sauce. Spread it in bottom of the dish.

Place 3 gluten free oven ready lasagna sheets, slightly overlapping each other on the base spaghetti sauce.

Spread 1/3 cup of the vegan ricotta-spinach filling on top the lasagna sheets.

Top that with a cup of spaghetti sauce.

Sprinkle ¼ cup of mozzarella style shreds.

Repeat the same sequence 3 more time. In total there will be 4 layers of lasagna sheets.

Cover the baking dish with foil and bake for 45 minutes. Then remove the foil and bake for another 20 minutes.

Finally broil for another minute to get the cheese all melty and golden.

Let it rest for 15 minutes before slicing and serving.




Nutrition
Calories:
125
kcal
|
Carbohydrates:
12
g
|
Protein:
5
g
|
Fat:
8
g
|
Saturated Fat:
1
g
|
Sodium:
672
mg
|
Potassium:
526
mg
|
Fiber:
3
g
|
Sugar:
6
g
|
Vitamin A:
546
IU
|
Vitamin C:
10
mg
|
Calcium:
47
mg
|
Iron:
2
mg