BowTie Pasta w/Spaghetti Sauce
Vegan & Gluten Free
I have a very yummy recipe for BowTie Pasta with Spaghetti Sauce that is plant based with lots of protein!  This is also  Vegan and Gluten Free recipe.
Sometimes it's hard to get decent plant protein past a kid and even some adults!  This Spaghetti Sauce recipe calls for red lentils as its protein.  Here is what Bob's Red Mill has to say about red lentils:  "these are the freshest lentils you can get! These cute little red legumes have a mild, subtly sweet flavor. Because they break down while cooking, Red Lentils are perfect for dishes like soups, stews, curries and dips. They're very easy to prepare, needing no presoaking and cooking up in just 15 minutes!"  Kids will love this Spaghetti Sauce!   If you don't like mushrooms you could puree them to get the huge amount of nutrients from them or just leave them out.  But I am a mushroom fanatic.
This sauce also has wonderful flavor with onions, garlic, spices, mushrooms and fire roasted tomatoes…mmm yum.  I suppose you could serve it over any pasta but BowTie pasta is kind of fun to eat.  I love Jovial Gluten Free pasta and they have boxes of Organic Farfalle which is another word for BowTie pasta!  And yes it is gluten free.
Below you will find photos of what it took to put this Spaghetti Sauce together.  After the photos you will find the recipe. Enjoy!!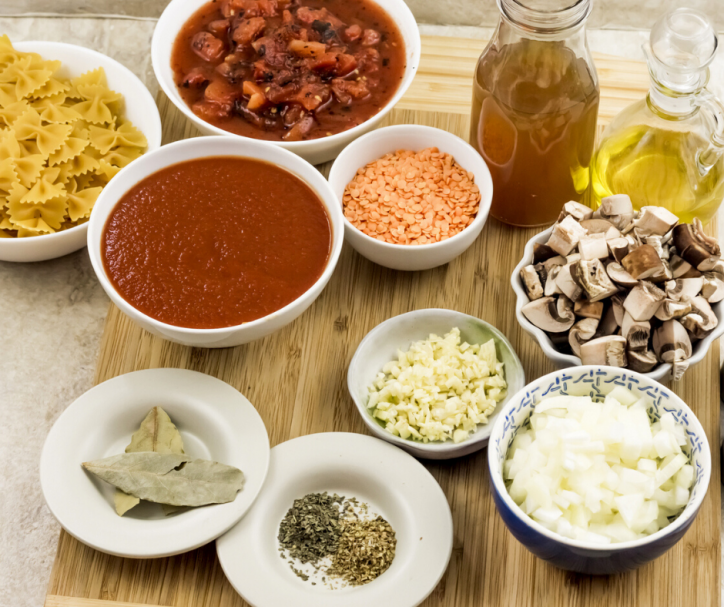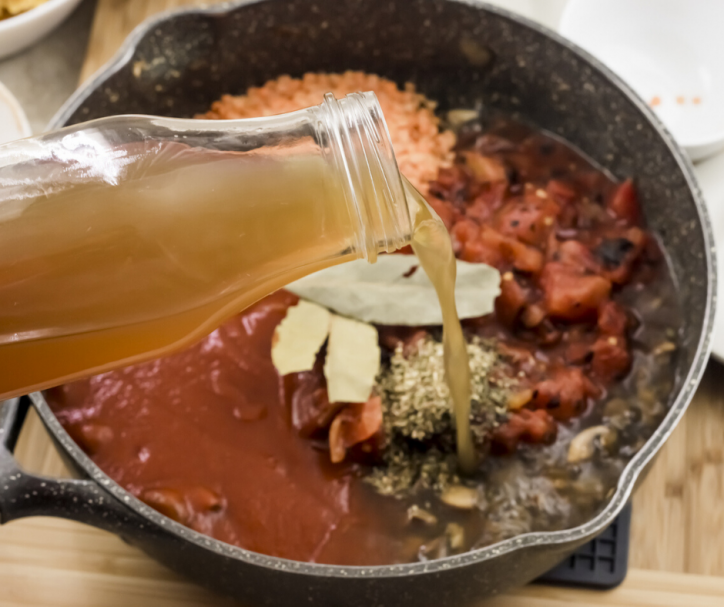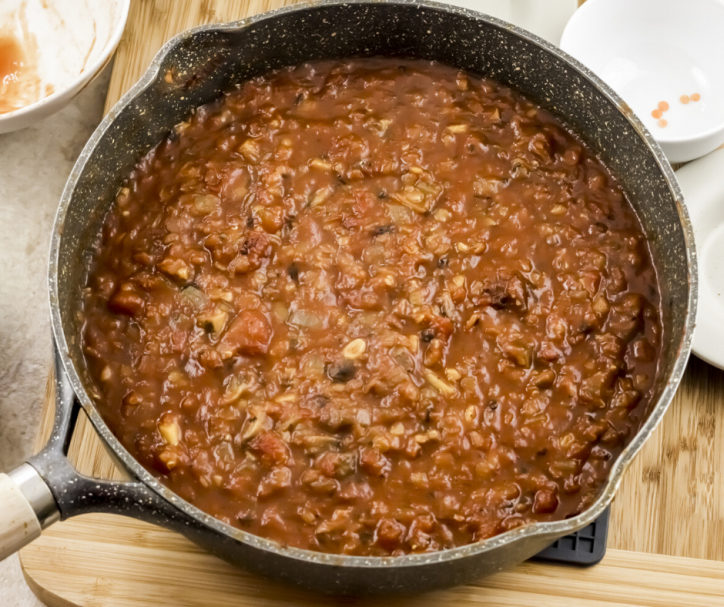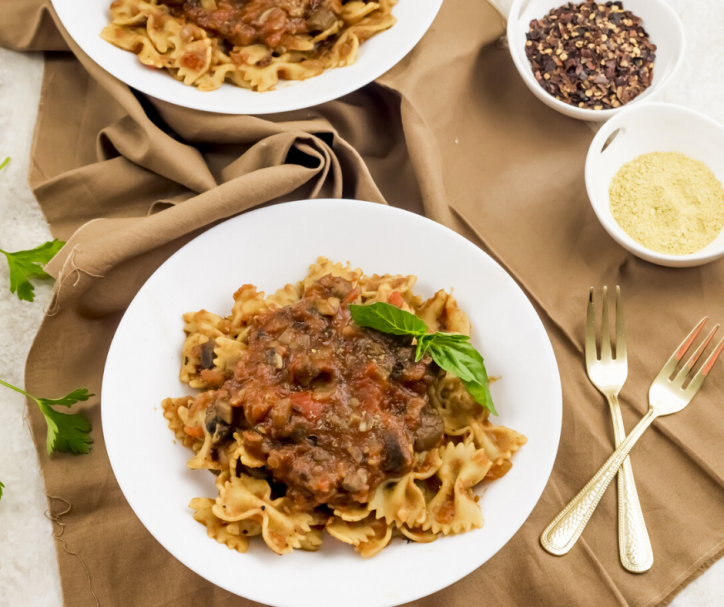 BowTie Pasta w/Spaghetti Sauce
Vegan & Gluten Free
Here is the recipe and I hope you enjoy it!
Print Recipe
BowTie Pasta w/Spaghetti Sauce Vegan & Gluten Free
Delicious Spaghetti Sauce that is packed with plant protein
Ingredients
1

12 oz

box of Gluten Free Bow-tie or Farfalle Pasta

1

medium

Onion

chopped

6

cloves

Garlic

minced

1

8 oz

box of Portobello Mushrooms

diced

1/4

cup

Red Lentils

uncooked

1

15 oz

can of Fire Roasted Diced Tomatoes

1

15 oz

can of Tomato Sauce

1

tsp

dried oregano

1

tsp

dried basil

2

leaves

Bay leaves

2

cups

Vegetable broth

2

Tbsp

olive oil

extra virgin

Salt & Pepper to taste
Instructions
In a large pan, add 2 tablespoons of olive oil and heat it over medium heat high heat.

Add the chopped onions and sauté it for 3 to 4 minutes, or until slightly brown in the edges.Add the minced garlic and diced mushrooms.

Cook for another 5 minutes till all the moisture from the mushroom has evaporated and the garlic is fragrant. Add the diced tomatoes, tomato sauce, red lentils, dried oregano and basil, bay leaves, salt and pepper and 2 cups of vegetables broth. Bring it to a boil and then reduce the heat to a simmer. Let it simmer for about 25 to 30 minutes, or until the red lentils have soaked up most of the liquid and are completely cooked though.

You might have to add about ¼ cup of water or broth, if the sauce becomes too thick. Once you are happy with the consistency of the sauce, pour it into as separate container, keeping a little bit in the pan.

Boil the bow-tie pasta in a large pot of salted water, according to the packet instructions. The pasta should be al dente. Drain the pasta and return it to the pan and toss to coat each bow-tie in the residual sauce left in the pan.

Divide the pasta in serving bowl. Ladle over the reserved sauce. Sprinkle some vegan parmesan, or VioLife Vegan Cheddar Shreds and fresh basil and serve right away.



Nutrition
Calories:
123
kcal
|
Carbohydrates:
12
g
|
Protein:
4
g
|
Fat:
7
g
|
Saturated Fat:
1
g
|
Sodium:
11
mg
|
Potassium:
166
mg
|
Fiber:
4
g
|
Sugar:
1
g
|
Vitamin A:
31
IU
|
Vitamin C:
4
mg
|
Calcium:
37
mg
|
Iron:
1
mg