Have you tasted Falafel Patties yet?  Oh my gosh are you in for a treat!  I love Falafel patties or balls and love to eat them alone with rice or in a gluten free sandwich or bread like pita bread that is gluten free, topped with Tahini sauce.   Oh yum.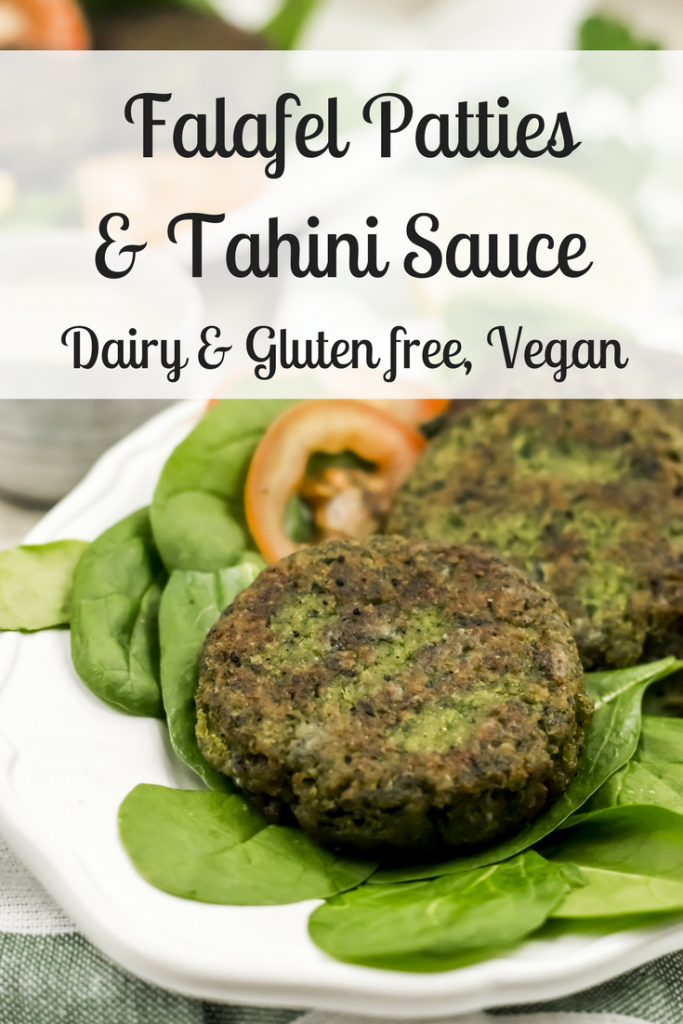 This recipe is an authentic recipe for Indian Falafel Patties & Tahini Sauce!  It uses Besan flour which is just chickpea flour which Bob's Red Mill has as do many other companies.  But if you have an ethnic store you can get Besan flour from India, I think it has a better flavor.  I have also made a wonderfully moist banana chocolate chip bread with besan flour, you can get my recipe here!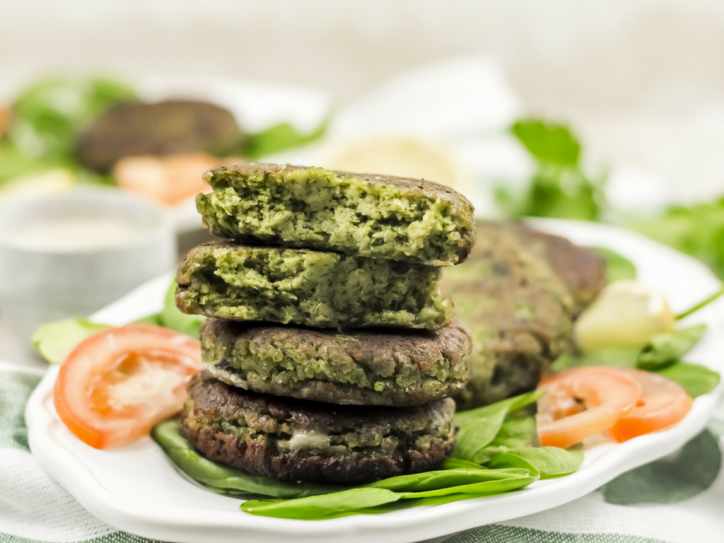 I have photos below that show the process of making these falafel patties.   The recipe will follow these photos.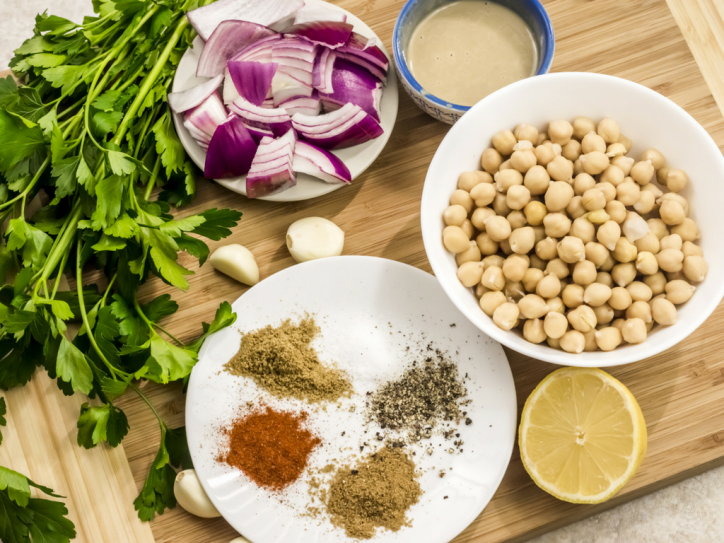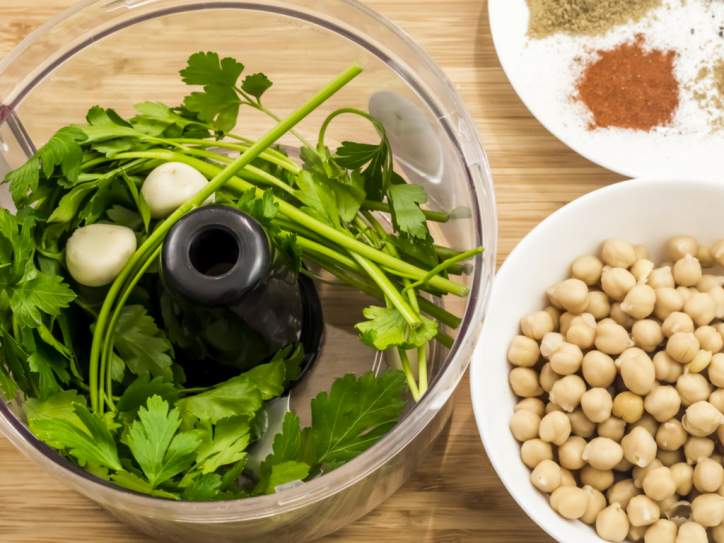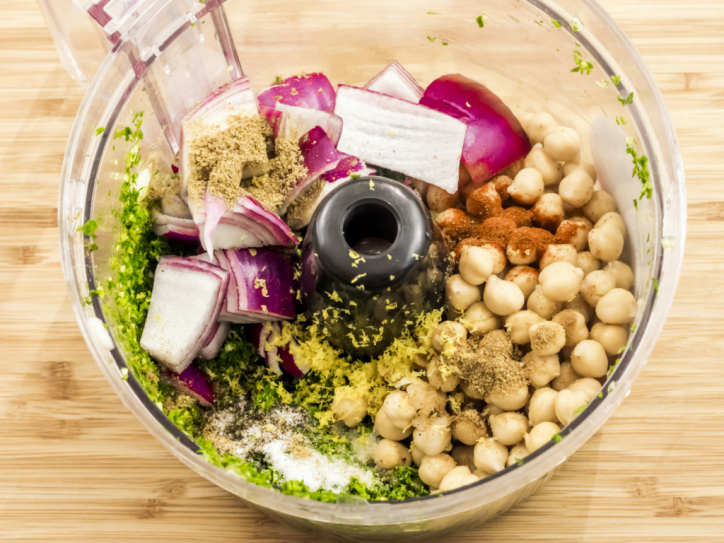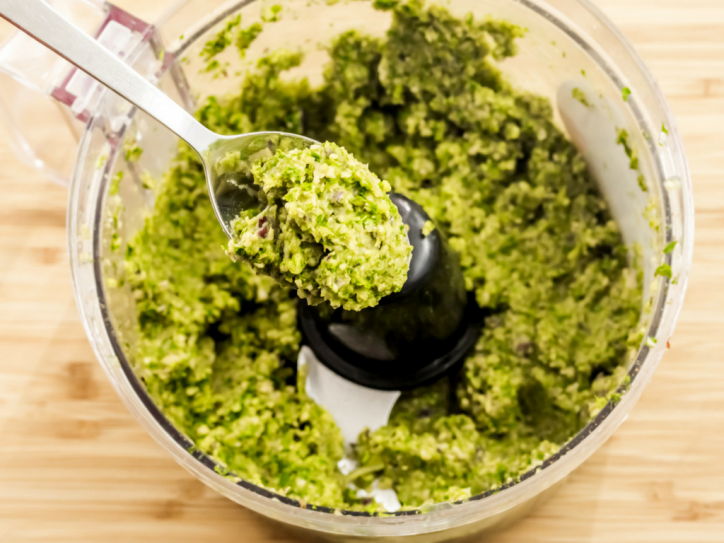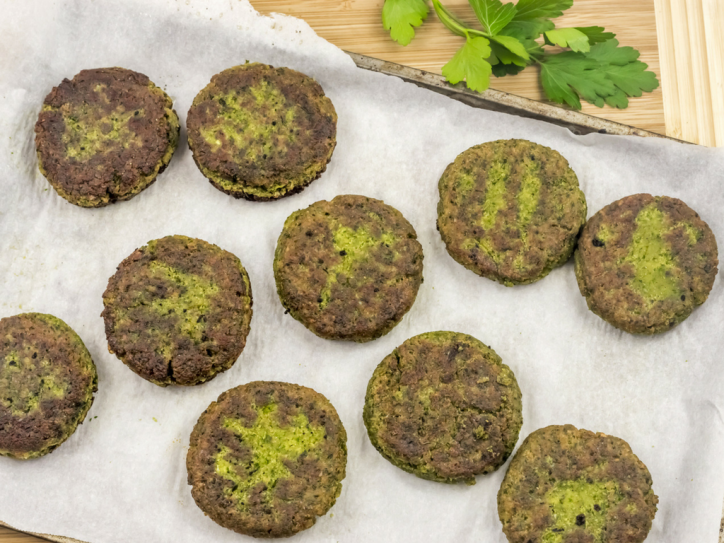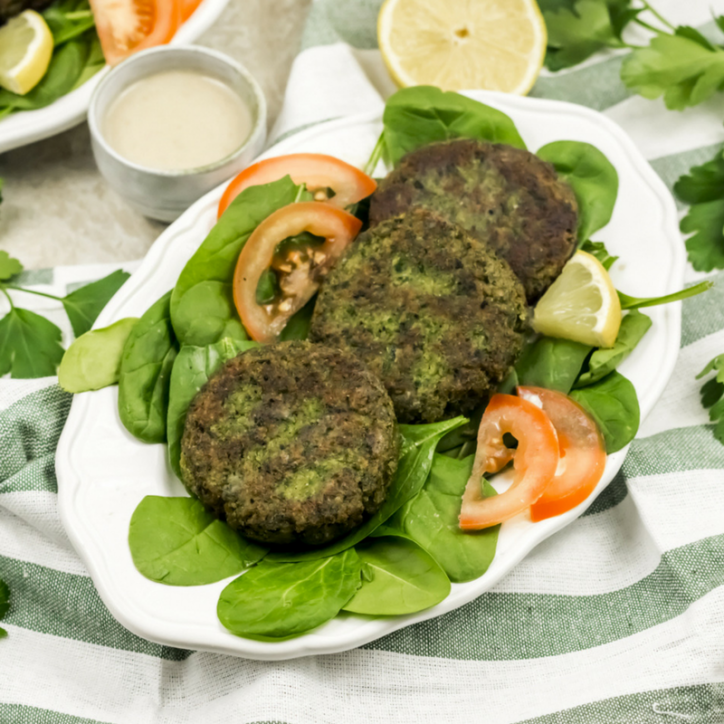 Falafel Patties with Tahini Sauce Recipe: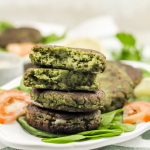 Print Recipe
Falafel Patties with Tahini Sauce- Gluten free, Dairy Free, Vegan
Ingredients
Ingredients
FALAFEL Ingredients:

1

15 oz. can of Chickpeas or 2 cups of soaked Chickpeas

4

fat cloves of Garlic

1

bunch of Parsley

stems and all, about 1 heaping cup

1

teaspoon

of ground Coriander

1

teaspoon

of ground Cumin

½

teaspoon

of Cayenne Pepper

or Paprika

Zest and juice of one Lemon

Salt and pepper to taste

¼

cup

of Chickpea Flour

optional

2

cups

of Grapeseed Oil for frying

TAHINI Sauce Ingredients:

¼

cup

of Tahini

well blended

½

teaspoon

of Garlic Powder

½

teaspoon

of Sea salt

¼

cup

of hot Water
Instructions
Instructions
In the food processor, combine the parsley and the garlic. Process till the garlic is very finely minced.

Add the chickpeas, coriander, cumin, cayenne or paprika, salt, pepper, lemon zest and juice. Pulse it till it resembles a coarse mixture. It should not be pureed, but not too chunky either.

Try to form a tight patty. If the mixture keep breaking and falling apart, add about a tablespoon of chickpea flour, at a time, till all the mixture is well binded and the patty holds itself.

Using an ice-cream scoop, form equal sized patties. Chill it in the fridge for at least 30 minutes.

Heat the oil in a cast iron skillet or a Dutch oven. The oil should be hot. Drop a tiny pinch of the falafel mix into the hot oil. If it sinks, the oil is not hot enough. If it instantly turns dark brown, the oil is too hot. If the mix, sizzles when it hits the oil and rises up, the oil is ready for the falafels.

Drop about 4 patties in the hot oil and fry for about 2 to 3 minutes each side. Do not over crowd the pan. That will bring down the temperature of the oil.

Keep the fried patties on a kitchen towel lined plate to absorb excess oil.

Serve hot with tahini sauce and spinach or lettuce salad.

In a bowl, combine the tahini, garlic powder, salt and hot water. Whisk it well until well blended and lump free.

Serve with Falafels.
Notes
Notes: Tahini tends to separate, so make sure it is well blended before using. Hot water is also very critical, cold or room temperature water will not blend the sauce properly.
Nutrition
Calories:
63
kcal
|
Carbohydrates:
2
g
|
Protein:
1
g
|
Fat:
5
g
|
Sodium:
86
mg
|
Potassium:
43
mg
|
Vitamin A:
35
IU
|
Vitamin C:
0.6
mg
|
Calcium:
10
mg
|
Iron:
0.4
mg