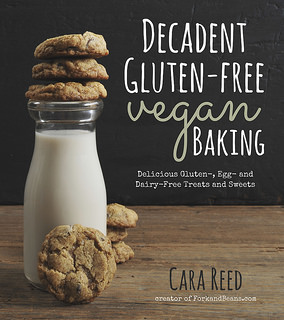 Decadent Gluten-Free Vegan Baking Review
Delicious, Gluten-, Egg- and Dairy-Free Treats and Sweets
by Cara Reed / August 2014
Review by My Dairy-Free Gluten-Free Life
I am so happy to see so many more choices for those of us who eat BOTH Gluten-Free and Dairy-Free!   I have seen others in the Gluten-Free blogging community post fabulous recipes for gluten-free products using a blend of flour called Cara's Flour Blend.  This book has that blend!  What makes this book more precious to me is that it is also VEGAN!   It is so hard to find both Vegan and Gluten-Free.   
DECADENT GLUTEN-FREE VEGAN BAKING,
 by 
Cara Reed
, the creator of
www.ForkandBeans.com
, contains more than 100 amazing and easy gluten-free, vegan recipes that use tasty substitutions such as almond milk, soy butter, coconut oil and nut-based cream to create rich and delicious desserts.
"Maybe you are completely new to baking without gluten, eggs, and dairy and have no idea where to start. Or maybe you have a few years of experience under your belt and are looking for new recipes to add to your collection," Cara says. "Wherever you are at I guarantee you that, like it was for me, persistence and tenacity will lead you to a better understanding of this world of gluten-free vegan baking. Anything is possible if you are willing to commit. Don't be shy, grab a hold of my hand and believe me when I say you can so do this!"
DECADENT GLUTEN-FREE VEGAN BAKING includes both savory and sweet recipes such as  cinnamon coffee cake, focaccia bread, pop tarts, doughnuts and Cheez-It's to name a few. Recipes include:
                        ▪ Sweet Almond Braided Bread
                        ▪ Rosemary Beer Bread "Cupcakes"
                        ▪ Strawberry Swirl Cheesecake with Chocolate Graham Cracker Crust
                        ▪ Blueberry Buttermilk Coffee Cake
                        ▪ Pumpkin Cupcakes
                        ▪ Maple Nut Scones
                        ▪ Chocolate-Frosted Donuts
                        ▪ Key Lime Cheesecake Bars
Cara Reed
 is the creator of the popular site, Fork and Beans (
www.forkandbeans.com
), which features gluten-free vegan recipes and gets over 10,000 hits a day. Cara's recipes have been featured on 
KrisCarr.com
, 
Enjoylifefoods.com
 and her blog was voted one of the Top 50 Vegan Blogs by the Institute for the Psychology of Eating. Cara resides in Los Angeles, California.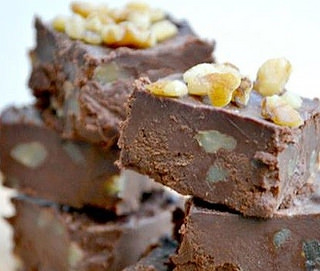 Decadent Gluten-Free Vegan Baking Giveaway (OVER)
AND The Author is giving away one copy of Decadent Gluten-Free Vegan Baking to one lucky reader!
This is open to US only and ends 11:59PM August 21, 2014.
Enter on the Rafflecopter below:
Get this GF Vegan Cookbook here: