It is getting to be Spring, and I love to start having a lighter yet filling breakfast.  I'm sharing this recipe for a Blueberry Flax Smoothie Bowl with you!  It is
 extremely healthy, and has delicious and tasty fruits and proteins of all kinds. What's even more exciting is that this recipe even contains cacao, which is a natural, healthy, extremely pure form of chocolate. It has a range of positive benefits much like many of the other ingredients in this particular smoothie bowl. Continue reading and you'll find a few interesting facts about Smoothie Bowls.
Why a Smoothie Bowl?
Smoothie Bowls have an amazing blend of healthy ingredients to provide you with a ton of energy, and sickness protection. Blueberries are a great source of antioxidants and vitamins.  Berries also have the benefit of being able to lower cholesterol in the blood, improving circulation in the body. This can help to prevent cardiac issues that can lead to strokes of heart attack. The flax is high in omega 3 fatty acids, which are amazing anti-inflammatory agents. Flax is also extremely high in fiber.
Out of all of the ingredients, cacao is by far the most interesting. Counted as one of the great superfoods, cacao is well known for its extremely high amount of antioxidants, and for its ability to energize someone who eats it. Cacao is not heavily processed and so this has a lot to do with why it retains so many of its nutrients.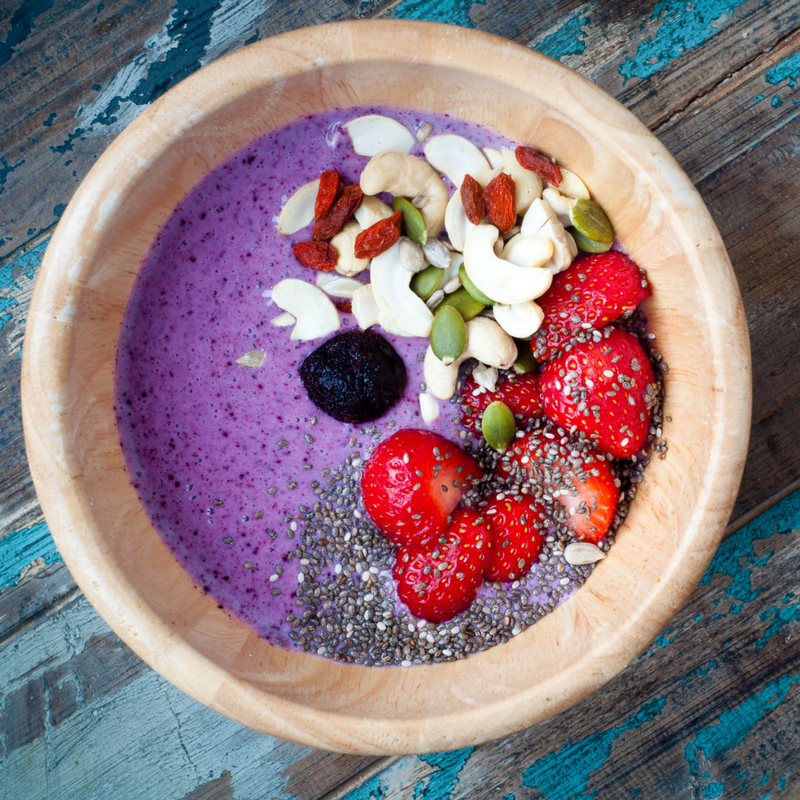 Blueberry Flax Smoothie Bowl Recipe: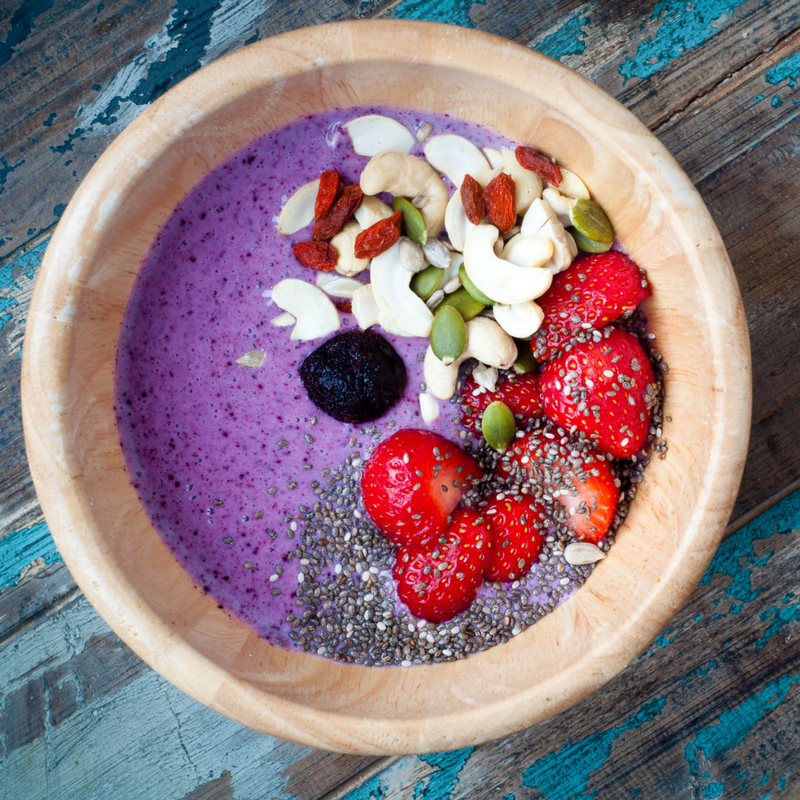 Print Recipe
Blueberry Flax Smoothie Bowl
Ingredients
Ingredients
1

frozen banana

½

cup

frozen blueberries

½

cup

almond milk

2

teaspoon

ground flax

2

teaspoon

cacao nibs

1

teaspoon

hemp seeds

7

fresh strawberries

1

tablespoon

chia seeds

1

teaspoon

goji berries

1

teaspoon

pumpkin seeds

handful of cashews
Instructions
Instructions
Pour the almond milk, frozen banana, and frozen blueberries in the blender and liquify the mixture.

Stir in the flax, hemp seeds and the cacao nibs until mixed in thoroughly.

Pour the mixture into a bowl.

Top with fresh strawberry, chia seeds, goji berries, cashews and pumpkin seeds.
Nutrition
Calories:
350
kcal
|
Carbohydrates:
50
g
|
Protein:
9
g
|
Fat:
15
g
|
Saturated Fat:
3
g
|
Sodium:
168
mg
|
Potassium:
641
mg
|
Fiber:
12
g
|
Sugar:
24
g
|
Vitamin A:
75
IU
|
Vitamin C:
45.7
mg
|
Calcium:
236
mg
|
Iron:
3
mg