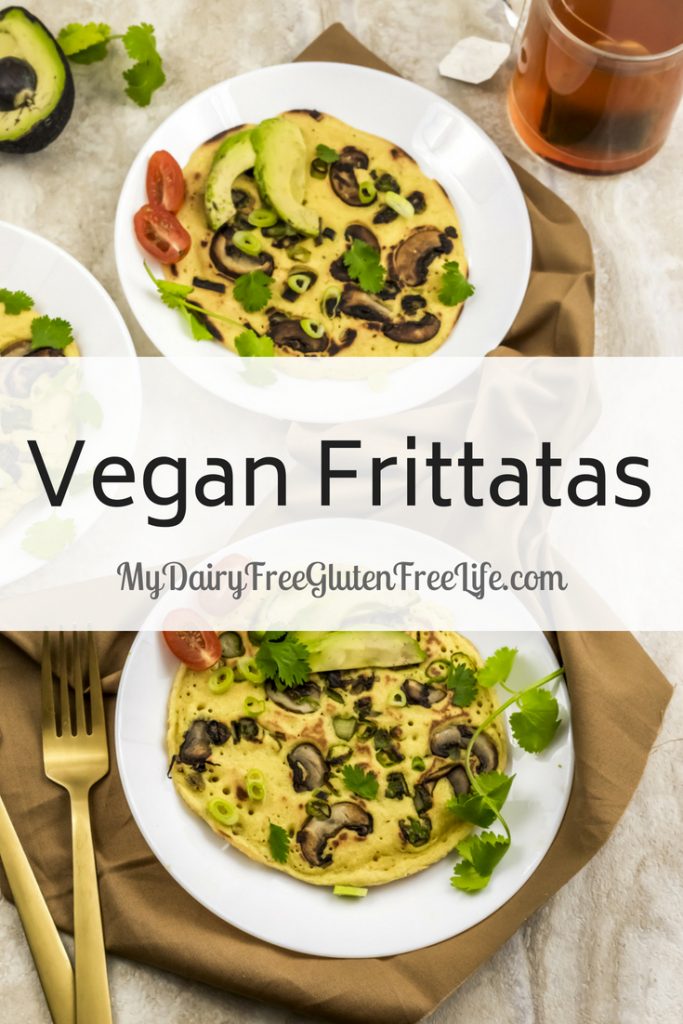 I think of a Frittata like an open omelette.  You could use a bit of Daiya vegan cheese to melt over the top of these Vegan Frittatas to make them extra yummy.  These Vegan Frittatas use Black Salt, also known as Rock Salt which is a blackish-pink salt that is rich in sulfur and gives these vegan 'frittatas' their distinctive 'eggy' smell. It is easily found in any Indian store, both in powder and in crystal form. If unable to find, Himalayan pink salt can be a close substitute, though not exactly the same. If you are not particularly fond of an 'eggy' smell, go ahead and use regular table, kosher or sea salt.
Instead of mushroom and asparagus, you could use any vegetable you prefer. Just make sure they are quick cooking veggies. Bell peppers in assorted colors, spinach or red onions are all good options. And adding ¼ cup of vegan cheese or nutritional yeast to the batter, if you prefer, really adds a cheesy flavor to the frittatas.
The photo below is of the ingredients you will need to make these frittatas.   Then the photos that follow show putting it all together.   Just saute' the veggies so they are mostly cooked.  Then mix the besan flour and dry ingredients with the plant milk to make the frittata, put the veggies you want on an almost done frittata.  Flip to cook slightly and serve.  Recipe follows photos.  Enjoy!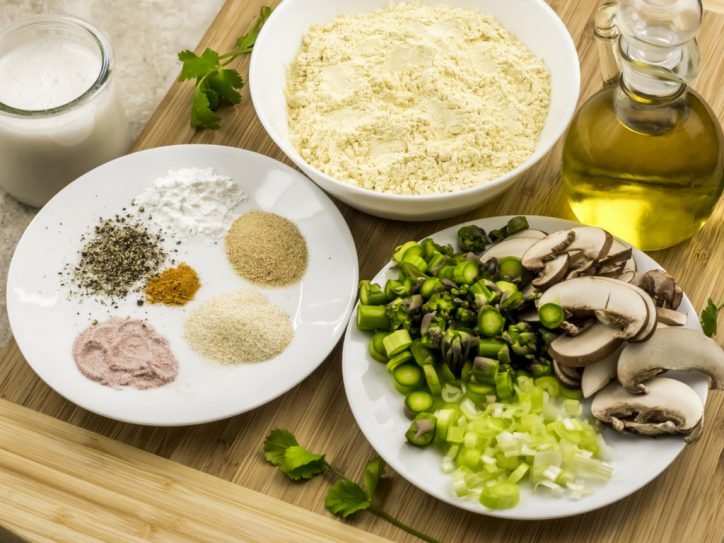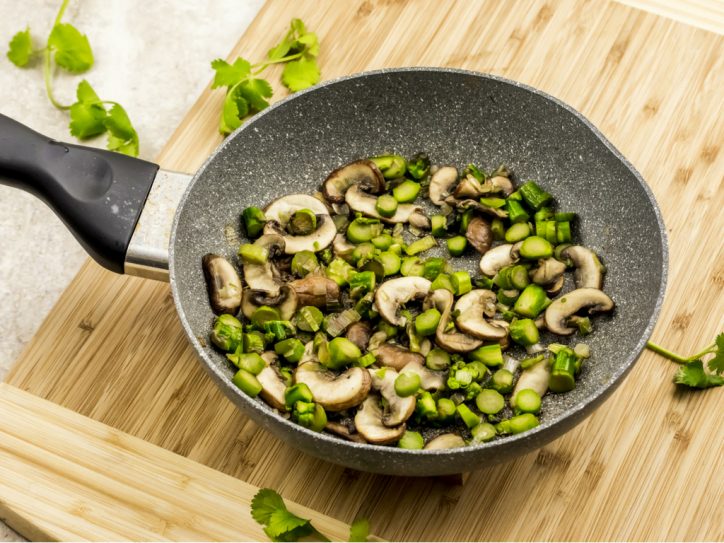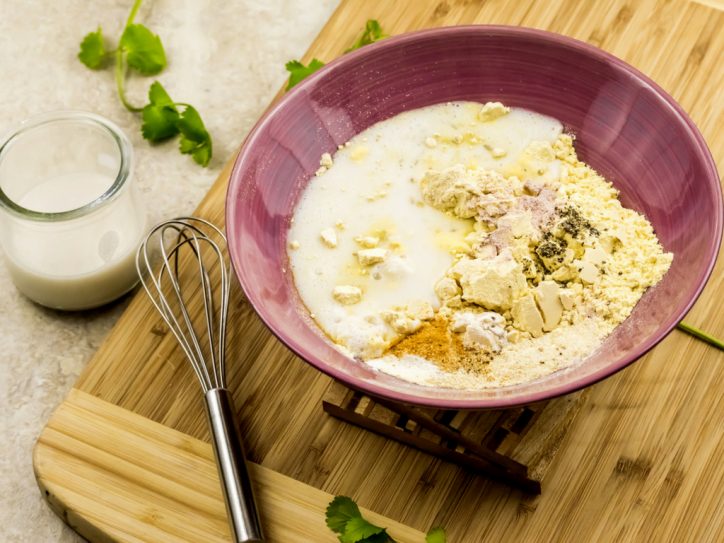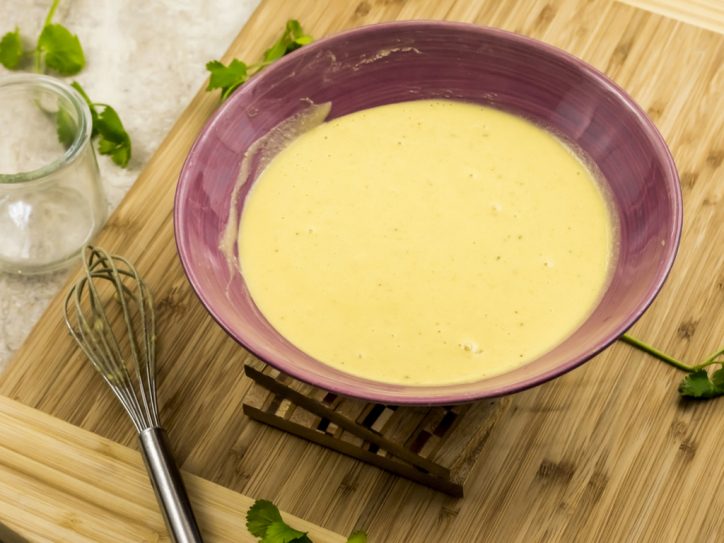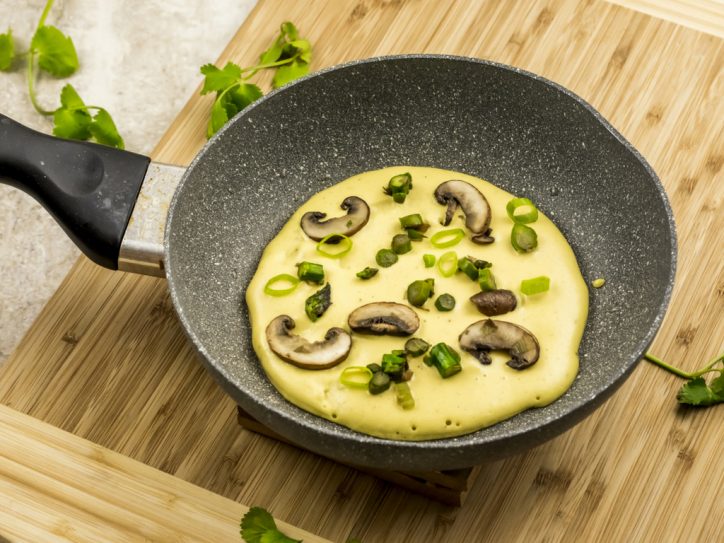 Print Recipe
Vegan Frittata
Ingredients
Ingredients
1

cup

of Chickpea/Garbanzo bean Flour

also known as Besan Flour

1

teaspoon

of Baking Powder

1

teaspoon

of Garlic Powder

1

teaspoon

of Onion Powder

¼

teaspoon

of ground Turmeric

½

teaspoon

of Black Salt

also known as Rock Salt or Kala Namak

½

teaspoon

of ground Black Pepper

1½

cup

of Almond Milk

4

oz.

half a box of Cremini Mushrooms, sliced

¼

cup

of chopped Asparagus

¼

cup

of diced Green Onion

both white and green parts

1

tablespoon

of Olive Oil + 2 teaspoon of Olive Oil for each 'Frittata'.
Instructions
Instructions
In a sauté pan, heat up a tablespoon of oil and sauté the sliced mushroom, chopped asparagus and the white part of the green onions, till soft and slightly brown. About 3 to 4 minutes. Keep aside to cool.

In a large bowl, combine the chickpea /garbanzo bean flour, baking powder, garlic powder, onion powder, turmeric, and black salt and black pepper. Mix it well.

Slowly add the almond milk and keep whisking till you get a lump free batter. Keep undisturbed for 2 minutes to let it thicken a bit. The batter should have the consistency of a pancake batter. So add more milk if it too thick or keep adding in increment of 1 teaspoon of chickpea /garbanzo bean flour, if the batter is too thin.

Place an 8-inch frying pan over medium heat and add 1 teaspoon of oil. Let it warm up for a minute.

Pour 1/3 cup of better and swirl the pan slightly to coat the entire diameter of the pan.

Sprinkle about the tablespoon of the sautéed vegetables and a bit of the green parts of the green onions.

Cover and let it cook for one full minute.

Drizzle the remaining 1 teaspoon oil on to the 'Frittata' and flip immediately to cook the other side. Cook it for 30 to 45 seconds.

Transfer to a serving plate and repeat with the remaining batter. You should get about 6 'Frittatas'.

Serve hot with tomatoes/avocados/ salsas and or a light salad and your favorite morning tea or coffee.
Nutrition
Calories:
117
kcal
|
Carbohydrates:
14
g
|
Protein:
5
g
|
Fat:
4
g
|
Sodium:
291
mg
|
Potassium:
349
mg
|
Fiber:
2
g
|
Sugar:
2
g
|
Vitamin A:
85
IU
|
Vitamin C:
1.1
mg
|
Calcium:
119
mg
|
Iron:
1.3
mg