Tropical Breakfast Protein Smoothie with Oriya Organics Plant Protein is a tasty and healthy way to start the day! Full of flavor and quick to make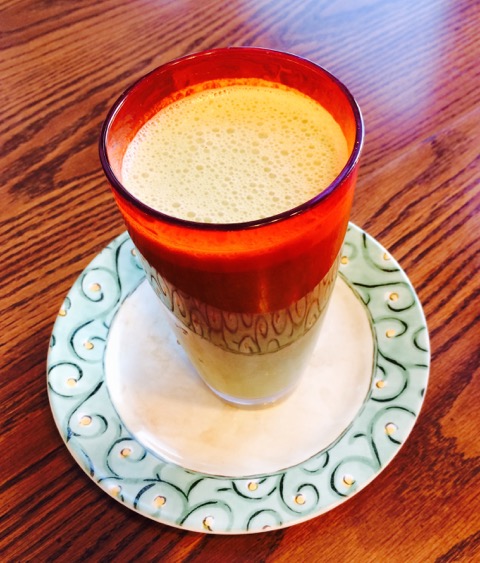 Tropical Breakfast Protein Smoothie with Oriya Organics Plant Protein

ABOUT THE COMPANY ORIYA PRODUCTS:  
Oriya Organics is the family-owned maker of whole food, plant-based supplements that are 5 or less ingredients that are certified organic, non-GMO and vegan!  The family began this company when they as athletes couldn't find clean and organic plant based powder proteins for themselves so they developed this formulation for Oriya Products.  They offer 2 products:
1. Oriya Organics 100% Plant Protein:  100% Plant Protein is exactly that – five bioavailable plant proteins: organic sprouted rice protein, organic hemp seed protein, organic sprouted chia seeds and two nutritionally dense greens – organic spirulina and organic chlorella – and nothing else
• 18 grams protein
• 100% organic, raw, vegan and non-GMO certified
• Recyclable container 21.2 oz. SRP 
  2.Oriya Organics 100% Greens:  100% Greens is simply four nutritionally dense greens: organic spirulina, organic chlorella, organic wheat grass and organic barley grass and that's it. The first two ingredients are organic spirulina and organic chlorella, sea algae. Having algae as a simple-to-take supplement is powerful because they deliver a hefty nutritional punch –– over 50% protein by weight and are natural detoxifiers
• 99 mg chlorophyll
• 100% organic, raw, vegan and non-GMO certified
• Recyclable container 8.oz 
WHERE TO FIND ORIYA PRODUCTS:
You can find Oriya Products at Whole Foods Markets, Central Market, Fiesta Nutrition, Brazos Natural & Tri-Health Foods. New store openings planned for the new year are at HEB & at Amazon.
Purchase Oriya Products Online  in all lower 48 states and Canada at OriyaOrganics.com
Oriya is offering a Giveaway of their product!  
My Review:
I have tried many different Plant Protein powders to use for my morning smoothies.   Not many meet my standards and my pickiness.   I was pleasantly surprised with Oriya!   When I opened the large container of plant protein which has a 5 on it, it was sort of greenish in color.  I have not liked the flavors of protein drinks with spirulina so I wasn't sure what to expect.    I mixed up the Oriya with some frozen peaches and frozen bananas and my homemade almond milk.   I added a pod of cardamon which I love.
Let me say this protein powder was so delicious and smooth and fresh tasting!  I LOVED it!   I will continue to use it for my fruit smoothies.    I really like the flavor it had.  Whether it was the way they process their spirulina or that they use chlorella, I don't know but the taste is refreshing and yummy!!  This is the smoothest protein powder I have tried with no grit that I noticed.  The photo below shows me getting the ingredients ready in my Blendtec.  I just whizzed it on the whole foods cycle and in seconds I had a healthy breakfast that tasted delicious.
They also offer a 100% Greens product but I was so satisfied with their protein mix I know the greens will be great.
Tropical Breakfast Protein Smoothie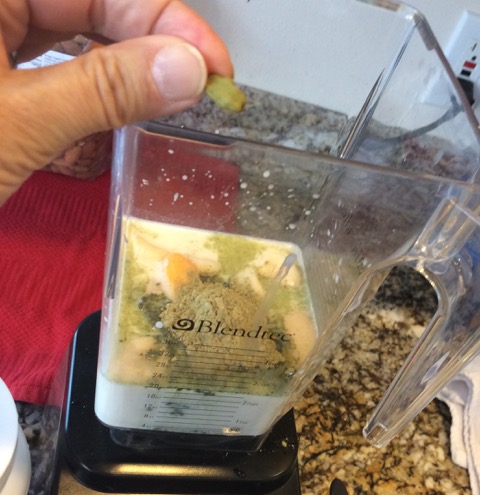 I love using Cardamon in breakfast smoothies.  Cardamom is related to ginger and can be used in much the same way to counteract digestive problems. Use it to combat nausea, acidity, bloating, gas, heartburn, loss of appetite, constipation, and much more. This spice helps the body eliminate waste through the kidneys.  It tastes wonderful and is such a great addition to a breakfast plan!
Recipe for Tropical Breakfast Protein Smoothie: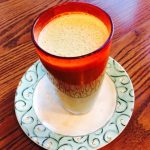 Print Recipe
Tropical Breakfast Protein Smoothie
Tropical Breakfast Protein Smoothie with Oriya Organics Plant Protein is a tasty and healthy way to start the day! Full of flavor and quick to make
Ingredients
Scoop of Oriya 100% Plant Protein

1/4

cup

frozen peaches

1

frozen banana

10

ounces

almond milk

1

cardamon pod
Instructions
Place all the ingredients into a blender and blend until smooth.

Enjoy!
Notes
Nutritional values are based on one glass
Nutrition
Calories:
257
kcal
|
Carbohydrates:
35
g
|
Protein:
25
g
|
Fat:
4
g
|
Sodium:
641
mg
|
Potassium:
495
mg
|
Fiber:
6
g
|
Sugar:
17
g
|
Vitamin A:
200
IU
|
Vitamin C:
12.8
mg
|
Calcium:
388
mg
|
Iron:
4.5
mg