Gwen Says: This was my first time using the Pillsbury Gluten Free Chocolate Chip Cookie Dough. I bought it because I wanted to try it out for myself and see if it was as good as others claimed it was. I love to bake but don't always have time to bake from scratch. For those that need to eat Gluten Free this can cause a problem since almost all of the prepared mixes and refrigerated options have Gluten in them. This dough cooks up just as delicious as other refrigerated doughs and the only difference I could find was it is slightly drier. This delicious recipe had my whole family fooled and no one knew they were eating Gluten Free.
I didn't know Pillsbury made any Gluten Free Cookie batters you could buy.   I found them in the refrigerated section of our Safeway store here in Homer, AK!   Here is Gwen's step by step photo's for these easy cookies!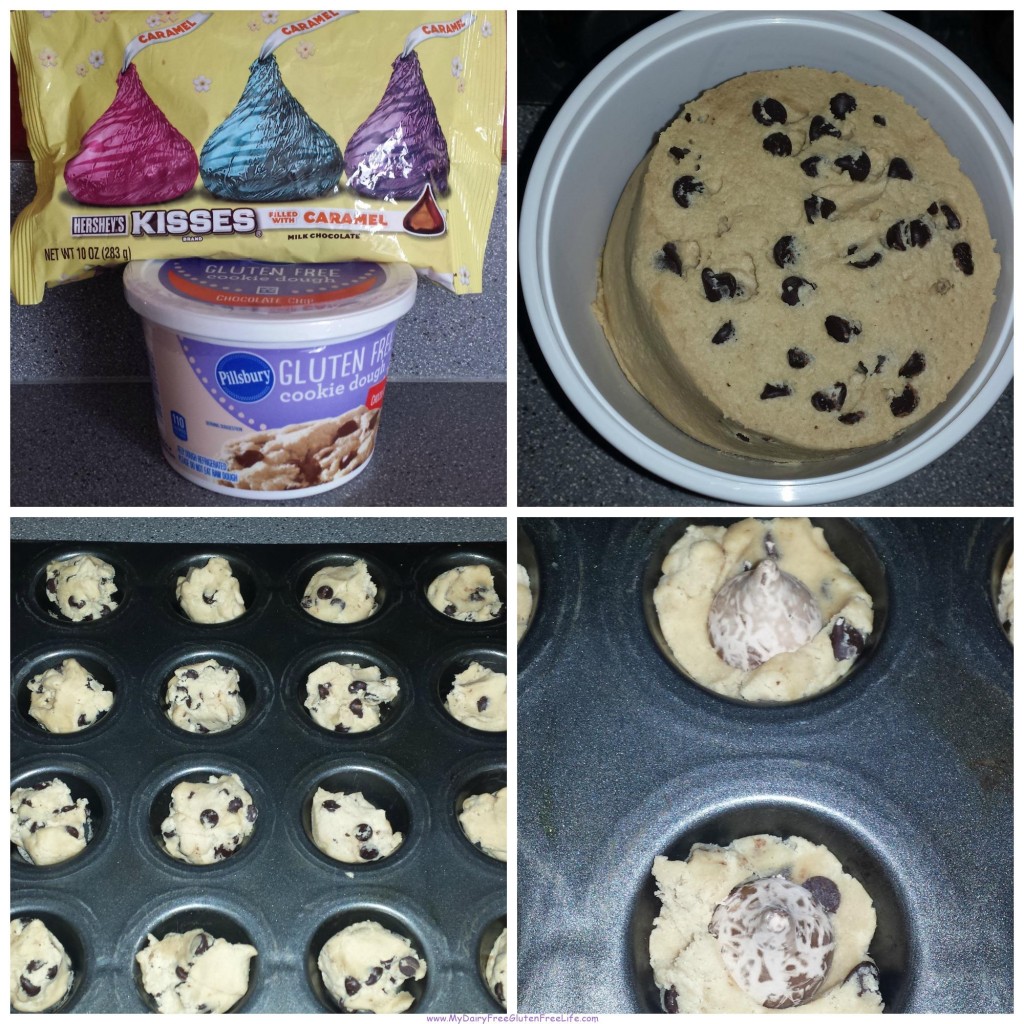 Print Recipe
Gluten Free Chocolate Chip Cookie Bites
Ingredients
Ingredients:

1

package Pillsbury Gluten Free Chocolate Chip Cookie Dough

1

bag of Hershey's Caramel Kisses
Instructions
Directions:

Preheat Oven to 350*

Coat the wells of a Mini Muffin Pan

Using a teaspoon scoop out cookie dough and roll together.

Place in well. Repeat with other 23 wells.

Take thumb and press down in the middle.

Place a Hershey Kiss in the middle.

Bake for 13 minutes.

Remove and serve with a cup of Vanilla Soy Milk.
Notes
Nutritional values are based on one serving
Nutrition
Calories:
139
kcal
|
Carbohydrates:
18
g
|
Protein:
1
g
|
Fat:
6
g
|
Saturated Fat:
2
g
|
Cholesterol:
4
mg
|
Sodium:
69
mg
|
Potassium:
30
mg
|
Sugar:
13
g
|
Vitamin A:
10
IU
|
Calcium:
21
mg
|
Iron:
0.5
mg
Bio for Gwen M: I am a stay at home mom to a 9-year-old daughter and 14-year-old step-son. I have been married for 10 years and each day brings new adventures in our relationship. I am beginning my journey into home schooling and really love the flexibility that staying home offers me. One of my favorite things to do is cook. I love having my children right along side of me because it opens their minds and taste buds to new things. I am new at cooking Gluten and Dairy Free and have surprisingly found many great recipes my whole family loves.  You can find me on Twitter and Pinterest.
Enjoy this Easy recipe for GF Chocolate Chip Cookies!