I was contacted to review Plum Deluxe teas.   I received product in trade for my review and all comments are honest and my own.  Check below for the link to enter the Giveaway for a 3 month Tea of the Month Club Membership!
Owner Andy Hayes, has a fantastic take on life.  You can see here how his mother, while dealing with cancer, inspired him to begin this company.   I love his philosophy "Live a life you love. Make moments that matter. "
About Plum Deluxe
Plum Deluxe teas are made in Portland, Oregon. Each 1oz packet makes 15-20 cups.  Plum Deluxe teas have no sulfites, no artificial chemicals, and are non-GMO, gluten-free, vegan and organic.
Plum Deluxe purchases all of their ingredients from USDA Organic & Fair Trade Certified vendors. Using organic ingredients ensures you get fresh flavors with no pesticides in your tea blends.
Subscribe
Plum Deluxe has a fun tea of the month club where they hand-blend a special limited-edition tea just for subscribers. Enroll in to secure your spot for their monthly handcrafted creation.  You will also receive tips & recipes.
Plum Deluxe Tea Review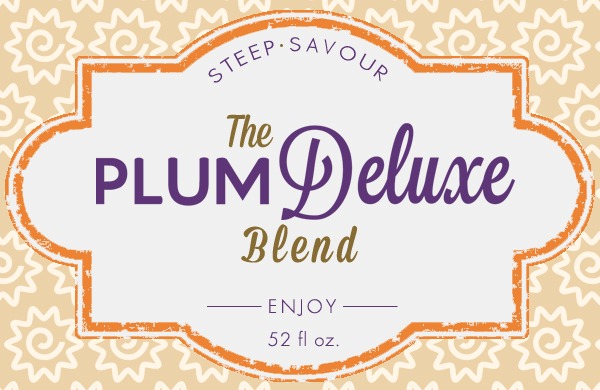 I chose two teas to try, Reading Nook Tea Blend and The Self Care Blend Herbal. Plum Deluxe has many varieties of loose leaf teas to choose from that are unique, healing and comforting.
I am a tea enthusiast and love to get the chance to sample teas. Both the varieties I tried were very different from each other and yet great for different needs.
This tea was yummy!  It was earthy, grounded and full body with a hint of apricot and fruit flavors.  Some teas can have an overpowering apricot flavor but this was very illusive.  Although Elderberry is a tart berry, there was no bitterness just a very nice smooth taste.  Elderberry  is believed to help us tap into our inner magic – helps expel toxins and helps with colds and viruses, and apricot is believed to be one of the most healing fruits in nature.     This is a great combination of ingredients for a great tasting tea.
Ingredients: Honeybush Tea, Elderberries, Apricots, Apple Pieces, Sunflower Petals, Natural Apricot Essence, Love, Gratitude.
Reading Nook Tea Blend:
This is a black tea base and I was surprised when I tasted it because it has a creamy light fruity flavor and almost a green tea influence.  I never would have guessed it had a black tea base if I hadn't known.   Cream is light in flavor but is stands out the most with a hint of rose and tea flavor.  I can also faintly taste the Chamomile in it.    It has a relaxing ambiance to it.
Ingredients: Rosebuds, Cream Black Tea, Passionflowers, Lavender, Chamomile
Please note*  Cream black tea is a style of black tea – there is no dairy product in it!
3 Month Membership to Plum Deluxe Tea of the Month Club:
Plum Deluxe is also offering FREE 3 month membership in their Tea of the Month Club and one lucky reader is going to win this giveaway!   Head on over to the Giveaway and enter!