Mori-Nu Tofu Variety Pack Giveaway for 2 Winners
value approximate $100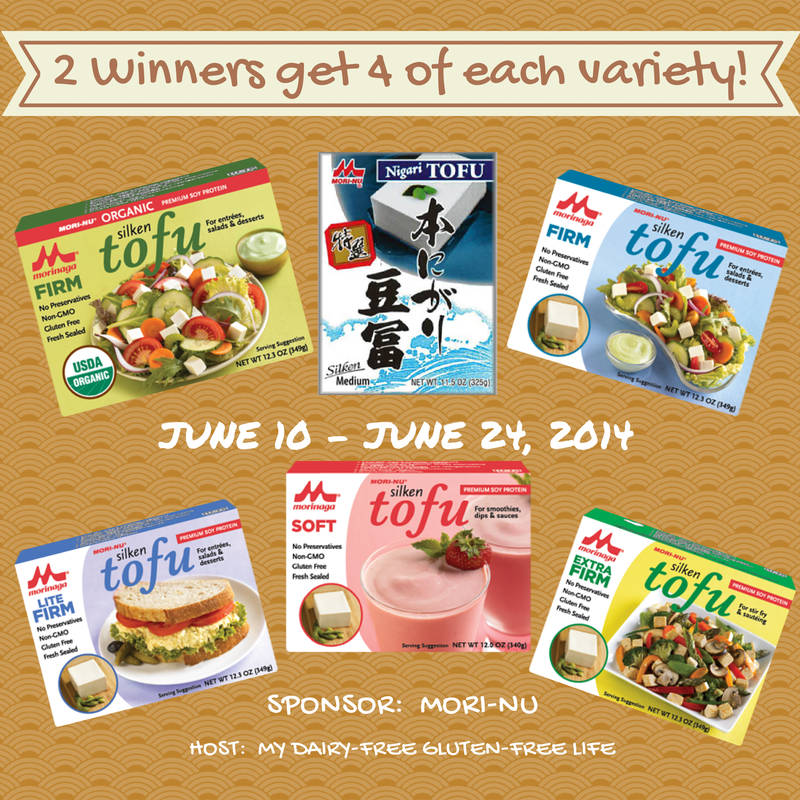 I love to use

Mori-Nu

Tofu in my smoothies, waffles, loafs and so much more.  For those of you not familiar with tofu you can check out my post on

How to Prepare and Use Tofu
Our sponsor Mori-Nu makes Aseptic packaged Tofu in all six varieties you see in the above photo!   Mori-Nu is offering 2 winners this great variety pack above. Two winners will receive 4 boxes of each variety shipped directly to their home.   Share this with your tofu lovers.
Mori-Nu, made by Morinaga Nutritional Foods, Inc., has always used US-grown non-GMO soy in its products, which are manufactured in Portland, OR.   Mori-Nu was recently certified non-GMO by the Non-GMO Project that provides North America's only third-party verification and labeling for non-GMO food and products.  This is great to know so they are a safe soy product!
There are so many ways to use Mori-Nu Tofu!  Need an egg substitute?  5 Tbsp. of puréed tofu equal one egg.  Also, when a recipe calls for yogurt or sour cream, use puréed tofu. When

recipes

call for buttermilk, soymilk, or dairy milk, use the "Mori-Nu Baking Blend" instead of straight puréed tofu for best results.  Get all the tips and

Baking Blend here

!
I'd like to share this recipe with you for Fresh Spinach Lasagne!  How many of us would love an easy Lasagne recipe that is dairy-free and gluten-free!
Here is the video for Fresh Spinach Lasagne Recipe on youtube ( Written Recipe follows )
Fresh Spinach Lasagne Recipe
Dairy Free & Gluten Free:

Ingredients:
1 lb. Italian lasagna pasta  I used Tinkyada PastaFilling:
3 packages Morinaga Silken Tofu – Firm
3 bunches fresh spinach
1/2 cup chopped green onion
2 Tbsp. olive oil
2 Tbsp. chopped parsley
1/2 tsp. salt
2 tsp. miso ( I used Ohsawa Organic Tamari Gluten-Free instead )
1/8 tsp. nutmeg
1/8 tsp. black pepper
optional: 1/4 cup grated Daiya Cheese of choiceSauce:
Bottle OR If you don't use bottled:
12 onz tomato sauce
12 onz fire roasted chopped tomatos
2 cups sliced mushrooms
2 Tbsp. olive oil
2 tsp Italian Herb mix OR blend of oregano, basil, marjoram, thyme and rosemary
Preparation:
Pasta:
Bring 4 quarts of water to a boil in a large pot. Stir 1/2 tsp. salt and 1 Tbsp. olive oil into the water. Carefully add each sheet of pasta to the water and boil for 10-12 minutes. Rinse pasta in cold water and lay each sheet flat on a cutting board or counter covered with plastic wrap or wax paper.
Filling:
Using the water from the pasta, blanch washed spinach for 1 minute until bright green, then shock in cold water. Drain in a colander and squeeze to remove excess water.
Saute green onions in 2 Tbsp. olive oil for 1 minute. Chop spinach and add to the onions. Combine with all remaining ingredients and set aside.
Sauce:
Sautee mushrooms in 2 Tbsp olive oil until tender. Add tomato sauce and heat through.
Lasagna:
Pre-heat the oven to 350 degrees. Lightly oil a baking dish and spread one third of the sauce over the bottom. Put together several strips of the pasta so that they cover the bottom and hang over the sides of the baking dish. Later they will fold over the top to seal in the fillings.
Cover with half of the spinach filling and then add another layer of the pasta. Continue to add pasta, sauce and filling, ending with pasta and covering with sauce. Parmesan cheese or chopped fresh basil leaves may be lightly sprinkled on top.
Cover with foil and bake 20 minutes. Then, remove foil and bake another 15 minutes. Let the lasagna rest 15 minutes before serving.
Nutrition Information:
Calories (275), Fat (12.5g), Carbohydrates (25.3g), Sodium (534mg), Cholesterol (0mg), Protein (17.9g)
NOW for the Mori-Nu Tofu GIVEWAY!
Open to US Only,  Closes June 24 at 11:59 PM, EST
Enter on the Rafflecopter below: