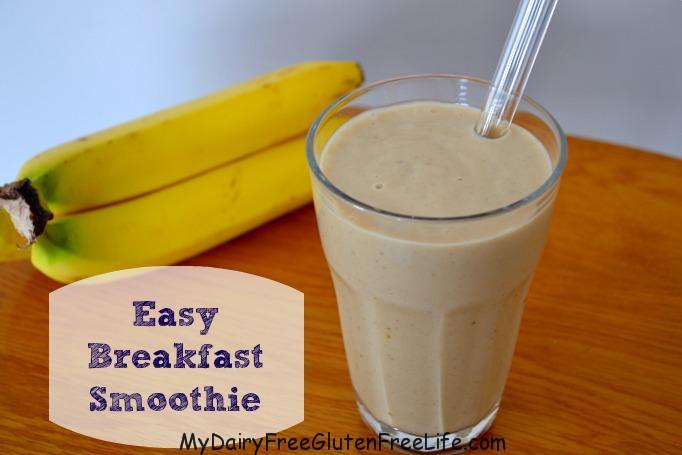 Sometimes nothing sounds as good as a milkshake – but not when you shun dairy. This milkshake recipe has all the creaminess that you would expect in a traditional milkshake, but with NO dairy products! The smooth texture comes from bananas that have been frozen and blended in a high-powered blender. The addition of chia seeds and gluten-free oats add protein and fiber to keep you full until lunch – a perfect on-the-go breakfast. Kids will love it too!
Smoothies are my favorite go-to breakfast because they are so easy; I usually just make them in the morning.  But some people love to make them the night before, stick it in a mason jar, and refrigerate. Then when they are in a hurry heading out of the house, they can grab a jar, stick my straw in, and go! 
Easy Breakfast "Milkshake" Smoothie
Ingredients:
3 Bananas, chopped into 1″ slices and frozen
1 tbsp peanut butter (or other nut butter)
3/4 + 1/4 cup almond milk
1 tsp chia seeds
1 tsp cinnamon
1/4 cup gluten-free oats (like Bob's Red Mill), soaked in 1/4 cup of the almond milk
Instructions:
1. Cut the bananas into 1″ slices and place on a cookie sheet lined with parchment paper. Put in the freezer for at least 2 hours.
2. When the bananas are frozen, add the ingredients to a blender in the following order: 3/4 cup almond milk, peanut butter, oats (mixed with almond milk), chia seeds, cinnamon, and bananas.
3. Blend on "ice cream" setting (or high) until all the ingredients are combined.
4. Serve cold. Can store in the refrigerator up to 3 days.
Do you make your own nut milk? It's super-easy to do with the instructions here.