Beyond Meat Beef-Free Crumbles
REVIEW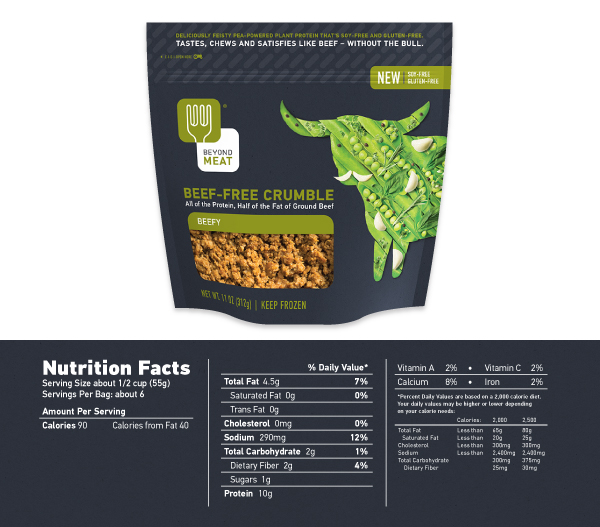 I discovered Beyond Meat last year and love their meat-free, gluten-free, GMO-free products!  Beyond Meat has chicken-free strips and recently came out with a new line called Beef-Free Crumbles and I was asked to try it.   OH my goodness!  I am in love!   This Beef-Free Crumbles from Beyond Meat tastes so good you would never ever know it is not a beef product.  The best thing for me is it is gluten-free!  It is so very hard to find vegan gluten-free beef or chicken substitutes.  I am so happy Beyond Meat has filled this gap.
Beyond Meat Beef-Free Crumbles is 100% plant protein ( from pea protein ) but you'd never know it.  It has half the fat of regular ground beef with as much protein, in fact it has between 10 & 11 grams of protein per serving!  It has a beef like mouth feel which is important to some.   Beef-Free crumbles are available now in stores and come in two flavors, Beefy flavor which I would in place of anything that regular ground beef recipes call for.   It is also available in Feisty flavor which is a south-west inspired spicy flavor, It is a bit "spicy hot" for me.  But then I don't tolerate any type of hot spice very well.   If you wonder what Beyond Meat Chicken-Free Strips are like see my Chicken-Free Strips Recipe Here.
I was inspired by Emeril Lagasse's Recipe for Eggplant and Potato Moussaka to try out the Beef-Like Crumbles, so I made some variations and wound up with this yummy Moussaka.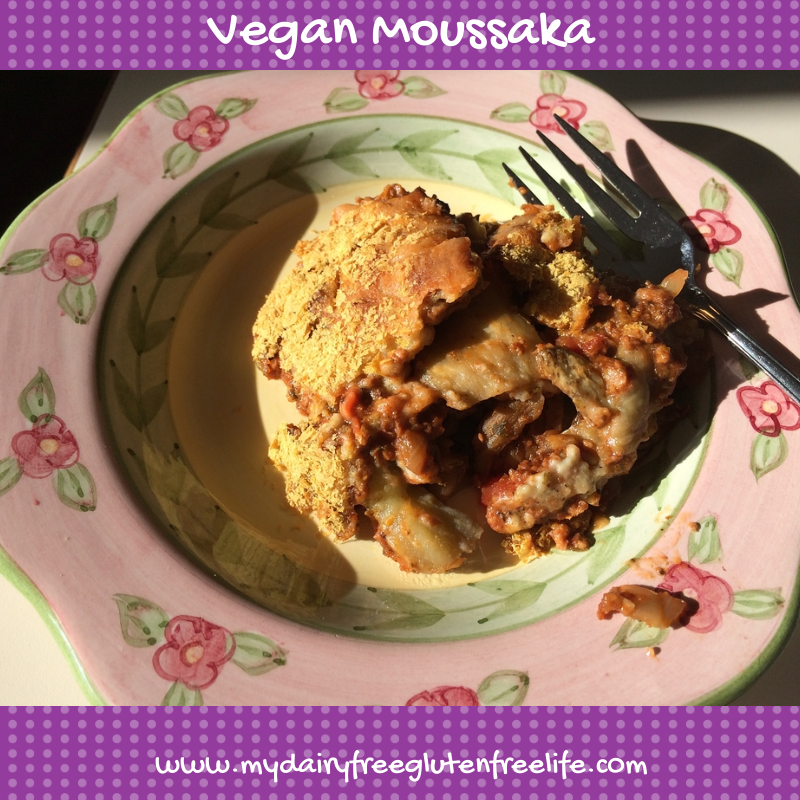 Vegan Eggplant Moussaka Recipe:
INGREDIENTS
2 large eggplants
1 &  1/2 cups olive oil, plus more if needed
scant 2 cups sliced thinly potatoes, I used purple potatoes
3/4 cup gluten-free all-purpose flour, I used Bob's Red Mill
5 Tablespoons Butter or Earth Balance
1 medium onion finely chopped
2 packages Beef-Like Crumbles, Beefy flavor
1 Tablespoon minced garlic
1 tsp dried oregano
1/4 cup dry red wine, I used a Cabernet
2 Tablespoons tomato paste
1/2 cup water, I used bottled
2 Tablespoons minced parsley
1/2 cup salt ( for soaking the eggplant )
fresh ground pepper to taste
2 & 1/2 cups non-dairy milk, I used mixture of coconut (canned) & almond milks.
2 eggs or egg substitute for 2 eggs
1 & 1/3 cup grated dairy free cheese, I used Daiya
1/4 cup nutritional yeast flakes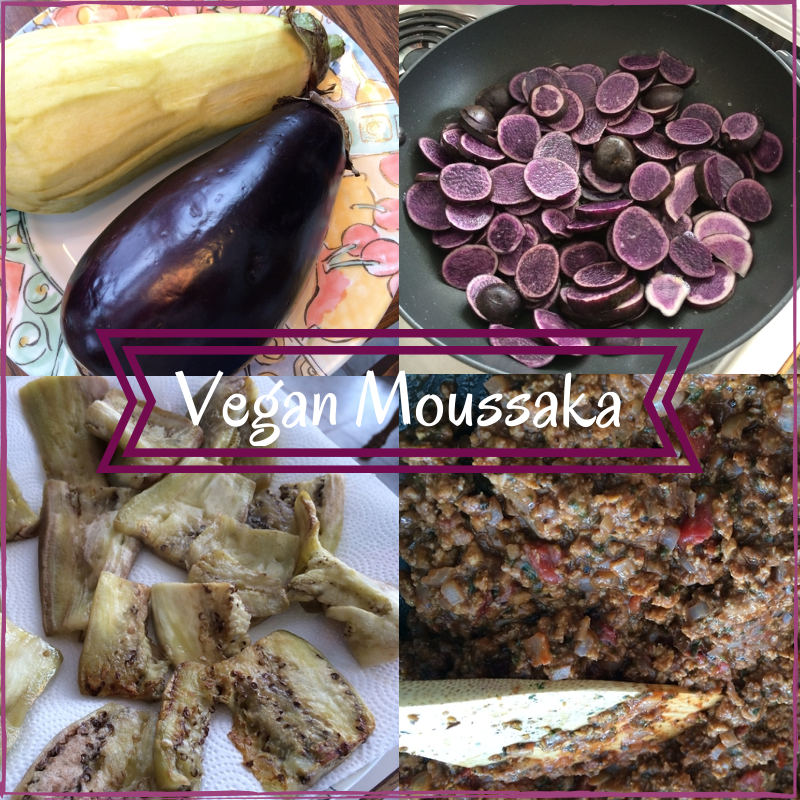 DIRECTIONS:
Place the eggplant slices in a large bowl and cover with water.  Add 1/2 cup salt and stir then let sit for 20 minutes and drain the eggplant slices.  I also rinsed them in water and then drained them.
While the eggplant is soaking, heat 1/2 cup of the olive oil in large skillet and fry the thinly sliced potatoes in batches.   I used purple potatoes to go along with the feeling of purple eggplant.  Fry on each side about 4 minutes each and drain on paper towels.
After potatoes are fried, take 1/4 cup more olive oil and put into fry pan.   Fry the eggplant in batches until they are golden on both sides…approximately 3 minutes side.  You will need to keep adding oil in 1/4 cup increments as you fry the eggplant as it soaks up the oil.  Drain each fried eggplant batch on paper towels to drain the oil.
For the meat sauce: Next in a large fry pan, heat the butter or earth balance and cook the finely diced onion in it until tender.  Add the 2 packages of Beef-Like Crumbles , garlic oregano and cook.  I try to have a fried appearance of the Beef-Like Crumbles.  Then add red wine and cook until it evaporates.   Then add tomato paste, water, parsley.   Cook until almost all liquid is evaporated.   Salt & Pepper to taste and take off of burner and set aside.
Next for the béchamel Vegan Sauce,  Take a medium sauce pan and add remaining 3 TB of butter or earth balance.  When hot, add flour and cook, stirring 2-3 minutes as it browns.  Stir in coconut milk, stirring until smooth and thick.  I had to put this in a blender to make it nice and smooth after I cooked it.  Then I returned the mixture and added 3/4 cup Daiya cheese and eggs or egg substitute.   Set  this mixture aside.
TO ASSEMBLE
Preheat the oven to 350 degrees
Lightly grease 9 x 13 casserole dish
Layer fried potatoes on the bottom
Layer 1/2 the eggplant on top of potatoes
Layer 1/2 the meat sauce on eggplant
Layer 3/4 cup of béchamel sauce over the meat sauce
To with 1/8 cup of nutritional yeast sprinkled evenly over top
Repeat Top with Eggplant
Top with meat sauce
Top with remaining béchamel sauce
Top with remaining nutritional yeast
BAKE uncovered 1 hour & 30 minutes.    Let stand 40 minutes prior to serving to set up.
Then ENJOY!