$7,000 Holiday Giveaway with 8 Winners!
It was the eve of Holiday shopping, when all through the home, not a person was leaving, not even to roam. PromotionalCodes.com gave them a better online deal, in hopes they would have more family time to steal. The savings experts at PromotionalCodes.com have done the hard work for you, so that you can sit back and enjoy your holiday! With access to over 20,000 merchants, they have found something for everyone in the family. If you love going out and shopping, be sure to bring along the PromotionalCodes.com Coupon App to make sure you know where the best deals are, whether online or in-store. If you aren't already excited enough for the Holidays, then I have something that will make you dance around like a sugar plum fairy! PromotionalCodes Black Friday giveaway is your chance to finish all of your holiday shopping in one easy step. The total value of this giveaway is over $7,000 and consists of 8 different prize packs, including gift cards, shoes, tablets, and more! You can get all of your shopping out of the way and even save a few prizes for yourself! Don't wait, ENTER below and good luck!
What a Holiday Event this is!
Prize Pack One – Gift Cards
$1,260 Value!!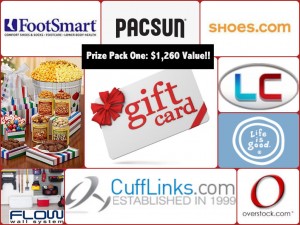 $500 Overstock Gift Card: Overstock.com will be your one-stop shop for all of your holiday
shopping this year, and this $500 gift card will take you a long way. Whether you are
shopping for the family or looking to decorate the house, this prize will have you covered!
$100 Gift Card to FootSmart
If you've ever been on your feet all day you know that comfortable footwear is important.
FootSmart is a leading retailer in comfort shoes and socks geared
toward maintaining lower body health.
$100 Gift Card PacSun
If you're looking for apparel to create a distinctly sunny, beach-inspired image, PacSun is the
place to shop. The merchandise has roots in action sports, fashion art and music, and
features the top brands, including Billabong, Hurley, Roxy, O'Neill and other SoCal favorites.
$100 Gift Card Liquidation Channel Jewelry
If you're looking for something sparkly to buy a loved one this holiday season look no
further! Liquidation Channel features an item and displays the starting price and quantity
available. The price is then dropped down, saving you big! Prices continually decrease
during the auction, giving you the opportunity to receive your favorite items at insane
discounts.
$100 Gift Card Life Is Good
Gives you the opportunity to shop for everyone in your family and get them feel good
clothing! The saying will be sure to put a smile on someone's face.
$100 Gift Card Flow Wall
Is your garage a mess? Flow Wall is the most effective way to organize your garage, laundry
room, or toolshed. Eliminate clutter, organize your belongings, and more easily find what
you need. You can purchase shelves, and bins separately or get the whole package!
$50 Gift Card Shoes.com
New Years Eve is just around the corner! Do you have the perfect pair of shoes picked out
to ring in 2014? Use your $50 gift card from Shoes.com
to find the perfect pair!
The Popcorn Factory – Jewel Ornament Tin & Tower $110 Value.                                                                                                                                                                                Our Jewel Ornament Tin & Tower is a 7-tier Tower of goodness. An ornament-shaped box of Kettle Corn Caramel Clusters is matched with Toffee,Spicy Peanuts, Mixed Nuts, Honey-roasted Peanuts, Natural Pistachios and a 2-gallon tin of Butter, Cheese and Caramel gourmet popcorn, Foil-wrapped Chocolates, Sweetwists, and Milk Chocolate-covered Caramels.                                                                                                                                                                                                     $100 Gift Card CuffLinks.com                                                                                                                                                                                                                                                 With over 4000 products to choose from, CuffLinks.com provides you with the largest selection of cufflinks and men's accessories in the world. Shop by designer, color, material, subject matter and more!  They offer cufflinks from Scott Kay, Tateossian London, Ravi Ratan, Konstantino, Penny Black 40, Lucasfilm and more!
Prize Pack Two – For the Wine Lover
$736 Value!!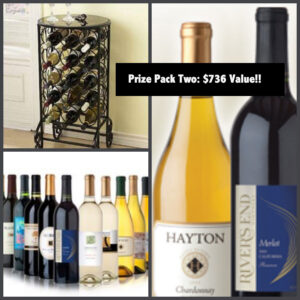 WineInsiders.com – The Best of Everything Assortment $160 Value
Whether you are hosting a party this year or want to be a stellar houseguest, the Best of Everything Assortment by WineInsiders.com, will be an
amazing addition to any occasion. The collection includes 12 bottles of the site's best selling
wines.
Gift Card – 12 month World Class Wine Club $476 Value
Explore the world, with WineInsiders.com's World Class Wine Club. With this 12-month
gift card, you will have access to flavors all over the world and the ability to purchase two
bottles a month at an amazing price.
Glass Top Wine Table from Get Organized $100 Value
With all of this wine that you are getting, GetOrganized's Glass Top Wine
Table will be the perfect storage spot! Not only will it look beautiful, but you will also
know exactly what you have at all times.

Prize Pack Three – Wrist Candy
$ 400 Value!!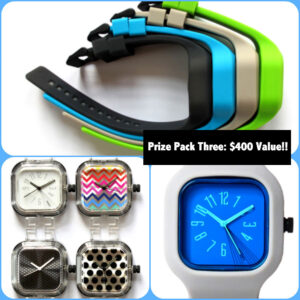 8 Watches from ModifyWatches.com  $400 Value
ModifyWatches is giving you the ability to pick 8 different faces and
bands to build the perfect watches. Whether you love always having watches to match your
outfit or looking to give 8 people a customized watch, this is the perfect prize pack for you!

Prize Pack Four – Kids Giveaway
$450 Value!!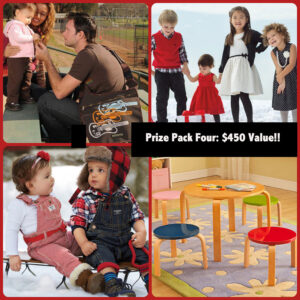 $100 Gift Card – DiaperDude.com
You'll get a $100 gift card to DiaperDude, your one stop shop for men with kids. Give them
a gift they will be proud to wear this year while they are spending time with their children.
$100 Worth of Gift Card – Carter's
There is no better time to play dress up then the Holidays. With 2 ($50) gift cards from Carter's, you
will have so many options to choose from to dress the little ones up, that you won't know
where to start!
$100 Worth of Gift Cards – OshKosh B'gosh
From outerwear to sleepwear, OshKosh has you covered on your cold weather must-haves.
Get all your seasonal shopping done with 4 ($25) gift cards and even share one or two with
your friends or family!
Kids Table & Chairs – RSTOutdoor  $150 Value
The kids play table by Legare assembles in just minutes. The set comes with one table and 4
chairs. The chairs are stackable and will nest under the table for compact storage. 

Prize Pack Five – For the Foodie
$625 Value!!

One-week subscription to HelloFresh! $70 value
You'll receive a box that includes delicious and nutritious recipes for the week along with high                                                                                                                    quality ingredients with which to prepare them. Dinner for two for a week, straight to your door! 
10-Piece NuWave PerfectGreen Cookware Set. $200 Valu
The Set comes with a 1.5-quart Sauce Pan, a 2-quart Sauce Pan, a 3-quart Sauce Pan, a                                                                                                                                          5.5-quart Stock Pot and a 7.5-quart Stock Pot – all with tempered glass lids. Crafted from                                                                                                                                     18/10 stainless steel with a long-lasting, non-stick Duralon coating, this cookware makes                                                                                                                           for a perfect addition to your kitchen. 
$100 Gift Card to Uncorked.com.
Red or White? That's the question you'll be asking once you're stocked with a wine supply
from only the highest-quality wine makers and vineyards. Uncorked
ensures you will receive the best supply of wine. What better way to compliment your meal
than with a bottle of your favorite red or white!

1800Baskets.com Orchard Indulgence Fruit Gift Basket  $155 value.

Home grown, hand-picked and hand-packed in the Pacific Northwest, this 24-piece,
indulgent orchard-fresh fruit gift basket makes a truly tasteful gift.
Cheryl's.com
For all of you cookie lovers out there, Cheryls.com $100 Gift Card
is a must-see website! You'll find cookies in all shapes and sizes and for every holiday
imaginable! Buttercream Frosted Cookie delight!
Prize Pack Six – For the Shoe Fanatic
$1,000 Value!!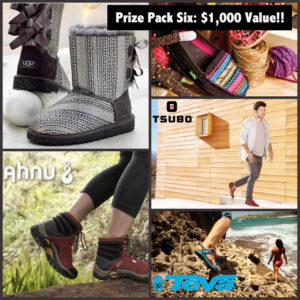 $300 Gift Card UGG Australia 
Are you looking for some comfy footwear this holiday season? UGG Australia has some of the most fashionable boots and slippers to
keep your toes warm during the cold winter months! With hundreds of styles of boots and
slippers to choose from, it won't be hard to spend your $300 UGG Australia gift card.
100% off 1 pair of Teva's
Shop Teva this holiday season and enter to win a 100% off code valid on
everything from new hiking & winter boots to collections of sandals & flip flops that made
Teva famous. Great promos are running all holiday season including; 15% off orders of $55
or more, Free 1 Day Shipping & the Holiday Gift Guide Protect and Play, that's the motto.
100% off 1 pair of Ahnu's
Ahnu footwear is designed for performance while keeping all the
modern organic aesthetics. Check out the gift guide, popular Yoga collection and wide
variety of amazing footwear for both women & men. Ahnu happily offers a free overnight
shipping code to their customers. Don't forget to enter to win a 100% off code valid on any
style of Ahnu. Walk new ground.
100% off 1 pair of Sanuk's
Would you like some new shoes from the "chillest" shoe company on the planet? Enter to
win a 100% off code valid on whatever style you choose! Their Last Call collection as well
as their Gift Guide are a great place to find your new kicks! Also get Free 1 Day Shipping
with code (S1DAYPROWIN). Sanuk has you covered this holiday season and remember,
Smile…Pass it On!
100% off 1 pair of Tsubo's
Impeccable design meets uncompromising comfort at Tsubo. Enter to win a 100% off code valid for any pair of perfectly
balanced shoes + enjoy free 1 day shipping on all orders this holiday season with code
(Z1DAYPROWIN)! Check out the gift center for the best gift ideas for men and women,
their feet will thank you!

Prize Pack Seven:
The "One for you…One for Me" Prize Pack
$800 Value!!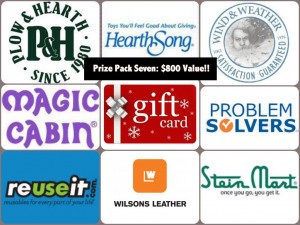 (2) $50 Gift Cards to Plow & Hearth
Plow
& Hearth is a national company that specializes in high quality, unique, enduring home
and lifestyle products.
(2) $50 Gift Cards to HearthSong
HearthSong has been committed to helping parents provide their
children with age-appropriate, wholesome, quality playtoys.
(2) $50 Gift Cards to Magic Cabin
Magic
Cabin specializes in providing toys and games, arts and crafts, and doll play. Give the
gift of fun for your kids this holiday season. You can find a wide collection of games and
toys that your kids will love to have and play with on Magic Cabin.
(2) $50 Gift Cards to Wind & Weather
Wind & Weather offers distinctive garden décor and art objects as
well as barometers and rain gauges for the garden enthusiast. Wind instruments, and
thermometers. For the weather watchers. They also have an array of telescopes, walking
sticks, patio and garden accents, and more.
(2) $50 Gift Cards to Problem Solvers
Are you always looking for products to help keep your life organized? Look no further than
Problem Solvers! They offer practical solutions to cluttered closets
and messy living spaces. Problem Solvers help you personalize your space and deliver a
peace of mind with practical solutions for everyday living.
(2) $50 Gift Cards to ReUseIt
Eco-lovers rejoice! ReUseIt.com It's a place where you will find the "best of the best"
reusables available in many categories so you can eliminate disposables from every part of
your life — from bags and bottles to lunch, household items and beyond. Keep Mother
Nature in mind this holiday season.
(2) $50 Gift Cards to Wilsons Leather
Leather jacket? Driving gloves? Wilson's
Leather is a leading specialty retailer of quality outerwear and accessories such as
handbags, briefcases and travel items.
(2) $50 Gift Cards to Stein Mart
Whether you're shopping for a friend, family member or co-worker, Stein Mart
has something for everyone! Merchandise includes current-season, brand name fashion for
women and men; accessories; home decor; linens; and shoes. All are at prices up to 60%
below department store prices, every day.

Prize Pack Eight:
GRAND PRIZE
$2,000 Value!!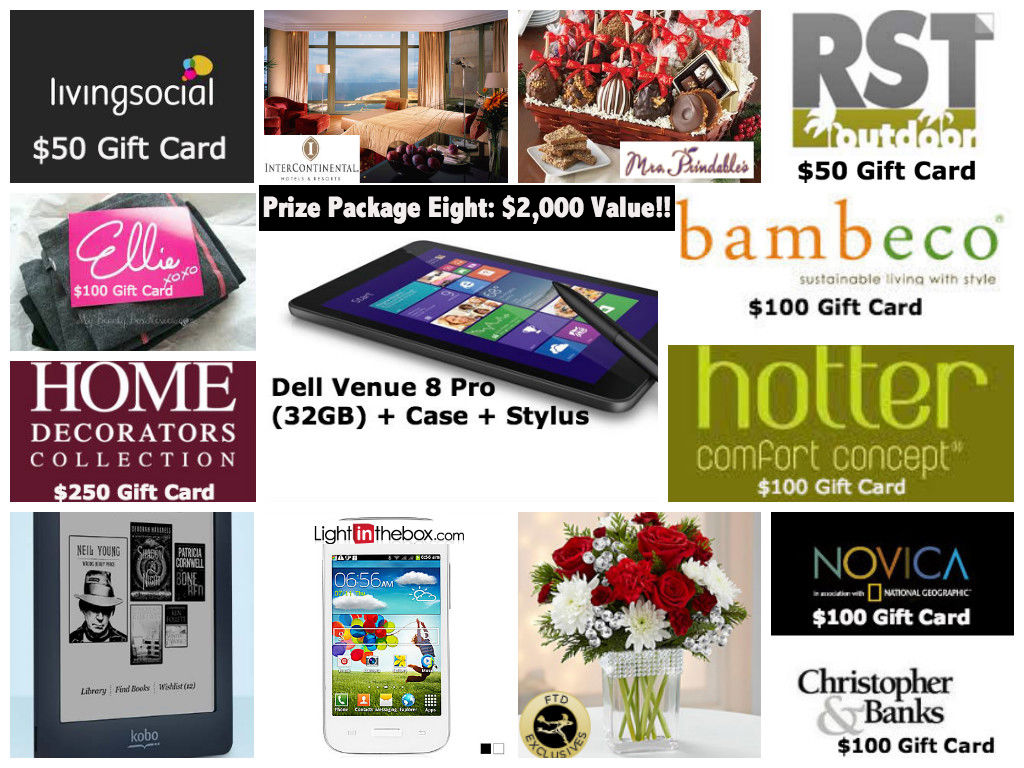 $50 Living Social Gift Card
With something to do all across the country, a $50 Livingsocial.com gift card is the perfect gift this year. Experience
something new and save money doing it!
The FTD® Happiest Holidays™ Bouquet
This Vase with Roses from FTD will be the perfect addition to any room this season and is
the just the way to show someone that you are thinking of them during this season!
15,000 points for Intercontinental Hotels
There is no time like the present travelers! With these 15,000 points, it is time to get out
and check a place off your bucket list!

Mrs. Prindable's Indulgent Holiday Basket
Whether you are always the party host or are looking to show someone how much you
care, Mrs. Prindable will take care of you. This basket offers sweets galore and is just what
you need to stay sane this holiday season.

New Dell Venue 8 Pro (32GB) + Bundle  $370 Value                                                                                                                                                                                                      Get the new Dell Venue 8 pro (32GB) Tablet and be up on the latest technology! This tablet is a must-have for people on the go! 

$250 gift card Home Decorators Collection
This $250 gift card to Home Decorators Collection gives you access to an amazing
inventory of everything you could dream of for your home!

$100 Christopher & Bank Gift Card
This gift card to Christopher & Banks for $100 gives you access to beautiful clothing
and designs with you in mind. They know what women are looking to wear and deliver just
that!

Kobo Glo eReader
This Kobo Glo eReader is just what you
need for reading your favorite books, both day and night, with its revolutionary
ComfortLight that illuminates the screen as needed!

Light in the Box – Mini S4 I9500- 4 Inch Touch Screen Androud 4.1 Cell Phone
This phone brings you touch screen technology and optimum performance to multi-task
like a pro! Light In The
Box does not disappoint with this product!

$100 gift card to NOVICA
This $100 gift card gives you the opportunity to explore somewhere new through different
artists' pieces!

RST Outdoor $50 Gift Card
RST
Outdoor is the answers to all your outside furniture questions, and with this $50 gift
card you can start making those dreams happen!

$100 Gift Card Hotter Shoes
This Hotter
Shoes $100 gift card gives you access to all types of shoes that will make you and your
feet smile at the same time!

$100 Gift Card Ellie
A $100 Electronic Gift Card to Ellie lets you bring fashion into your normal fitness routine. Who says
you can't workout and look great at the same time!

$100 Gift Card Bambeco
Your go-to for stylish and eco-friendly products for all around the home!
This giveaway ends December 13, 2013 at 12 AM
ENTER BELOW for the Black Friday Holiday Giveaway:
I'm thrilled to bring you this Mega Holiday Event!