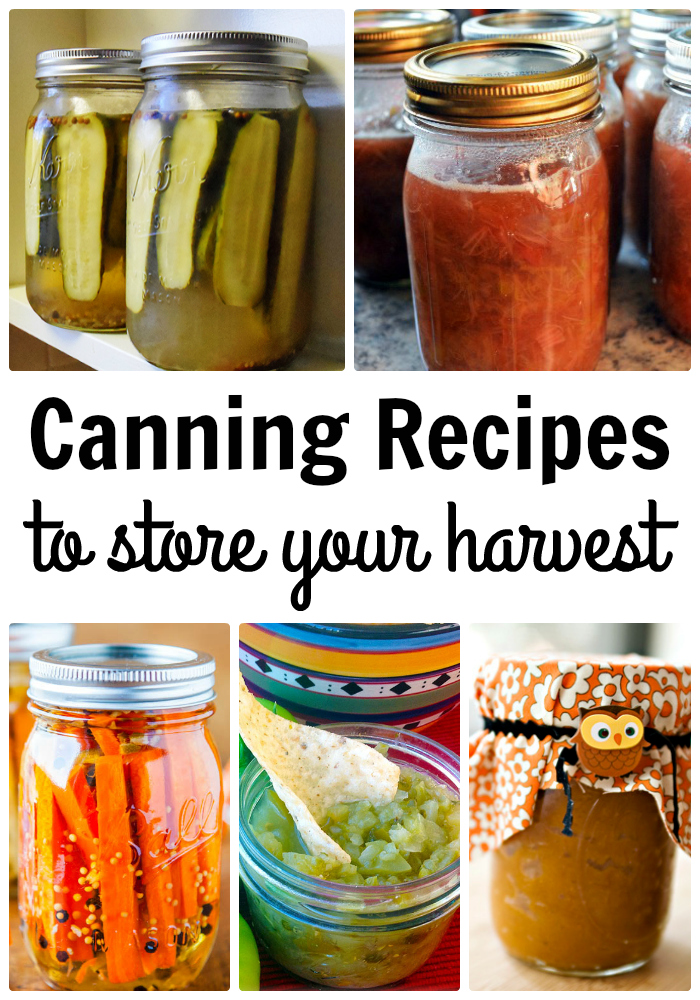 Canning Recipes to Store Your Harvest
Do you have lots of produce left in your garden that you don't know what to do with?   Well I have some really fun recipes for you to check out for storing your garden harvest!   Maybe you don't garden, well then you can grab some peak of the season produce at your local farmers market and put some foods up to have during the winter.
I love the fact that I know what is going in my canned food, like NO added preservatives.  And I can adjust the amount of sugar and other seasonings and can use organic ones to boot!
Check out these 23 Canning Recipes to Store Your Harvest –
1. Little House Living – Canning Rhubarb
2. Amanda's Cookin' – Homemade Claussen Pickles Copycat
3. Averie Cooks – Hot Pepper Jelly
4. Baked Bree – Barbecue Sauce
5. Baking Outside the Box – Low Sugar Blackberry Jam-French Recipe
6. Barefeet in the Kitchen – How to Preserve Garlic
7. Clever Pink Pirate – Peach Jam Canning Recipe
8. Coffee With Us 3 – How to Can Spaghetti Sauce
9. The Diva Dish – Apple Butter
10. Flour on My Face – Carrot Cake Jam
11. Little House Living – Canning Pinto Beans
12. Like Mother Like Daughter – Bottled Peaches
13. Amanda's Cookin' – Homemade Cherry Pie Filling
14. Averie Cooks – How to Make Easy Pickled Vegetables
15. Baked Bree – Slow Cooker Pumpkin Butter
16. Baking Outside the Box – Green Tomato Salsa-Salsa Verde
17. Barefeet in the Kitchen – Homemade Peach Jam
18. Clever Pink Pirate – Easy Strawberry Jam Canning Recipe
19. Coffee With Us 3 – How to Can Salsa
20. Flour on My Face – Blueberry Pepper Jam
21. Copy Kat – How to Make Homemade Spicy Dill Pickles
22. Like Mother Like Daughter – Canning Tomato Sauce
23. Little House Living – Canning Sweet Potatoes