Disclosure: This post contains affiliate links, which means that if you click on one of the product links, I'll receive a small fee to keep this blog running.

9 Creepy (But Cool!) Facts About Mummies
Mummies have fascinated us for eons. From horror movies to historical significance, mummies and everything about them has captured our attention. Now, just in time for the spooky season, here are 9 creepy facts you might not know about mummies!
Why do we care so much about mummies? The mummification process preserves skin, flesh, internal organs, fingernails and bone from people who died thousands of years ago. This can teach us a lot about our ancestors!
While most of us think of Egypt when we talk about mummies, the oldest mummies were actually found in Northern Chile, dating back to 5050 BC, about a thousand years before Egyptian mummies, which date back to 4000 BC, according to the National Geographic Kids book, "Mummies."
Not all mummies that have been discovered were purposefully mummified by other humans. Mummification is defined as the process of preserving a body. Natural human mummies have been found in ice, in the hot desert sand and even in bogs, where their bodies and internal organs have been preserved for thousands of years, according to Eyewitness Books' "Mummy."
In his book, "Curse of the Pharaohs, My Adventures With Mummies," Archeologist Zahn Hawass describes how he removed two child mummies from a tomb and put them in a museum. He believes he was haunted in his sleep by the two children until they were placed near another adult mummy that Hawass believed was their father.
According to National Geographic Kids, Egyptian mummies were wrapped in layers and layers of linen.  When unraveled, the bandages of an ancient Egyptian mummy could stretch for nearly one mile!   In Egypt, fingers and toes of mummies were also carefully wrapped in linens, according to National Geographic Kids.  Often, they put rings and other jewelry over the wrappings.
The movies "The Mummy" in 1999 and "The Mummy Returns" in 2001 were both extremely popular mummy movies produced by Universal Studios. According to Hollywood.com, they are two of the highest grossing horror films of all time with nearly $360,000,000 combined in box office sales.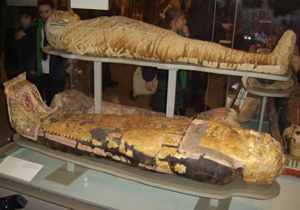 According to History for Kids, when bodies were mummified, most of the organs were removed, including the brain! These organs were often mummified separately, then placed in special containers and placed in the tomb with the body. However, they left the heart in the body, presumably because it was needed for the afterlife.
When scientists first began studying mummies in the 19th Century, they unwrapped the linens and dissected the bodies to learn as much as they could about ancient humans. With today's technology, scientists don't need to even open caskets or remove linens. Instead, they use x-ray and CAT-scans to learn about the bodies, their density, bones and other objects inside the linen wraps and the delicate and ornate mummy cases. ("Mummy" by James Putnam)
With their ability to tell stories of people who lived thousands of years before us, it's no wonder we can't get enough of the many cool and interesting facts about mummies across the world!   Do you have a fascination with mummies?