Eat Well And Stay Slim Cookbook
Review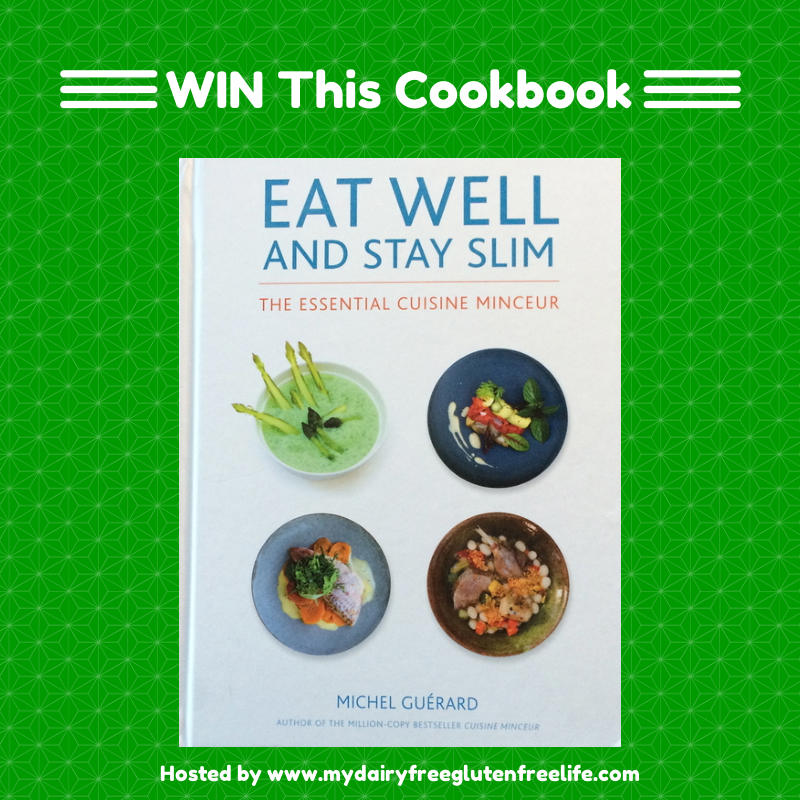 Somehow when I began reading this book, I thought I would be reading a book on how to lose weight.   But to my surprise Eat Well and Stay Slim written by French Chef, Michel Gue'rard, was a very detailed book on how to make the best tasting food with the least amount of calories! In fact almost every recipe in this book is 300 calories or less!  The authors last health conscious recipe book Cuisine Minceur sold over a million copies.  The author also owns Euge'nie-les-Bains, a hotel in the southwest of France lauded for its modern-day Greco-Roman spa experience and slimming menu from which some of these recipes are used.
I do not know much of French Cuisine but this book is definitely going to make a dent in that lack of knowledge.  I loved reading and looking at the recipes in this book and getting acquainted with French dishes.  One of many recipes from this book that I will be trying is the Hot Apple and Lime Souffle's. Most of the recipes are gluten-free but many recipes contain diary.  So I will be experimenting with other non dairy ingredients for some of the recipes.  I would suggest this cookbook for someone who loves being in the kitchen and experimenting with food.
What fascinated me about this book is that the author goes into great detail about making many different stocks that can be saved or frozen and then used in making vinaigrettes, sauces, liaisons (a binding or thickening agent used in cooking), condiments and cold coulis (vegetable or fruit sauce for surrounding a dish) for fish, seafood, chicken and other meats.   I have been wanting more knowledge on making various sauces to accompany our fish, since I believe that makes the dish!   I have that in this book!
French Cookbook Giveaway
One lucky reader is going to win a 9 3/4 x 7 1/4 inch Hardback copy of Eat Well and Stay Slim with 336 pages of fabulous information and recipes.
This giveaway is open to US only and ends May 11, 2014 at 11:59 EST
This Giveaway is OVER.
You can buy the book here:
Disclaimer: This Blog and any participating blogs did not receive compensation for the published material in this post. You do not have to make a purchase to enter this giveaway and there is a limit of one entrant per household. Void where prohibited. Odds of winning are determined by the number of valid entries received. Winner will be chosen by Random.org and will be emailed via the email address used to enter the contest. New winner(s) will be chosen if original winner(s) has not responded within 48 hours of email notification. This blog and other participating bloggers are not responsible for shipment of prize(s). Sponsor(s) are responsible for all shipping costs related to prize(s). This giveaway is not administered, sponsored, endorsed by, or associated with Facebook, Twitter, Google, Pinterest or other social media outlet. Disclaimer is posted in accordance with the Federal Trade Commission 10 CFR, Part 255 Guides Concerning the Use of Endorsements and Testimonials in Advertising.