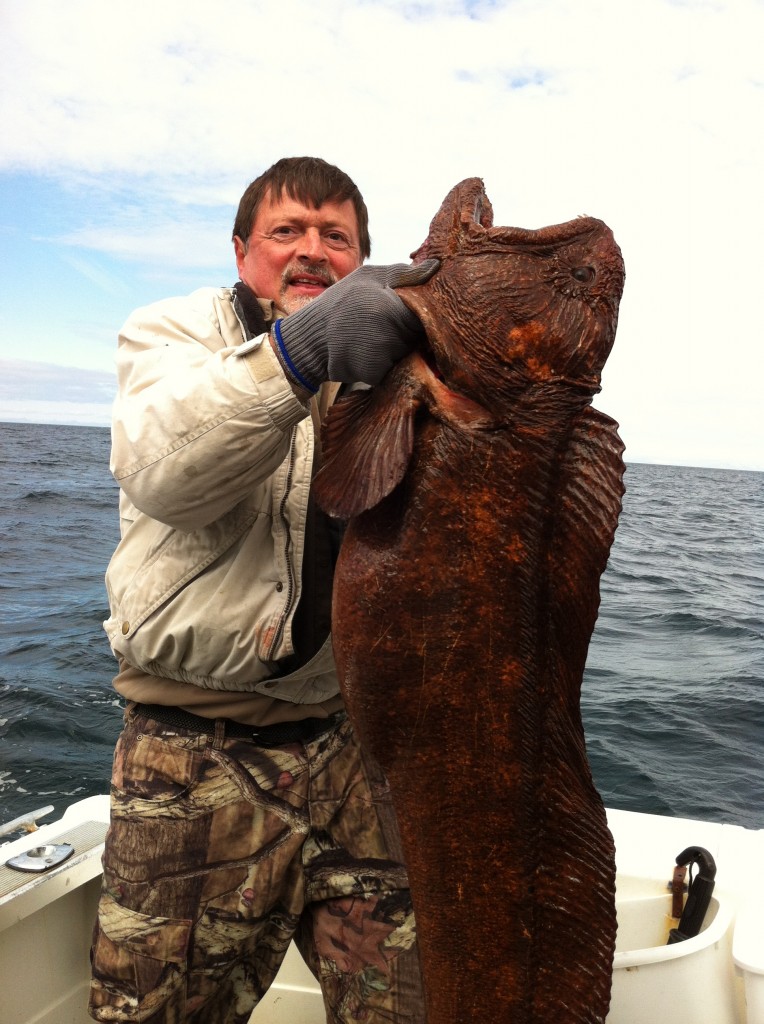 Wolf Fish vs Wolf Eel?
Life in Alaska can be very un-nerving!  I had thought I had seen everything pretty much from the ocean!   Ray and I went out to try and find some salmon but instead we found something called a Wolf Fish vs Wolf Eel.   We fished a few hours in the Seldovia area of Kachemak Bay for salmon and didn't get a bite so decided we would go find some halibut.    We did end up with our limit of halibut.
Now for the un-nerving part!  If you have the stomach……look at what we drug up from the bottom, something that was really scary looking!  What an interesting exciting day we had.  I will never forget dragging this thing, this creature up from the sea.    Until now I thought Ling Cod were the most prehistoric, ugliest looking fish ever!   But take a look at what we caught!  We both said the best way to describe this thing was with two words:  EVIL looking!!
And YES we did release it!  We tried to get the hook out of his mouth without injuring it to release him in the water…but was unable to do that, so we had to bring "the creature" in the boat to unhook IT!   I was afraid it would electrocute Ray…I mean it looks like an eel!!   Ray didn't know what it was!  I jumped into the cabin of the boat it scared me so much and let Ray worry about getting the hook out of it's mouth.   I was like just cut the line and let it go.
Ray says he thinks it is a Wolf Fish.  I said it looked like an Eel.   When we got home we googled Wolf Fish and come to find out there are both Wolf fish and Wolf eel.   So we are going to submit  the pics and see if the newspaper and a marine salt water fish biologist can tell us what this thing is!    After talking with local town people they say this is really a good eating fish.  EWWWE  Can you believe that?  The thought of eating that thing!
No WAY could I bring that Wolf Fish or Wolf Eel home.