What you need to know about Radiation Therapy and Breast Cancer
Radiotherapy, aka Radiation Therapy, uses X-rays to kill any cancer cells that may be left in the breast and/or underarm area after surgery.  It is usually recommended after a lumpectomy or partial mastectomy, especially if they are concerned that the surgical margins aren't clean. Sometimes it is also be recommended after a mastectomy, especially if the tumor is large or invasive.  Depending on the type of tumor you have, it may also be recommended before surgery to reduce the size of the tumor.
Unlike a regular chest X-ray, this is a highly targeted therapy that delivers a concentrated dose of radiation in the precise area that needs to be treated. I was given a small tattoos so there would be no guesswork by staff involved when they deliver the radiation. I had 3 tatts, one in the middle of my chest and one on each side of my chest.  They line up these tatts to make sure they are totally on point when they deliver the radiation dose to your tumor area.  The tatts never come off but are so tiny they are very hard to see with your naked eye.
Radiation Therapy is administered by a special oncology physician known as a radiation oncologist. He or she will have studied your medical history and all your results and work out a treatment plan designed to kill any remaining cancer cells in the tissues to give you a better prognosis. You will be shown around the facility and told what to expect, and given a chance to ask any questions.
The facility I had my radiation at in Anchorage, Alaska had snacks and drinks available along with TV's and reading material and puzzles and the best thing was a massage therapist…all at no extra fee.
Once radiotherapy starts, you will usually have treatments regularly, five days a week for several weeks, such as six weeks. You will be given an appointment time for each of your visits. Each treatment usually only takes a few minutes, my treatments once I went into the room for positioning and receiving the radiation dose only lasted 15 minutes max, including the positioning.  After your treatment you are able to go about your day normally once you have had it, but there are side effects you need to be aware of.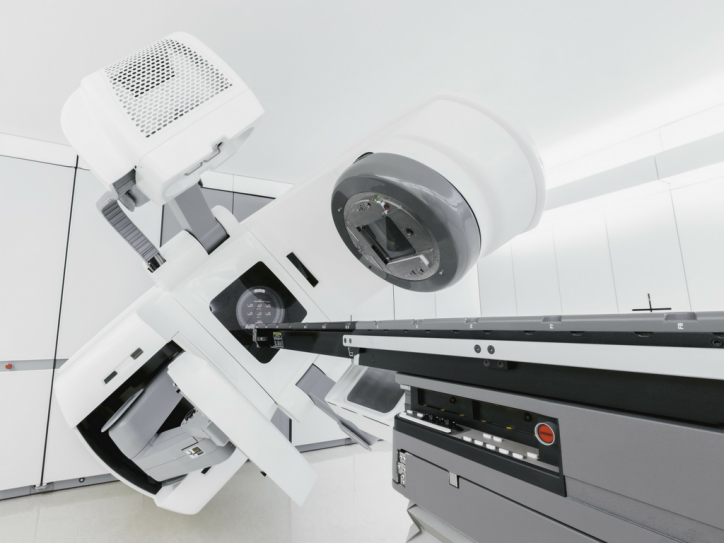 This is sort of what the machine that was used to deliver my radiation looked like.  The radiation oncologist also measures a cradled type of seat they put on the bed and you lay in that.  It will be measured to easily line up with your tatts.  This room shown above is very bleak.  Our facility had lovely artwork through the clinic areas including as you walk in the hallway for your radiation treatment.  I had EXTERNAL radiation.   Internal radiation may be also suggested.
Internal radiation therapy is often suggested as a follow-up for very small tumor removal. This means a spherical applicator or inflatable catheter is inserted into the breast surgery area. Not all breast cancer patients qualify for this type of therapy. Internal radiation causes your body to become minimally radioactive towards the end of the process. During this time, you will probably be kept in a private room.  At no point can you pass any level of radioactivity on to others.
Whether your doctor recommends external or internal radiation therapy depends on the size and location of your cancer and other factors. Speak with your doctor about the pros and cons of the different types of radiation therapy, to see if you are a candidate for a less-invasive, shorter internal radiation therapy option or a shortened external radiation therapy.
External Radiotherapy itself is painless, but there are some side effects. The most common side effects are:
Swelling of the breast
A heavy feeling in the breast
The skin of the breast where you are getting treatment can become red, dry and peeling as though you have bad sunburn
The skin can become darker and may stay that way for a few months, or permanently
Fatigue, that is, extreme tiredness after each treatment, and during the weeks of treatment. You should feel better after you have completed your full course of treatment.
Brain Fog may set in in the last few weeks of your treatment.
Rare side effects of radiotherapy you should be aware of include:
Rib fracture: this can occur when the radiation weakens the rib cage near the treatment area.
Heart problems: these can occur immediately, or even years after radiotherapy if the LEFT breast was treated.
Radiation pneumonitis (NEW-moh-NYE-tis): an inflammation of the lungs that can cause shortness of breath, a dry cough and low-grade fever. Symptoms can often be relieved by anti-inflammatory drugs. This should go away once the treatments are over.
Brachial plexopathy (BRAY-kee-all PLEX-AH-path-EE): damage to the nerves in the upper chest, which can cause tingling, pain and weakness in the arm and hand on the side of the body where treatment is being administered. It can start many years after treatment and is usually permanent.
Discuss all the pros and cons with your doctor, and any symptoms you might experience during the course of your treatment.
My Radiation Treatment Experience:
I was offered the choice of having an accelerated external therapy program, lasting daily for 4 weeks vs 6 weeks. Not everyone is offered this.  Your tumor has to be the right size and your body also has to be of a certain proportion to receive this shortened but increased dosage therapy.   I took the option because I didn't live in Anchorage and a friend graciously offered a room in her basement that I could stay in.  It is a 4 hour drive one way from Anchorage to where I live so driving for my appointments was impossible to do.   In addition to the daily radiation treatments, I had weekly appointments with my radiation oncologist.  At the end of the 4 weeks I was ready to go home!
The following is what I experienced during my radiation therapy: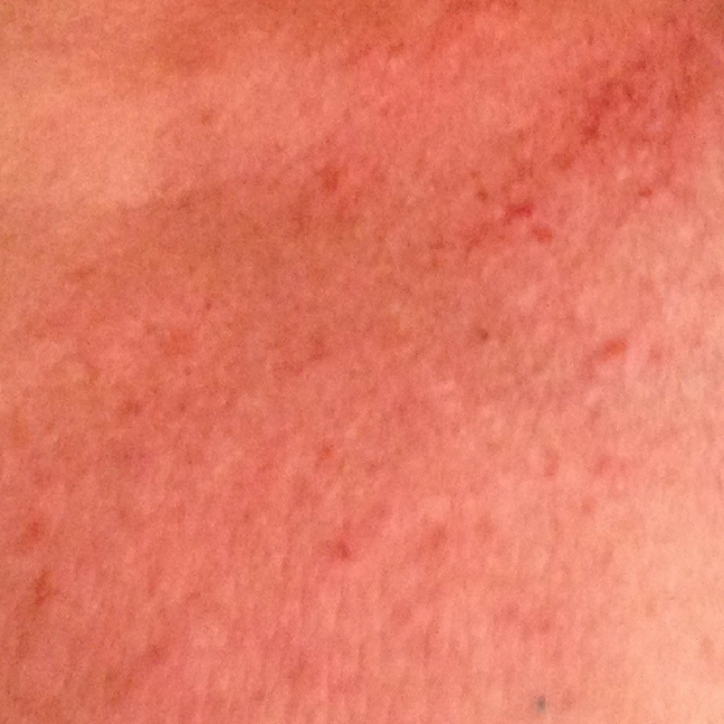 I developed a rash that was atypical from the normal radiation rash and my doctor provided the creams I needed to treat it.  It lasted about a month.  The rash above was on my chest and neck.   The radiation rash I developed under my breast in the crease between my chest wall and breast!  Think bad bad bad bad sunburn. Then think how a sunburn that bad peels off and leaves new tender skin.  That tender skin hurt!! Ya that is the kind of burn I had.  It lasted a long time – took over a month to peel and heal.
I also had fatigue.  Some people work right through the treatments but I am glad I didn't have to. The fatigue is different, you may not be sleepy, but you feel as if you have zero energy. I'm so glad I had someone to cook for me!
I developed Brain Fog which was rather disconcerting!  But I kept telling myself it would go away…and about 2 months AFTER my treatments it did get better.  I mean I already have that "what did I come into the room for" stuff.  This Brain Fog was icky.
I have discoloration of my breast under my incision where they targeted the last 4 day radiation burst. I am still discolored 3 months post radiation
I had some shortness of breath which did go away but in all honesty that really scared me, cause I think of pulmonary emboli!
I also noticed my radiated breast was harder than my other breast in my nipple and incision site.  I applied Aquaphor moisturizer during therapy treatments daily plus extra everywhere on the radiated breast – including chest, side and underarm.  I still use jojoba and emu oils on my breast now instead of Aquaphor.  Use the lotions or oils they recommend the day you begin your 1st treatment.  Burns don't usually appear until a couple weeks into treatment but DON'T think you can get away and not use any ointments on your radiation area until later.  Use the creams or oils after your 1st treatment and a couple more times during the day, and then daily whenever you feel like it, until after treatment and even then I still use something daily.  I am 5 months post radiation.
Since I did not have chemotherapy I don't feel qualified to give information on that portion of breast cancer treatment.   Yes my oncologist in Anchorage suggested chemotherapy as a possible adjunct therapy to help keep my cancer from returning.   I chose to get a 2nd opinion from a breast cancer oncology specialist at Virginia Mason in Seattle, WA.   Breast Cancer is the ONLY cancer my 2nd opinion doc treats.  If you ever have questions about your treatment plan – seek a 2nd opinion.  Part of kicking cancer to the curb is having total faith in your treatment plan!!
My breast oncology 2nd opinion was so worth it for my peace of mind.   Due to my age many statistics were put out there….showing the benefit of chemo vs another option that was proposed.  I chose the option proposed by my oncologist at Virginia Mason.  The results showed the same statistical outcome without the horrid side effects and all that goes along with chemo.
I am taking Femara, an aromatase inhibitor.  I will take it a minimum of 5 years daily, orally – probably longer.  I am lucky that CBD oil knocked the side effects of nausea for me.  In addition to this I am taking IV Zometa infusions.  I was told it will make my bones less hospitable for a metastatic cancer to grow and bones are usually the first place a metastatic cancer goes.  IV Zometa will be given 2x year for the entire time I am taking Femara.  That was a much better option than chemo to me.  I did get sick with the first infusion but it is suppose to get better with each one.  In addition Zometa will increase my bone density or at least keep it from losing more.   This is my treatment plan for now, along with regular check ups with my breast surgeon and my breast oncologist.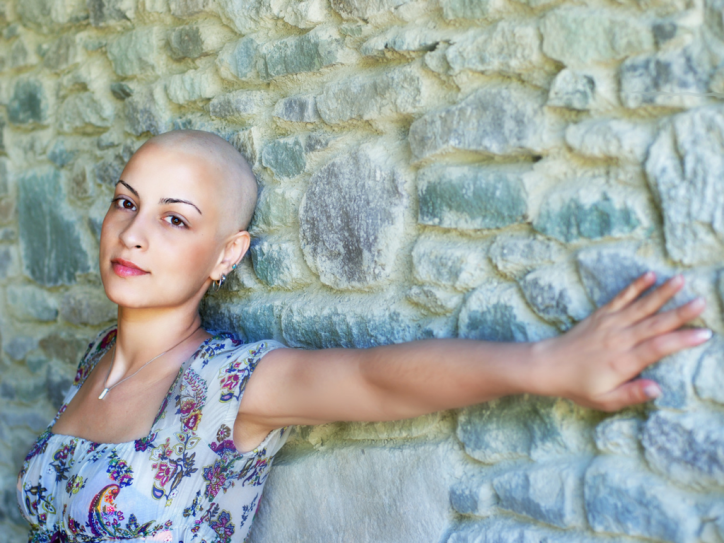 Radiation Therapy does NOT make you radioactive and does not hurt.   With Radiation Therapy you do not lose your hair. Chemotherapy is the treatment which makes you loose your hair and have GI problems.  Since I did not have chemotherapy I don't feel qualified to give information on that portion of breast cancer treatment since I have not gone through it.
When you undergo radiation therapy for breast cancer, you are going to be told you can't use deodorant. If you are treating cancer in just one breast, you can use deodorant on the breast side not being treated. You will also likely be told not to rub or wash your skin, and especially not to use soap to clean your skin.
I know what you are thinking. No soap + no deodorant = less than wonderful body odor.
Many breast cancer survivors have found that a combination of Johnson's baby powder and Borox makes an acceptable deodorant alternative. Washing with an aqueous cream free of enriched vitamins can also keep your skin clean and fresh smelling. Don't scrape or rub. Simply apply a small amount of aqueous cream under your arm, and then shower it off.
I hope this has helped if you have breast cancer and are wondering what radiation therapy includes.