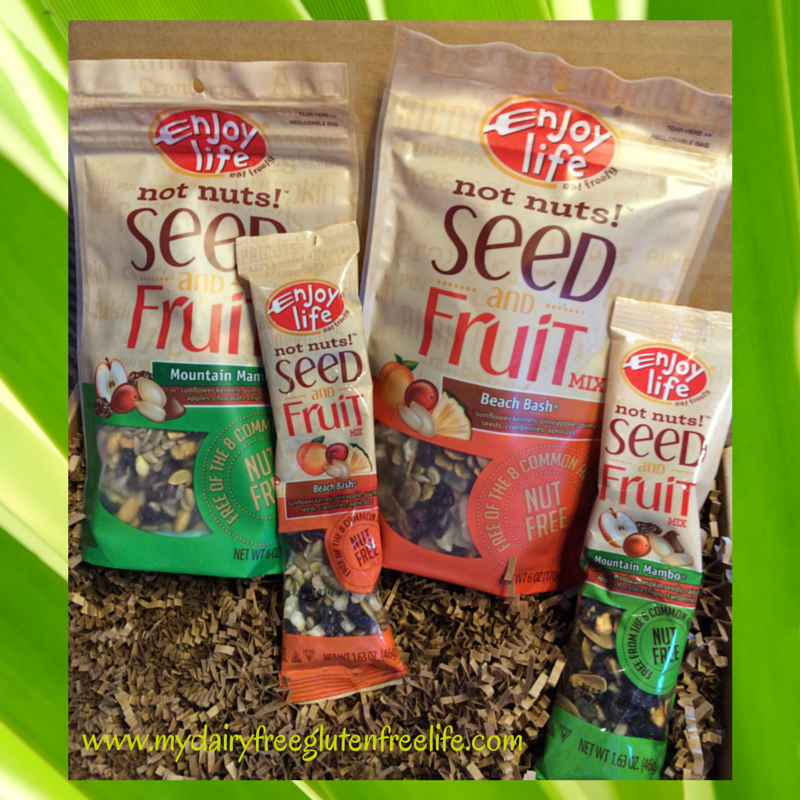 I just wanted to share with you that Enjoy Life has Seed and Fruit mixes and you can make some great Enjoy Life Breakfast Cookies with them!  But, I am saving them for my grandson to have for school snacks since he is allergic to  nuts, dairy, soy, gluten and more.  I did taste the Beach Bash and oh my was that good!   These are NOT salted and they taste great!  The Beach Bash was pleasantly fruity with a mix of sunflower kernels, pineapple, pumpkin seeds, cranberries and apricots.   These are so good I know kids will love them for snacks.  Be sure and look for these in your grocery store!  YUM
Remember that Enjoy Life products are allergy friendly and free from wheat, dairy, peanuts, tree nuts, egg, soy, fish and shellfish!
You can  use this Seed and Fruit Mix for so many other things such as making cookies, bars or muffins.  We use mixes like this in our salads.  The Seeds and Fruit seems to give a salad the right amount of crunch and chewy.
Check out Enjoy Life's Recipe Page and you will find all kinds of recipes!  Here is the one that uses their Seed and Fruit mix for Seed & Fruit Breakfast Cookies.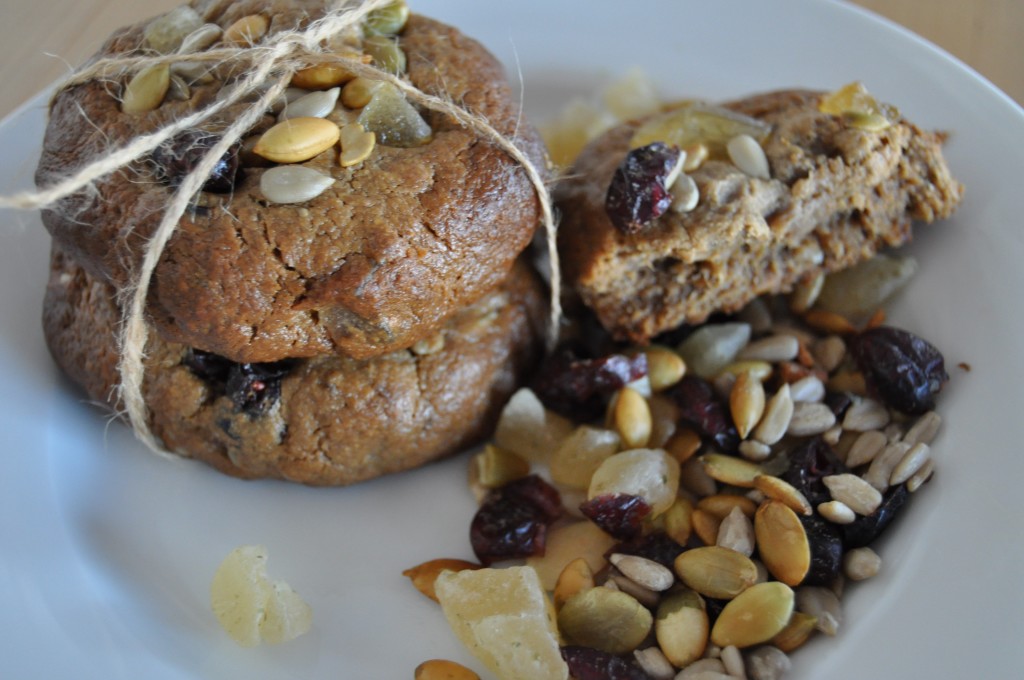 Seed & Fruit Breakfast Cookies Recipe:
INGREDIENTS:
1 T. ground chia seed or ground flaxseed
3 T. warm water
½ C. sunflower seed butter
2 T. honey or agave syrup
1 T. tapioca starch
1 T. quinoa flakes
½ t. baking powder
½ C. Enjoy Life Foods Beach Bash Seed and Fruit Mix, split in half
DIRECTIONS:
Preheat oven to 350°. Line a baking sheet with parchment paper.
Add the ground chia or flaxseed to large bowl. Pour warm water over the top, mix together and let sit 1-2 minutes until it gels.
Add the sunflower seed butter, and honey or agave, and mix to combine.
Add the tapioca starch, quinoa flakes, baking powder and half of the Enjoy Life Beach Bash Seed and Fruit Mix to the bowl, and mix until thoroughly combined.
Scoop into 4 equal pieces and roll into a ball. Place on parchment lined baking sheet and flatten slightly with the palm of your hand.
Evenly sprinkle the remaining ¼ C. Enjoy Life Foods Beach Bash Seed and Fruit Mix over the cookies and gently press into the dough.
Place in the oven and bake for 14-16 minutes until lightly browned. Cool on the cookie sheet and then store in the refrigerator tightly wrapped.