Koofteh Recipe
Gluten and Dairy Free, Vegan
Koofteh, also known as meatballs, can be made vegan!  Although I am not a huge meat eater, I love getting ideas from high protein cookbooks for meals.   I also like to see how some of the recipes can be modified to be vegetarian or vegan.   Don't get me wrong, if you eat animal protein, The Paleo Foodie Cookbook, that I review below, will provide you with 120 Gluten Free, Grain Free meals which fit into my dietary needs of being Gluten Free and yours if you eat meat!   I was lucky they had this Koofteh recipe that I can share with you!!  This recipe I converted to Vegan but you can easily make it with meat.  See my review of the book below the recipe.  Recipe is from THE PALEO FOODIE COOKBOOK by Arsy Vartanian with Amy Kubal.   The recipe I have below is made vegan but can also be used with dairy & meat.
Like most Middle Eastern dishes, Koofteh takes a while to make because the meatballs are simmered in broth, low and slow. This dish is perfect for a leisurely weekend dinner. Traditionally this recipe calls for white rice, the author  substituted cauliflower rice, which works surprisingly well! No one in her family has ever even noticed the missing rice.
Recipe for the Koofteh: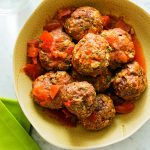 Print Recipe
Koofteh (Persian Meatballs) Recipe, Gluten and Dairy Free
Ingredients
2

tsp

of filtered water

FOR THE FILLING:

1

tbsp

earth balance or ghee

½

onion

diced

½

cup

walnuts

chopped

½

cup

prunes

chopped

FOR THE SAUCE:

1

tbsp

earth balance or ghee

½

onion

diced

2

cloves

garlic

crushed

½

tsp

turmeric

6 to

tomatoes

peeled, chopped and seeds removed

2

cups

filtered water

½

tsp

sea salt

FOR THE MEATBALLS:

1

cup

cauliflower  

or cooked rice

½

tsp

sea salt

¼

tsp

pepper

1

lb

Beyond Meat Beef Vegan Crumbles

vegan or beef burger

½

onion

grated

1

egg  

or egg substitute

½

cup

fresh parsley

chopped

¼

cup

mint

chopped

½

tsp

turmeric

tomato broth
Instructions
Place the strands of saffron in a small bowl and cover with 2 teaspoons of water and set aside.

Prepare the filling. Heat a large sauté pan over medium heat, preferably one with a large, flat base and shallow sides. Add 1 tablespoon earth balance or ghee and sauté half the diced onion until translucent. Add the walnuts and prunes and sauté for a few minutes until well combined. Set the filling aside.

Prepare the sauce. Add another tablespoon of earth balance or ghee to the same pan and sauté the remaining half onion until soft and translucent, about 10 minutes. Add garlic and turmeric. Stir well and sauté for 2 more minutes. Add chopped tomatoes, water and salt. Cover and simmer on low heat while you form the meatballs.

To form the meatballs, remove the stem of the cauliflower and put through food processor until it resembles rice. In a large bowl, combine cauliflower, salt, pepper, meat, grated onions, eggs or egg substitute, parsley, mint, turmeric and saffron and mix well. Round mixture into balls, poke a hole in the middle, fill with filling and close. You should be able to make about 10 meatballs.

Slowly place the meatballs in the simmering sauce. Cook on low heat for an hour or until meatballs are cooked through. Carefully turn the meatballs halfway through cooking so both sides have a chance to be immersed in the liquid.

Serve meatballs in bowls along with tomato broth.
Nutrition
Calories:
178
kcal
|
Carbohydrates:
15
g
|
Protein:
9
g
|
Fat:
9
g
|
Saturated Fat:
1
g
|
Cholesterol:
18
mg
|
Sodium:
524
mg
|
Potassium:
325
mg
|
Fiber:
3
g
|
Sugar:
4
g
|
Vitamin A:
400
IU
|
Vitamin C:
13
mg
|
Calcium:
89
mg
|
Iron:
1.8
mg
My review of The Paleo Foodie Cookbook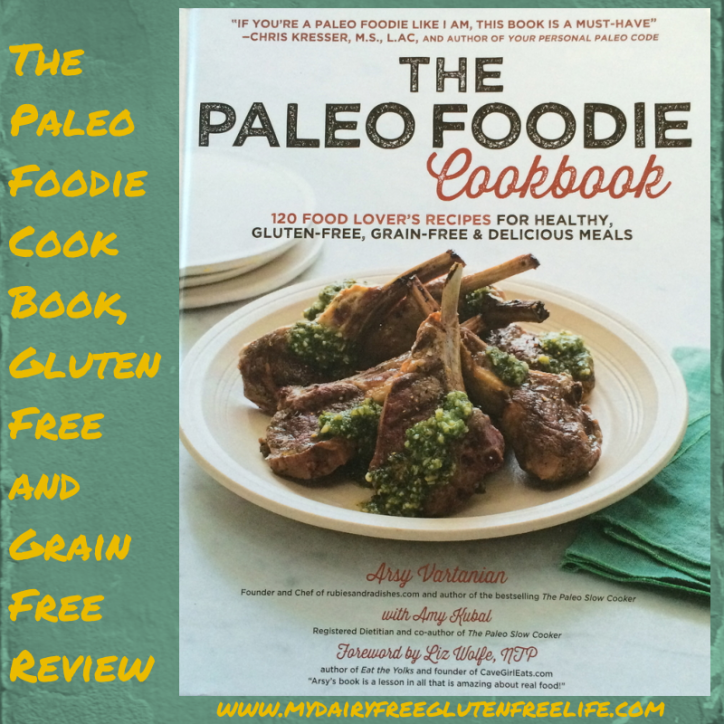 I may not eat strictly paleo but eating paleo is an introduction to eating clean, whole real foods.   Look for grass-fed or pasture raised meat and healthy fats found in and from coconuts, olives and nuts.   Eating this way makes life easier by preparing veggies and fruits ahead, cooking your protein and freezing soups and stews for future meals.
I am also wanting salad recipes other than just fancy lettuce salads.  Not being able to eat gluten, The Paleo Foodie Cookbook has lots of yummy sounding salads since those who follow a paleo diet don't eat grains!  How does Tabbouleh Salad sound made with cauliflower rice or curried cabbage salad?
If you want to learn how to begin and stay eating the Paleo way, this book has tons of information how to do that.  Author Arsy Vartanian shows even those new to Paleo cooking foods to avoid, pantry essentials as well as cooking tips and tricks used in Paleo cooking.
Author Arsy Vartanian remembers her grandmother and mother spending most of the day in the kitchen, preparing traditional middle eastern dishes from scratch!   In her mid 20's although she loved to cook, she would become lethargic and foggy headed after she ate.   In 2008 Arsy heard about the Paleo way of eating and it re-kindled her desire for cooking.
You can also buy the book here: