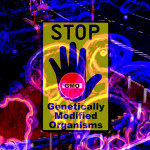 Genetically Modified Genes
This article on Genetically Modified Organisms (GMO's) if frightening!   To think that Genetically Modified genes remain inside of us and there is no predictable way to know what they will do to our human genes!  This article should make everyone think twice about eating anything made with GMO's.  I have highlighted what I thought was on importance but I could have highlighted the whole article.  Please click on the source at the bottom and read for yourself much more.
Functioning Genetically Modified Genes remain inside you
Unlike safety evaluations for drugs, there are no human clinical trials of GM foods. The only published human feeding experiment revealed that the genetic material inserted into GM soy transfers into bacteria living inside our intestines and continues to function.[39] This means that long after we stop eating GM foods, we may still have their GM proteins produced continuously inside us.
If the antibiotic gene inserted into most GM crops were to transfer, it could create super diseases, resistant to antibiotics.
If the gene that creates Bt-toxin in GM corn were to transfer, it might turn our intestinal bacteria into living pesticide factories.
Animal studies show that DNA in food can travel into organs throughout the body, even into the fetus.[40]
GM food supplement caused deadly epidemic
In the 1980s, a contaminated brand of a food supplement called L-tryptophan killed about 100 Americans and caused sickness and disability in another 5,000-10,000 people. The source of contaminants was almost certainly the genetic engineering process used in its production.[41] The disease took years to find and was almost overlooked. It was only identified because the symptoms were unique, acute, and fast-acting. If all three characteristics were not in place, the deadly GM supplement might never have been identified or removed.
If GM foods on the market are causing common diseases or if their effects appear only after long-term exposure, we may not be able to identify the source of the problem for decades, if at all. There is no monitoring of GMO-related illnesses and no long-term animal studies. Heavily invested biotech corporations are gambling with the health of our nation for their profit.
Read more at the Source for Genetically Modified Genes