Have you noticed Eggnog in your local market yet?  It's that time of year.  I thought it would be fun to have a holiday recipe for Eggnog Cupcakes!  Of course these are dairy and gluten free even though we use eggs!   The creamy frosting is made from coconut cream and is so Devine.  The cupcakes are make with coconut flour…so I guess they are also paleo!
Eggnog historically is also known as milk punch or egg milk punch.  It is a rich, chilled, sweetened, dairy-based beverage. It is traditionally made with milk, cream, sugar, whipped egg whites, and egg yolks.   But our recipe contains NO Dairy!  Remember eggs are not dairy.  Dairy products come from cows.  So you can indulge yourself and enjoy this dairy free, gluten free recipe.  It is NOT a vegan recipe.
I love the flavor of Eggnog with nutmeg being the prime spice. Nutmeg is made from the seeds of Myristica fragrans, a tropical evergreen tree native to Indonesia. It can be found in whole-seed form or as a ground spice.  I love to have the whole seed and grate it as I use it.  The aroma and fresh flavor is unsurpassed when used this way.
Nutmeg is used in other recipes such as curries, mulled wine and chai tea. Although it's more commonly used for its flavor it does offer health benefits. Nutmeg contains antioxidants which neutralize free radicals, preventing cellular damage. Nutmeg is rich in antioxidants, including phenolic compounds, essential oils, and plant pigments, all of which help prevent cellular damage and may protect against chronic diseases. 1,  2  
So go ahead and add some spice to your life…it's truly healthy!
Below are photos of putting this recipe together starting with the ingredients.   After the photos you will find the recipe.  Enjoy!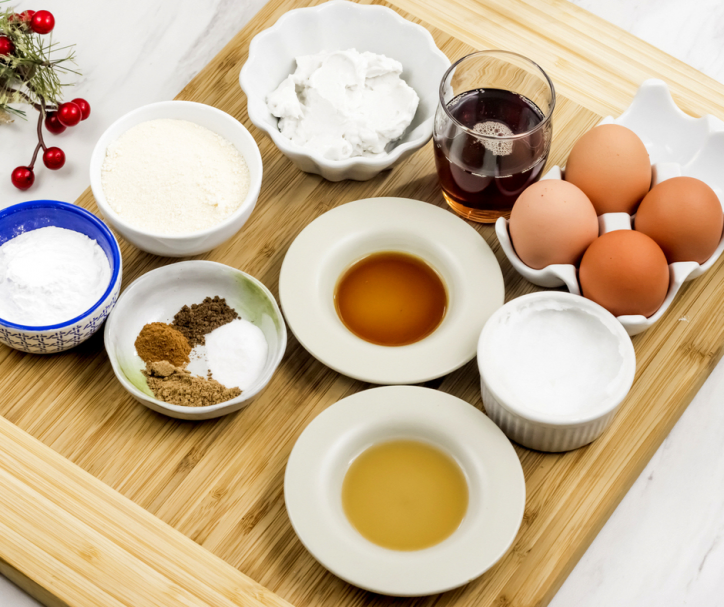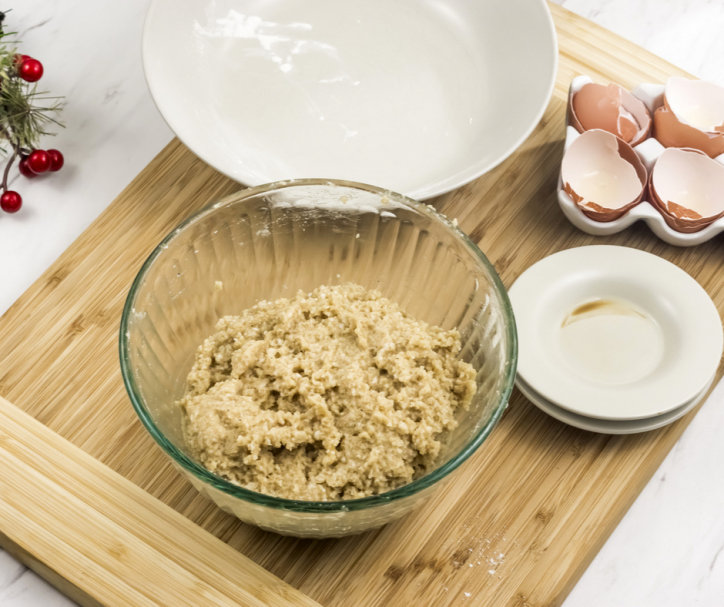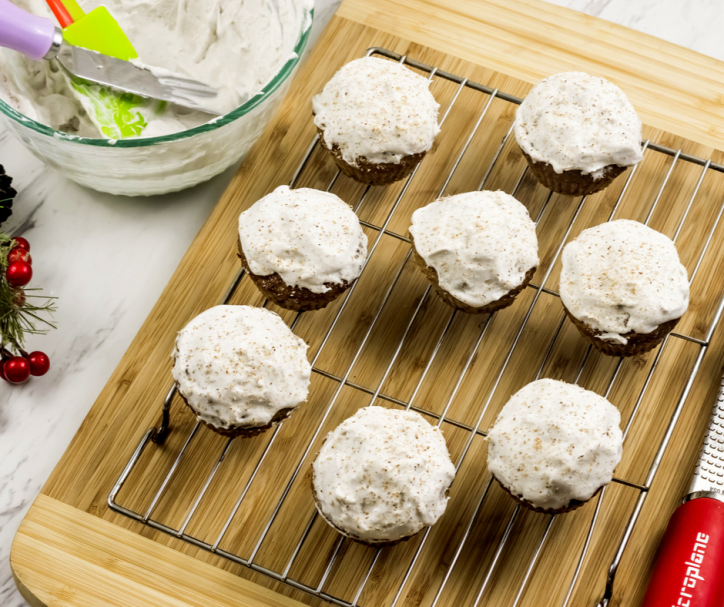 Recipe for Eggnog Cupcakes with Coconut Cream Frosting: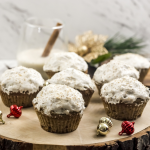 Print Recipe
Eggnog Cupcakes
Eggnog Cupcakes made with no dairy or gluten.
Ingredients
For the Cupcakes
1/2

Cup

Flour

Coconut Flour

1/4

Cup

Flour

Tapioca Flour

1

tsp

baking soda

1

tsp

Nutmeg

ground

1/2

tsp

Cinnamon

ground

1/4

tsp

Allspice

ground

1/2

Cup

Cream

Coconut Cream

1/4

Cup

Coconut Oil

softened

1/2

Cup

Maple Syrup

4

large

eggs

organic

1

Tbsp

Apple Cider Vinegar

2

tsp

Vanilla Extract
For the Frosting
1/2

Cup

Coconut Cream

Chilled

3

Tbsp

Maple Syrup

1

tsp

Tapioca Starch

1

tsp

Nutmeg

ground

1/2

tsp

Cinnamon

ground
Instructions
For the Cupcakes
Preheat the oven to 350 F and line a cupcake pan with silicone or paper liner. (Also place a glass or metal bowl in the freezer to be used for the Frosting)

Shift together the coconut flour, tapioca flour, baking soda, ground nutmeg, cinnamon and allspice. Keep aside.

Cream together the coconut cream, coconut oil and the maple syrup with an electric beater, until slightly fluffy.Add the eggs, vanilla and apple cider vinegar and beat until creamy.

Gradually add the coconut flour mix and gently fold it in.

Divide the batter evenly into the cupcake pans, filling each cup about ¾ its size.

Bake for 20 to 25 minutes.Let it cool completely before frosting.



For the Frosting
Take out of the freezer the mixing bowl.

Add the chilled coconut cream, maple syrup, tapioca flour, nutmeg and the cinnamon in the above chilled glass or metal bowl.

Beat it on high for 45 seconds to a minute, or until the frosting is fluffy.

Pipe or spread the frosting, with a butter knife, on the cooled eggnog cupcakes

Dust with a sprinkle of fresh nutmeg and serve immediately. 

Notes

Use coconut cream and NOT coconut milk in the frosting. 

The tapioca flour acts as a stabilizer for the coconut cream.

In a cool room, this frosting can last up to 4 hours without melting. But do not add more coconut cream than recommended. It will make the frosting taste gritty.

Store the leftover in the refrigerator.



Nutrition
Calories:
325
kcal
|
Carbohydrates:
29
g
|
Protein:
6
g
|
Fat:
21
g
|
Saturated Fat:
17
g
|
Cholesterol:
105
mg
|
Sodium:
217
mg
|
Potassium:
199
mg
|
Fiber:
4
g
|
Sugar:
17
g
|
Vitamin A:
153
IU
|
Vitamin C:
1
mg
|
Calcium:
53
mg
|
Iron:
1
mg