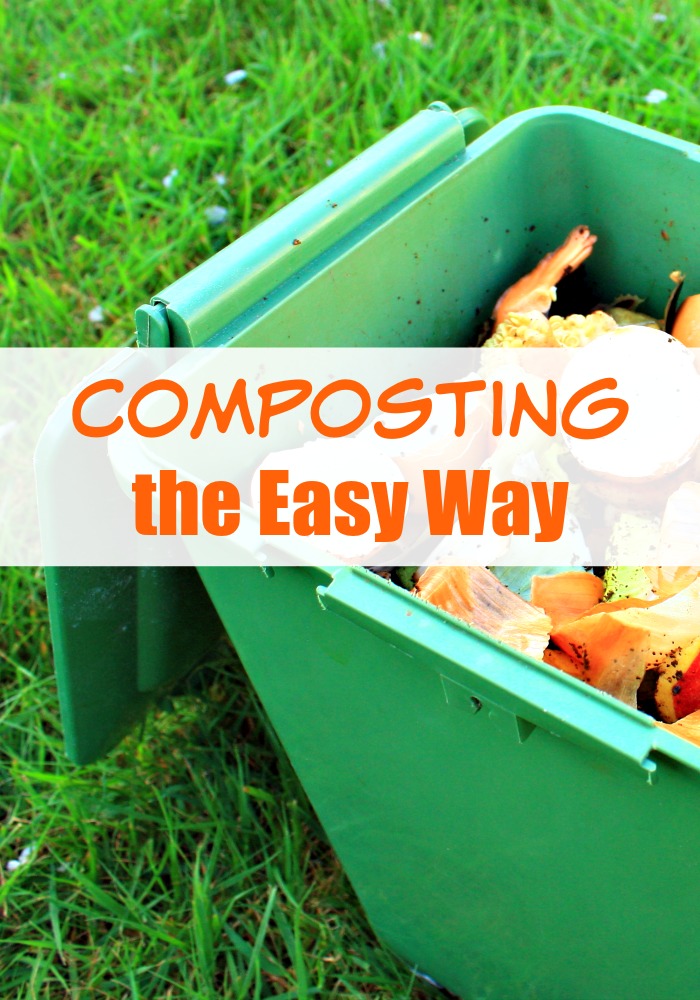 Composting is an easy, fun way to recycle our consumables like food, grass clippings, and yard waste. It is so much better to compost all of those then sending them to the landfill. What exactly is compost? It is the nutrient-rich soil that is left over after tiny microbes and worms have their way with waste. Pretty cool, huh? Here are some tips so you can make sure you are composting the easy way.
Kitchen Scraps
It is easy to get enough kitchen scraps in just a couple days to start your compost pile. You can use a plastic bag, or invest in a countertop kitchen compost bin. Add in your egg shells, coffee filters, tea bags, fruits and vegetables. It is not recommended to add in dairy or meat as they attract vermin and animals to your compost pile.

Stainless Steel Compost Bin  – $27
Easy Peasy Compost Pile
In a corner of your yard, you can start building your easy compost pile. On the bottom, start with straw and brown waste which includes dead leaves, shredded bark, and cut up tree limbs – the smaller the better. Next, add in newspapers and glass clippings. At the top of the pile goes your kitchen scraps. Grab the hose and water your compost pile well. With a pitchfork, poke holes into your pile, and then water it again. Once a week you need to turn the pile so that it is evenly mixed. The compost pile should never dry out and should be kept damp like a wet sponge. In about 8 weeks you will have fresh compost to use in your planter boxes and garden.
Easy Compost Tumbler
Although a compost pile sounds like a lot of work with turning it all, it really isn't. If you want something a bit easier on your back, invest in a compost tumbler. You can buy one for under $200 and they last a lifetime. Start with the same ingredients, water them well, and then give it a few good turns. If you keep it moist and turn it every few days, you can have nutrient-rich compost in as little as 4 weeks! How easy is that?
Dual Batch Compost Tumbler – $169