If you know what Ambrosia Salad is, it may bring up memories of church potlucks and family get-togethers. Usually people feel very strongly about Ambrosia Salad — they love it, or they hate it.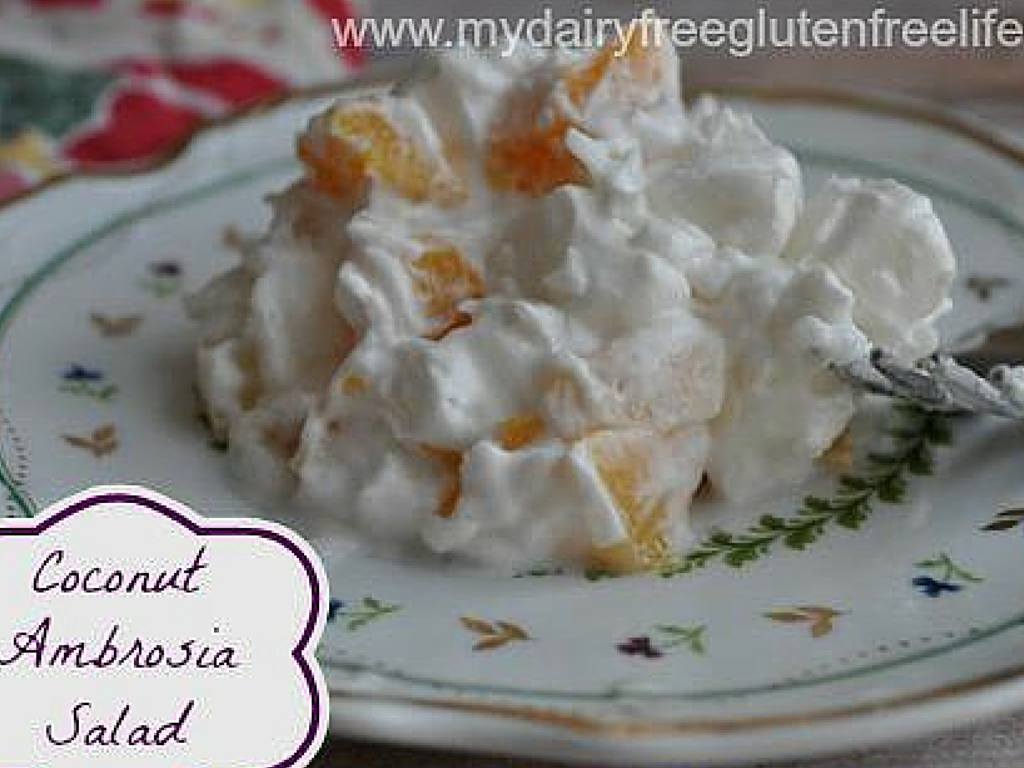 Coconut Ambrosia Salad
A melange of coconut, fruit pieces, and, occasionally, Jell-O, everyone has their own special recipe. One thing is generally true, though — it includes marshmallows. And the recipe I've come up with is no different. Most brands of marshmallows are dairy-free and gluten-free, but make sure to read the ingredients to make sure. I know Kraft brand marshmallows are dairy and gluten free, so that's what are used in this recipe.
Most recipes for Ambrosia Salad use whipped cream. In this case, the main, creamy ingredient here is somewhat surprising — it's a mixture of canned coconut cream and powdered sugar. When you open the can of coconut cream, there will be a thick white layer on top, and a thin clear liquid at the bottom. For this recipe, spoon off the thick white layer and use that. Set the clear liquid aside to use later, in a different recipe.
Here are just a few Benefits of Coconut:
Skin care: Coconut oil is an excellent moisturizer on all types of skin.
Hair care: Coconut oil helps in reducing protein loss from your hair giving your hair healthy growth and shine.  IF you regularly massage your head with coconut oil, you can help your scalp be dandruff free.
Heart diseases:   There is a misconception that coconut oil is not good for heart health. This is because it contains a large quantity of saturated fats. In reality, it is beneficial for the heart. It contains about 50% lauric acid, which helps in actively preventing various heart problems like high cholesterol levels and high blood pressure. Coconut oil does not lead to increase in LDL levels, and it reduces the incidence of injury and damage to arteries and therefore helps in preventing atherosclerosis.
Weight loss: Coconut oil contains short and medium-chain fatty acids that help in taking off excessive weight. Research suggests that coconut oil helps to reduce abdominal obesity in women.
Immunity:  Coconut Oil strengthens the immune system because it contains antimicrobial lipids, lauric acid, capric acid and caprylic acid, which have antifungal, antibacterial and antiviral properties. The human body converts lauric acid into monolaurin which research has supported as an effective way to deal with viruses and bacteria that cause diseases like herpes and influenza. Coconut oil also helps in fighting harmful bacteria.
Digestion: Coconut oil helps to improve the digestive system.  The saturated fats present in coconut oil have antimicrobial properties and help in dealing with various bacteria, fungi, and parasites that can cause indigestion.
Coconut Ambrosia Salad Recipe: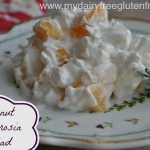 Print Recipe
Coconut Ambrosia Salad
A coconut version of a family favorite
Ingredients
Coconut Ambrosia Salad Ingredients:

1

cup

coconut cream

I got mine at Trader Joe's

1/4

cup

powdered sugar

1

cup

sweetened shredded coconut

1

cup

mini-marshmallows

1

cup

fruit

any kind, finely diced. A combination of pineapple and peaches or oranges works well. If you're really pressed for time, drained canned fruit would work too.
Instructions
Putting it all Together:

Cream the coconut cream (just the thick white part) and the powdered sugar in a stand mixer. Beat on medium-high for 3 minutes, until thick.

Add the rest of the ingredients into the bowl. Fold everything together gently until it is completely combined. Refrigerate and serve cold.
Notes
Nutritional values are based on one cup
Nutrition
Calories:
413
kcal
|
Carbohydrates:
41
g
|
Protein:
3
g
|
Fat:
28
g
|
Saturated Fat:
25
g
|
Sodium:
74
mg
|
Potassium:
323
mg
|
Fiber:
3
g
|
Sugar:
30
g
|
Vitamin A:
180
IU
|
Vitamin C:
3
mg
|
Calcium:
13
mg
|
Iron:
2
mg
Amazon Shopping List