Christmas Lights for Seasonal Ornament Displays
I can't believe Christmas is just a faint memory already.  We have lots of Christmas Lights that I would love to use at other times of the year, not  just at Christmas in fact getting them around this time of the year is great because they have an awesome sale at 

ChristmasLightsEtc.com

.   Since we use mainly the clear lights, I could use them on an ornament display year around for more cheer.    I've been thinking for quite some time of  finding something quirky like this that I could put strands of Christmas Lights on along with all kinds of ornaments through out the year.
I think having a year round display that I could put ornaments and lights on to celebrate the various holidays throughout the year would be very fun.   I would love to put up Valentines, Easter, Halloween ornaments or  just any kind of ornaments I'd like up to bring me memories of where I was when I bought the ornaments or just to make me smile.  I could change out the light colors as well for the seasons.   Do any of you have a seasonal display tree?  Where did you find yours?
People collect all kinds of things when they travel.  I love to collect ornaments.  Since I have so many Christmas ornaments that my mother made, I am starting to collect ornaments that can be used all year or for specific holidays.   The only trouble is, is that I haven't been able to find the right kind of display tree or branches to use.   I've seen some in stores but I should have taken photos of them.
Living by the ocean in Alaska, I love the idea of using driftwood or unusual tree branches.  I think this is a really neat way to display fun ornaments but I don't have the wall space.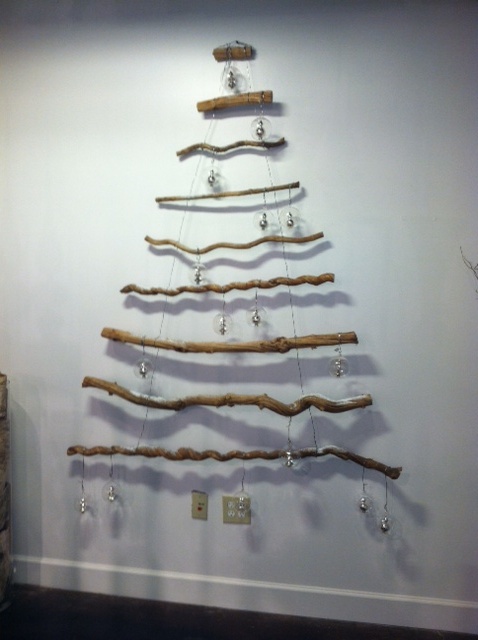 So I keep searching for just the right display.  Who knows, Christmas may be here before I can figure out what I am looking for!